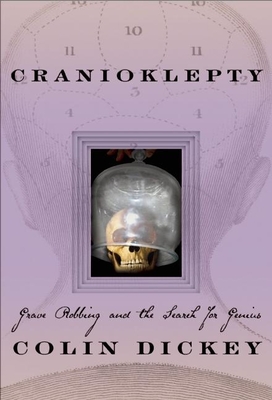 Cranioklepty (Paperback)
Grave Robbing and the Search for Genius
Unbridled Books, 9781609530105, 308pp.
Publication Date: October 9, 2010
Other Editions of This Title:
Hardcover (10/1/2009)
Paperback (8/29/2011)
* Individual store prices may vary.
Description
The after-death stories of Franz Joseph Haydn, Ludwig Beethoven, Swedenborg, Sir Thomas Browne and many others have never before been told in such detail and vividness. Fully illustrated with some surprising images, this is a fascinating and authoritative history of ideas carried along on the guilty pleasures of an anthology of real-after-life gothic tales. Beginning dramatically with the opening of Haydn's grave in October 1820, cranioklepty takes us on an extraordinary history of a peculiar kind of obsession. The desire to own the skulls of the famous, for study, for sale, for public (and private) display, seems to be instinctual and irresistible in some people. The rise of phrenology at the beginning of the 19th century only fed that fascination with the belief that genius leaves its mark on the very shape of the head.

Praise For Cranioklepty: Grave Robbing and the Search for Genius…
Dickey spins these stories with a storyteller's grace and a historian's exactitude. Cranioklepty will join those books for popular audiences that delve into the origins of eccentric intellectual lore, whether madness and lexicography (see: The Professor and the Madman) or inventions and visions by depressives, maniacs, and malcontents. Human endeavor is forever inclined to oddity, and with this book, Colin Dickey provides a delightful illumination of one intriguing example of our quixotic pursuits."
The Brooklyn Rail

If only we could skip the textbooks and share something that's all kinds of real world creepy and awesome like Colin Dickey's Cranioklepty.It's a very strange story, the kind of science history that all too often gets left off the cultural map. Teens will eat this stuff up, however, and if they happen to be fans of author Paul Collins, then they're really going to feel lucky."
Bookslut

[An] entertaining and illuminating book.[Dickey] explores this macabre episode of history armed with formidable research skills and the ability to tell his story with the gusto it deserves." Minneapolis Star Tribune

Dickey's well-vetted accountilluminates the mystery and controversy of a bizarre tradition throughout the ages." Publishers Weekly

"Colin Dickey... has served up a fascinating book. Well-researched, clear and concise, this book is full of interesting historical anecdotes." ForeWord Magazine

It was larceny most ghoulish"
Boston Globe

"Weaving the story's details among other equally bizarre episodes of renowned craniums gone missing, Dickey fairly considers what motivated graveyard pilferers....Those with a taste for the macabre who may have read Brian Burrell's Postcards from the Brain Museum (2005) and Russell Shorto's Descartes' Bones (2008) will enjoy Dickey's eccentric tales." Booklist

Dickey's book turns out to be a highly unusual, fascinating and
cautionary Halloween choice." Cleveland Plain Dealer

With an engaging writing style, fascinating historical tidbits, and some very coolpictures, Dickey manages to give the reader a sense of the politics and intrigue behind a very unusual hobby." Internet Review of Books

like a work by Hieronymus Bosch or Bruegel the Elder -- a giant world made of many little pieces, all gathered together inside the same, solid frame.KQED.org

Cranioklepty is a revelatory book for those who think of head-hunting as an activity pursued only by non-European cultures. This story of European head-hunting and its relationship to modern science is a fascinating read with an all-star cast that includes Mozart, Beethoven, and Haydn. The admonition to "Keep your head on" has never sounded so bittersweet!" Dr. Robert Hicks, Director of the Mütter Museum
or
Not Currently Available for Direct Purchase