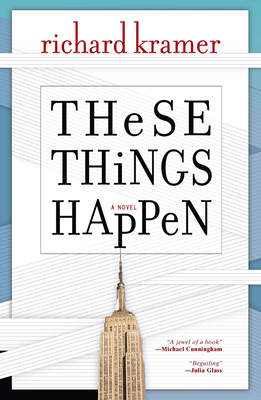 These Things Happen
Hardcover

* Individual store prices may vary.
Other Editions of This Title:
Paperback (4/15/2014)
MP3 CD (5/17/2016)
Description
A domestic story told in numerous original and endearing voices. The story opens with Wesley, a tenth grader, and involves his two sets of parents (the mom and her second husband, a very thoughtful doctor; and the father who has become a major gay lawyer/activist and his fabulous "significant other" who owns a restaurant). Wesley is a fabulous kid, whose equally fabulous best friend Theo has just won a big school election and simultaneously surprises everyone in his life by announcing that he is gay. No one is more surprised than Wesley, who actually lives temporarily with his gay father and partner, so that he can get to know his rather elusive dad. When a dramatic and unexpected trauma befalls the boys in school, all the parents converge noisily in love and well-meaning support. But through it all, each character ultimately is made to face certain challenges and assumptions within his/her own life, and the playing out of their respective life priorities and decisions is what makes this novel so endearing and so special.

Praise For These Things Happen…
"Like the two main characters it so unforgettably etches, Richard Kramer's first novel exemplifies the virtues of both youth and maturity: it manages to be both wise and wide-eyed, sage and sensitive, deeply funny and, in the end, disarmingly touching. The man behind ThirtySomething and My So-Called Life has taken his trademark qualities--the grownup's shrewdness about the way the world works and the adolescent's disarming emotional nakedness--and fashioned from them a very affecting work of fiction." --Daniel MendelsohnArtful, thoughtful and extremely funny, this is a wonderful first novel about artifice and the discovery of true feeling, about the roles we play and what we choose to make of them." Cathleen SchineAn introspective and contemporary character study . . . Earlier in his career, Mr. Kramer worked on the acclaimed television dramas, My So-Called Life" and Thirtysomething." From the former, he has borrowed the focus on teen angst as narrated by perceptive teens. From the latter, he has borrowed the insecurities of highly competent parents caught in the act of flogging themselves for their non-omniscience. These Things Happen is Richard Kramer's first novel, but he is no novice. This is a well-measured and mature debut." New York Journal of Books"In Kramer's warmhearted and appealing novel, we get to know Wesley through his own storytelling and via chapters told in the voices of the significant people in his life. Everyone knows Wesley and his best friend, Theo, are close. After Theo is elected class president in their socially liberal private school, he comes out during his acceptance speech. Controversy and violence follow, and Wesley comes to his friend's aid. Theo has questions he wants Wesley to ask his father, a gay activist lawyer, and his father's partner, an actor and chef. Wesley's mother and stepfather also weigh in. Questions lead to more questions and, ultimately, to examinations of the essentials of life and love. Wisdom and understanding are achieved, but not from the expected sources. Kramer catches the snap of adolescent speech and the concerned tones of the adults with skill. Choppy on the surface, the novel is calm and deep as a whole. Wesley is a remarkable and well-drawn character, as are the adults in his life. Kramer's tale of coming-of-age and coming out should have wide appeal. -Booklist Richard Kramer's These Things Happen is a jewel of a book: incisive, funny, wise, and moving. It prompted me, on almost every page, to ask the question I'm most glad to find myself asking of a novel, How did the writer know that?"Michael Cunningham[B]rings his eye for human nature to his debut novel."Marie ClaireThere is precious little territory of the male heart into which Kramer does not venture with audacity and tenderness. I closed this book feeling delighted, moved, and oddly privileged to have had such a wise escort on a journey both familiar and utterly foreign."Julia Glass, author of The Widower's Tale and Three JunesEmotionally resonant...The humanity and love between two people thrown together by circumstance is Kramer's triumph..."Publishers Weekly
Unbridled Books, 9781609530891, 272pp.
Publication Date: November 7, 2012
About the Author
Richard Kramer is the Emmy and multiple Peabody award-winning writer, director and producer of TV series, including Thirtysomething, My So-called Life, Tales of the City, and Once and Again. He's been nominated for numerous Emmy awards. His first short story appeared in The New Yorker while he was till an undergraduate at Yale.
or
Not Currently Available for Direct Purchase