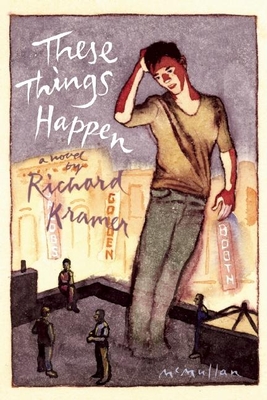 These Things Happen
Paperback

* Individual store prices may vary.
Other Editions of This Title:
Hardcover (11/7/2012)
MP3 CD (5/17/2016)
Description
These Things Happen is set in Manhattan and focuses on two couples - one gay, one straight. They share a 15-year-old son, Wesley, who lives on the upper East Side with his mother and doctor stepfather. Trying to get to know his impressive, distant father better, he moves in for a semester with him his male partner in a mid-town brownstone. George, the partner, is a former actor -- by his own account "fifteen years past fabulous." Charming, funny, smart and compassionate, George manages a struggling theater district restaurant and becomes the model for the kind of man Wesley would someday like to be.
Praise For These Things Happen…
Mr. Kramer has a gift for angst and honesty. . . his dialogue is funny and captivating." The New York Times

"Exquisite . . . These Things Happen is greater than the tactility of its descriptions and the tragicomic vivacity of its characters. This is a novel of the sort that defines generations. Weaving together the individual struggles of his various characters with profound empathy, Kramer asks the reader to consider the limitations of genial political correctness, and even the very notion of love . . . . Beauty and tragedy, adoration and resentment perch simultaneously on single sentences, and readers will be hard-pressed to resist the resultant emotional pull. If, as Wesley muses, everything is practice for conversations that haven't happened yet, with people [we've] yet to meet,' then wandering the pages of Kramer's novel may be a crucial warm-up exercise for us all. A dazzling tour de force, alternately exhilarating and devastating, and, at all turns, revelatory." ForeWord Reviews

Emotionally resonant . . . The humanity and love between two people thrown together by circumstance is Kramer's triumph" Publishers Weekly

...a novel of almost-shocking empathy and love." Salon.com

"Like the two main characters it so unforgettably etches, Richard Kramer's first novel exemplifies the virtues of both youth and maturity: it manages to be both wise and wide-eyed, sage and sensitive, deeply funny and, in the end, disarmingly touching. The man behind ThirtySomething and My So-Called Life has taken his trademark qualities--the grownup's shrewdness about the way the world works and the adolescent's disarming emotional nakedness--and fashioned from them a very affecting work of fiction." Daniel Mendelsohn

"Artful, thoughtful and extremely funny, this is a wonderful first novel about artifice and the discovery of true feeling, about the roles we play and what we choose to make of them." Cathleen Schine

"An introspective and contemporary character study . . . Earlier in his career, Mr. Kramer worked on the acclaimed television dramas, 'My So-Called Life' and 'Thirtysomething.' From the former, he has borrowed the focus on teen angst as narrated by perceptive teens. From the latter, he has borrowed the insecurities of highly competent parents caught in the act of flogging themselves for their non-omniscience. These Things Happen is Richard Kramer's first novel, but he is no novice. This is a well-measured and mature debut." New York Journal of Books

"In Kramer's warmhearted and appealing novel, we get to know Wesley through his own storytelling and via chapters told in the voices of the significant people in his life. Everyone knows Wesley and his best friend, Theo, are close. After Theo is elected class president in their socially liberal private school, he comes out during his acceptance speech. Controversy and violence follow, and Wesley comes to his friend's aid. Theo has questions he wants Wesley to ask his father, a gay activist lawyer, and his father's partner, an actor and chef. Wesley's mother and stepfather also weigh in. Questions lead to more questions and, ultimately, to examinations of the essentials of life and love. Wisdom and understanding are achieved, but not from the expected sources. Kramer catches the snap of adolescent speech and the concerned tones of the adults with skill. Choppy on the surface, the novel is calm and deep as a whole. Wesley is a remarkable and well-drawn character, as are the adults in his life. Kramer's tale of coming-of-age and coming out should have wide appeal." Booklist

Unbridled Books, 9781609531010, 256pp.
Publication Date: April 15, 2014
About the Author
Richard Kramer is the Emmy and multiple Peabody award-winning writer, director, and producer of TV many series, including Thirtysomething, My So-Called Life, Tales of the City, and Once and Again. His first short story appeared in The New Yorker while he was still an undergraduate at Yale. He lives in Los Angeles.
or
Not Currently Available for Direct Purchase