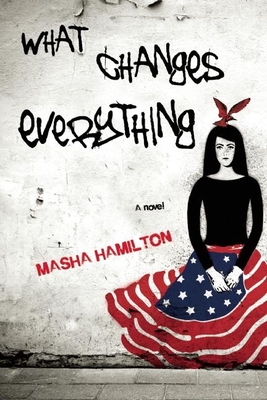 What Changes Everything
Paperback

* Individual store prices may vary.
Other Editions of This Title:
Hardcover (5/21/2013)
Description
Masha Hamilton's fifth novel, What Changes Everything, is truly an American story: an exploration of our twisted, misguided, generous relationship with an enigmatic country -- Afghanistan. It is the story of Clarissa, who in a gamble to save her kidnapped husband's life makes the best decisions she can in the dark nights of Brooklyn, boldly rejecting the advice of U.S. authorities. It is also the story of Stela, who owns a used bookstore in Ohio and writes letter after letter in hopes of comprehending the loss of a son on an Afghan battlefield. And it's the stories of Mandy, the mother of a gravely wounded soldier from Texas, Danil, an angry Brooklyn street artist, and Todd, a career aid worker who for a moment let down his guard in a Kabul marketplace. At the same time, What Changes Everything tells the stories of two Afghans: Najibullah, the former president of Afghanistan during the Communist era, and Amin -- a fictional character, unlike Najib -- who as a boy tried to save Najibullah and failed, and who now risks his own life in a driven effort to help Todd.

Praise For What Changes Everything…
"Engaging....Straddling two lands while depicting the strength of human relationships even in the darkest moments, this seamless blend of fact and fiction through illuminating prose makes the story a rewarding and thought-provoking read."
Publishers Weekly

"Hamilton's descriptions are vivid, especially when portraying the tension and uncertainty that families of political prisoners endure. Fans of topical fiction will appreciate this knowledgeable and nuanced view of the Afghan war."
Library Journal

Journalist-turned-novelist Masha Hamilton has produced a new novel in her trademark vein, with harrowing crisis, conflict and dilemma, and deep psychological probing of self."
THE WASHINGTON INDEPENDENT REVIEW OF BOOKS

Every once in a while, a book comes along that makes you want to wrest even your own work from readers' hands and command that they instead read this. Masha Hamilton's What Changes Everything is that kind of amazing."
Ms Magazine

Intensely gripping and beautifully written, What Changes Everything shows the lengths we will go to to save each other and ourselves. A stunning collage of loss, grief, love, and most of all, survival, Hamilton's characters and their stories are richly drawn and achingly real."
Jillian Cantor, author of Margot

Quite simply stunning. Every once in a while, a book comes along that makes you want to wrest even your own work from readers' hands and command that they instead read this. Masha Hamilton's What Changes Everything is that kind of amazing. Hamilton knows the surreal world that is present day Afghanistan firsthand, and she delivers the grief and love that world spills into our own with pace, grace, andperhaps most surprisinglyhumor. I held my breath through a kidnapping, and at women stepping beyond the boundaries allowed them, into the kind of danger that is necessary for change. I fell in love, improbably, with an Afghani aide-turned-negotiator and an American wielding spray paint in dark places on dark nights. I at turns laughed and cried at a mother's attempts, through letters, to gain her son's death the attention it deserves. In the end, I felt I understood some truth I had not brought with me to the book, and I felt uplifted, and hopeful that writing like this might, in fact, be a step toward changing everything."
Meg Waite Clayton (best-selling author of "The Four Ms. Bradwells", "The Wednesday Sisters", and "The Language of Light")

"What Changes Everything shows us the dance of war in all its heartbreaking details, weaving into the most secret places in the human heart. Her story shows what we lose in war, and how we get to the other side of survival. Masha Hamilton is such a gifted writer."
Laura Fitzgerald, author of Dreaming in English

As real and immediate as a racing pulse, Hamilton's dark jewel of a novel turns the political into the personal with a blazing tapestry of characters, all grappling with the terrifying cost of war and the unbreakable bonds of love. Thrilling and magnificent."
Caroline Leavitt, New York Times best-selling author of Pictures of You
Unbridled Books, 9781609531041, 288pp.
Publication Date: October 14, 2014
About the Author
Masha Hamilton is the author of four acclaimed novels, most recently 31 Hours, which The Washington Post called one of the best novels of 2009, and independent bookstores named an Indiebound Indie Next List choice. She also founded two world literacy projects, the Camel Book Drive and the Afghan Women's Writing Project. She is the winner of the 2010 Women's National Book Association award, presented to a living American woman who derives part or all of her income from books and allied arts, and who has done meritorious work in the world of books beyond the duties or responsibilities of her profession or occupation. She began her career as a full-time journalist, working in Maine, Indiana, and New York City before being sent by the Associated Press to the Middle East where she was news editor for five years, including the period of the first intifada. She then moved to Moscow where she worked for five years during the collapse of Communism, reporting for the Los Angeles Times and NBC-Mutual Radio and writing a monthly column, Postcards from Moscow. She also reported from Kenya in 2006, and from Afghanistan in 2004 and 2008. A Brown University graduate, Hamilton has been awarded fiction fellowships from Yaddo, Blue Mountain Center, Squaw Valley Community of Writers and the Arizona Commission on the Arts. She has taught for Gotham Writers Workshop and the 92nd Street Y in New York City and at a number of writers' workshops around the country. She has also taught in Afghanistan at Kabul University. She is currently the director of communications and public diplomacy for the U.S. Embassy in Kabul, Afghanistan.