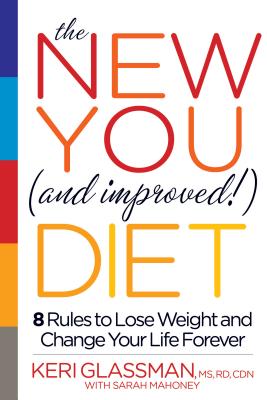 The New You and Improved Diet: 8 Rules to Lose Weight and Change Your Life Forever (Hardcover)
8 Rules to Lose Weight and Change Your Life Forever
Rodale Books, 9781609611194, 272pp.
Publication Date: December 24, 2012
Description
With the abundance of conflicting advice out there, it's easy to see why people struggle with dieting. Dieters want clarity, they want to be told what to do. "Women's Health" contributing editor and author of "The O2 Diet" "and The Slim Calm Sexy Diet" Keri Glassman gives readers the be-all-end-all: 8 simple rules to lose the weight for good.
While what we eat is very important (and "The New You and Improved Diet" includes a step-by-step, 8-week meal plan, full of real foods that are nutrient dense and antioxidant rich) that's just one part of a successful weight-loss strategy. Keri walks readers through the other all-important rules to get stronger, calmer, healthier, more balanced and yes, "thinner."
Each rule is connected to and supports the others. The more you sleep, the more energy you have at the gym, the more weight you lose. The more you choose nutrient-dense food, the more focused your workouts become, the deeper you sleep. Using common-sense wisdom and easy, practical application, "The New You and Improved Diet "shows you how to make connections between these rules to totally reset your body's compass. Including a cleanse to jumpstart the diet, detailed menus, recipes, and tons of simple tips to stay on track, Keri walks readers through the only 8 rules they'll ever need to know to find their best body ever.
About the Author
Keri Glassman, MS, RD, CDN, is the founder and president of Nutritious Life. She is a contributing editor to Women's Health magazine and appears regularly on the Today show and Access Hollywood Live. She lives in New York City.
Praise For The New You and Improved Diet: 8 Rules to Lose Weight and Change Your Life Forever…
"Keri has a special gift for explaining smart eating habits in a way that sticks to your brain (but never your thighs). Unlike most diet plans, the rules she lays out set you up for success. You never, ever feel deprived or dictated to. Instead, Keri's ambition is to empower you to look and feel your absolute best by making food your friend, not the enemy. With her genius tips both your mood and waistline will improve—in record time!"
—Michele Promaulayko, Editor-in-Chief of Women's Health
"Who doesn't want to be told to
eat more
,
sleep more
and
have more sex
(!) if you are trying to lose weight? In this book, Keri explains how your lifestyle - not just your diet - impacts the number on the scale. She's a girl after my own heart! She is such a positive force when it comes to helping me live a happier and healthier life. Her passion for eating right and maintaining a healthy lifestyle is contagious!"
—Kit Hoover, Co-Host, Access Hollywood Live
"Keri Glassman's latest book is a home-run for healthy eating. She gives the latest advice on superfoods in a way that is tailor-made for our super busy lives, and does it in a friendly tone that makes it all easy to ingest! I tore through it and was left feeling excited about my next meal as an opportunity to improve wellbeing from the inside out!"
—Dr. Jennifer Ashton, ABC News Senior Medical Contributor, Women's Health Expert and author of Your Body Beautiful.
"Anything from Keri Glassman is going to be good. "The New You and Improved Diet" hits every spot with fresh advice and simple "how to's" for getting just that...a healthier YOU! Way to go Keri, people are going to love it! I did."
—Kathy Kaehler, Celebrity Trainer and Creator of Sunday Set-Up
"Keri reveals the answers to some of the most asked and most important questions when it comes to weight loss, nutrition, and creating your best self. She gives the reader simple plans that help to integrate her rules into one's daily life, and I love how easy her plan is to follow. The healthy recipes she provides are wonderful, healthy, and will be finding their way into my own personal kitchen!"
—Dr. Mike Dow, Author of Diet Rehab
Advertisement