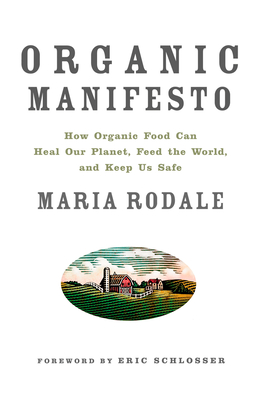 Organic Manifesto (Paperback)
How Organic Food Can Heal Our Planet, Feed the World, and Keep Us Safe
Rodale Books, 9781609611361, 240pp.
Publication Date: March 1, 2011
Other Editions of This Title:
Hardcover (3/16/2010)
MP3 CD (8/30/2016)
* Individual store prices may vary.
Description
Drawing on findings from leading health researchers as well as conversations with both chemical and organic farmers from coast to coast, Maria Rodale's Organic Manifesto irrefutably outlines the unacceptably high cost of chemical farming on our health and our environment. She traces the genesis of chemical farming and the rise of the immense companies that profit from it, bringing to light the government's role in allowing such practices to flourish. She further explains that modern organic farming would not only help reverse climate change by reducing harmful carbon emissions and soil depletion, but would also improve the quality of the food we eat, reduce diseases from asthma to cancer, and ensure a better quality of life in farming communities nationwide.

For every parent wondering how best to safeguard the health and safety of her children; for every environmentalist in search of a solution to the worsening crisis that afflicts our land, air, and waters; for every shopper who questions whether it is worth it to pay more for organic, Maria Rodale offers straightforward answers and a single, definitive course of action: We must demand organic now.
About the Author
Maria Rodale is the CEO and Chairman of Rodale Inc., the world's leading multimedia company with a focus on health, wellness, and the environment, and the largest independent book publisher in the United States. Rodale reaches 70 million people worldwide through brands such as Prevention and Men's Health; through books such as The South Beach Diet and Al Gore's An Inconvenient Truth; and through numerous digital properties. She is founding editor of the company's newest online venture, Rodale.com, which features the latest news and information about healthy living on a healthy planet, as well as her blog, Maria's Farm Country Kitchen.

Maria Rodale joined the family business in 1987, first working in circulation and direct marketing and eventually leading Rodale's in-house direct marketing agency. In 1998, she served as director of strategy, where she led the strategic review, planning processes, and management changes that refocused the company on publishing information on healthy, active lifestyles. She also led the company's Organic Living division, Rodale's first integrated brand division, where she was the Editor-in-Chief of Organic Gardening and oversaw all of Rodale's gardening books. She joined the Rodale board in 1991 and was elected Chairman in 2007.

She has won numerous awards, including in 2004 the National Audubon Society's "Rachel Carson Award" and in 2007 the United Nations Population Fund's "Award for the Health and Dignity of Women." In 2009 she was named to Pennsylvania's "Best 50 Women in Business" List. She is also a member of the board of Bette Midler's New York Restoration Project, co-chair of the Rodale Institute, and a board member of the Lehigh Valley Health Network.

Maria is a mother, an activist, and a businesswoman and has made promoting the benefits of an organic lifestyle both her personal mission and her business. She lives in an ecologically friendly house in Bethlehem, PA, with her husband, three children, one dog, one cat, and six guinea hens.
Praise For Organic Manifesto: How Organic Food Can Heal Our Planet, Feed the World, and Keep Us Safe…
"Maria's pedigree gives her the authority and credibility to educate Americans on this important subject matter. The information in Organic Manifesto will empower you not only to save your own life and the lives of your family but also to do your part in saving the world. If you read one book this year, please make this one it!" —Jillian Michaels

"Organic Manifesto is a breakthrough. It is a clarion call revealing the power of organic farming to improve our health, our economy, our politics, and our planet." —Harvey Karp, MD, FAAP
or
Not Currently Available for Direct Purchase