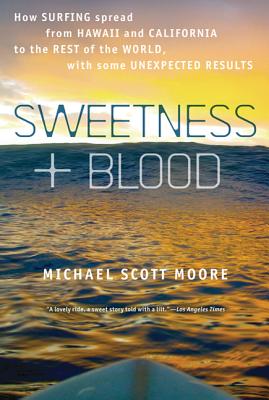 Sweetness and Blood
How Surfing Spread from Hawaii and California to the Rest of the World, with Some Unexpected Results
Paperback

* Individual store prices may vary.
Other Editions of This Title:
Hardcover (5/25/2010)
Description
How did an obscure tribal sport from precolonial Hawaii—one that was nearly eliminated by Christian
missionaries—jump oceans to California and Australia? And how did it become such a worldwide passion, even in places where the surf may be excellent but the society is highly conservative or superstitious about the sea?

In Sweetness and Blood - a brilliantly written travel adventure - journalist (and surfer) Michael Scott Moore visits unlikely surfing destinations—Israel and the Gaza Strip, West Africa, Great Britain, Germany, Indonesia, Japan, Cuba, and Morocco—to find out. Whether he is connecting eccentric surf legend Doc Paskowitz to the Arab-Israeli conflict, trying to deconstruct the terrorist bombing in a nightclub in Bali, or being chased by the German police while surfing a river break in Berlin, Moore masterfully weaves together politics, culture, history, and surfing to create a book like no other.
Praise For Sweetness and Blood: How Surfing Spread from Hawaii and California to the Rest of the World, with Some Unexpected Results…
"Moore and a robust wet suit have boldly gone where only serious and often seriously unhinged dudes have gone before, mapping out a fresh, unexpected cartography of the waves. . . . What he has done, subtly and beguilingly, is write a book about surfing that often is not really about surfing but about simply being alive." —New York Times Book Review

"[A] lovely ride, a sweet story told with a lilt." —Los Angeles Times

"Jolly!" —The Economist


"A lively global jaunt that will offer some surprises even for the heartiest of wave-riding experts." —The Washington Post

"[He] burrows into each locale with a keen ear for dialogue and a bullshit detector set to 'stun' . . . The clarity of his prose leaves us hungry for Moore." —The Surfer's Journal

"Warm, smart, funny, and beautifully written. Sweetness and Blood goes off the beaten surf-path to give us a bigger, more interesting surf world." —Matt Warshaw, author of The History of Surfing

"Sweetness and Blood is a lively tour de force of travel writing and enterprising research that tells the truly fascinating story of surfing's spread into unlikely corners of the globe. This is like Beach Boys music for the sun-hungry brain, imagination, and soul." —Francisco Goldman, author of Say Her Name and The Art of Political Murder: Who Killed the Bishop?
Rodale Books, 9781609611408, 336pp.
Publication Date: May 24, 2011
About the Author
MICHAEL SCOTT MOORE is a novelist and journalist from California. He was a 2006-2007 Fulbright fellow in Berlin, where he currently works for Spiegel Online and writes a column for Miller-McCune Magazine. His first novel, Too Much of Nothing, was published by Carroll & Graf in 2003. He's written on politics and travel for publications such as The Atlantic Monthly, Slate, and the Financial Times. He's also at work on a second novel.
or
Not Currently Available for Direct Purchase