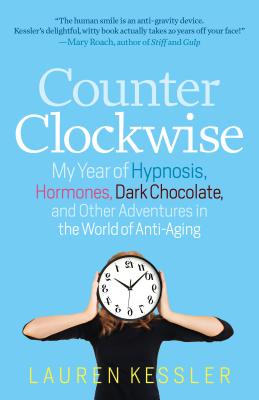 Counterclockwise (Hardcover)
My Year of Hypnosis, Hormones, Dark Chocolate, and Other Adventures in the World of Anti-Aging
Rodale Books, 9781609613471, 256pp.
Publication Date: June 4, 2013
Other Editions of This Title:
Paperback (5/20/2014)
MP3 CD (6/14/2016)
* Individual store prices may vary.
Description
In this age of lunchtime lifts, wrinkle-erasing injections, furrow fillers, and lip plumpers, there's no question that anyone who aims to look younger easily can. But Lauren Kessler wants something more than to follow the cosmetic path to youthfulness. She wants to live with energy, stamina, vitality, resilience, and health for a very, very long time. Her goal: to reverse her biological age from the inside out.

Guided by both intense curiosity and healthy skepticism, a sense of adventure and a sense of humor, Kessler sets out to discover just what's required to prolong those healthy, vital, and productive years called the "health span." In her yearlong journey, Kessler investigates and fully immerses herself in the hope and hype of the anti-aging movement. She delves into the new science of "biomarkers"—objective, measurable indications of how old you really are on the inside—going as far as getting a muscle biopsy to determine the state of her mitochondria, the parts of cells that control metabolism. She tries Tabata training, calorie restriction, a diet centered on 20 superfoods, hCG (human chorionic gonadotropin), hypnosis to achieve a youthful mindset, and much more. In a voice that speaks to every woman who feels her date of birth and sense of self have little in common, Kessler explores her own fears, attitudes, and assumptions about aging. Counterclockwise is a thoughtful, hilarious, and informative tale of what's really possible when you get serious about taking charge of how well and how quickly you age.
About the Author
Lauren Kessler is the author of My Teenage Werewolf: A Mother, a Daughter, a Journey Through the Thicket of Adolescence; award-winning Dancing with Rose; Washington Post bestseller Clever Girl; and Los Angeles Times bestseller The Happy Bottom Riding Club. Her journalism has appeared in the New York Times Magazine; Los Angeles Times Magazine; O, the Oprah Magazine; Ladies' Home Journal; Woman's Day; Prevention; and Salon. A national speaker and workshop leader, she directs the graduate program in multimedia narrative journalism at the University of Oregon. She lives in Eugene, Oregon, with her writer husband, Tom Hager, her teenage (werewolf) daughter, four carefree chickens, and a cat that thinks it's a dog.
Praise For Counterclockwise: My Year of Hypnosis, Hormones, Dark Chocolate, and Other Adventures in the World of Anti-Aging…
"The human smile is an anti-gravity device. Kessler's delightful, witty book actually takes 20 years off your face!" —Mary Roach, author of Stiff and Gulp

"Lauren Kessler's bold, bad-ass take on aging solves one of our great modern dilemmas: how to stay young and vibrant without spending the rest of our lives obsessing over how to stay young and vibrant. I feel a decade younger just having read it." —Karen Karbo, author of How Georgia Became O'Keeffe

"Lauren Kessler has journeyed to the far frontiers of the anti-aging movement and, using herself as an ever-willing guinea pig, delivers insights that are at once funny, reassuring, practical, and real." —Peggy Orenstein, author of Cinderella Ate My Daughter

"Counterclockwise is an amateur cultural anthropologist's smart, inspiring narrative. It identifies the sensible, the ridiculous, and the dangerous and ultimately teaches that your birth date rarely reflects true age." —Sally Koslow, author of Slouching Toward Adulthood

"Kessler takes on the marketing, (sometimes pseudo-) science, and the psychology of the anti-aging industry in this funny personal tale. Game to explore every possible manner of aging gracefully, she interviews plastic surgeons and research scientists, attends conferences, has her mitochondria and telomeres tested, downs supplements and "superfoods," takes online self-assessments, and tries new diet and exercise plans. Her journey through the temptations of quick-fix anti-aging options treats the fountain-of-youth-seeking side of us with humor and compassion." —Publishers Weekly

"[Kessler's] breezy style conceals an aptitude for reasoned analysis, and she incorporates a cogent summary of clinical research on aging into her tour of the fountain grounds, a one-woman guinea pig gamely trotting down a dozen different paths in search of the bubbling waters." —New York Times Science Times

"A fascinating new book...Essential reading for every woman who wonders whether problems ranging from brain fog to wrinkles can be reversed as she ages...incorporating humor, scientific studies and a sense of adventure, Lauren examines options ranging from calorie deprivation to super foods to hypnosis to dark chocolate...Take charge of your health and your options for feeling and looking younger with Lauren's ultimate guide to anti-aging empowerment." —Examiner.com

"You could not hope for a smarter, savvier, more committed guide to the multibillion-dollar anti-aging industry than Kessler." —The Oregonian

"There is no ready-made travel guide -- it's every health explorer for herself out there. But arming yourself with a water bottle and [COUNTERCLOCKWISE] is a good way to head out on the expedition. If you can be half as diligent and honest about yourself as Kessler -- you'll learn plenty along the way." —The Seattle Times

"It took me less than a chapter to discover that [Kessler's] year-long search into the $88 billion anti-aging industry was both great fun and highly informative...She writes with dry wit and humor, evoking a reality most of us share." —Eugene Weekly

"Have you ever found yourself glued to television commercials that promise miracle fat fighting after 40, P90x abs or creams that make you look better at 48 than you did at 28 and wondered, 'Should I buy it?' You might want to stop at the bookstore first...Counterclockwise is chock-full of good info and most of all, a writer who is not afraid to examine the questions we all ask ourselves as we look in the mirror but would never speak in mixed company. It's money well spent." —Pittsburgh Post-Gazette

"[Kessler is] an intrepid explorer of all things anti-aging." —Psychology Today

"Kessler is fun to read as she perkily pushes herself to become biologically younger." —HARPER'S

"There's no better season than the present to read books that bring good tidings, tested strategies and sound advice about how to live healthier, happier lives in the year--and years--ahead. Here are our recommendations for the year's best books for staying fit in all ways as you explore the territory ahead.... In her informative and witty 'Counterclockwise: My Year of Hypnosis, Hormones, Dark Chocolate, and Other Adventures in the World of Anti-Aging,' journalist Lauren Kessler sets out to find 'the best research and the worst scams' in the wannabe-fountain-of-youth marketplace." —WALL STREET JOURNAL
or
Not Currently Available for Direct Purchase