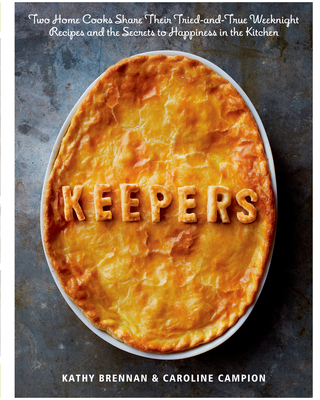 Keepers: Two Home Cooks Share Their Tried-And-True Weeknight Recipes and the Secrets to Happiness in the Kitchen (Hardcover)
Two Home Cooks Share Their Tried-And-True Weeknight Recipes and the Secrets to Happiness in the Kitchen
Rodale Books, 9781609613549, 256pp.
Publication Date: August 20, 2013
Description
Whether they're parents, married without kids, or single, most people want to do better at mealtime they want to put good, nutritious food on the table, they're looking for a more diverse repertoire of dishes to prepare, and they'd like to enjoy the process more. The problem is they don't believe they have the time or ability to do it night after night. But it can be done, and "Keepers "will show them how.
Drawing from two decades of trial-and-error in their own kitchens, as well as working alongside savvy chefs and talented home cooks, Campion and Brennan offer 120 appealing, satisfying recipes ideal for weeknight meals. There's an array of master recipes for classic dishes with options for substitutions, updated old favorites, one-pot meals, "international" dishes, super-fast ones, and others that reheat well or can be cooked in individual portions. Along with timeless recipes, "Keepers "is filled with invaluable tips on meal planning and preparation, all presented in an entertaining, encouraging, and empathetic style.
""
""
"Keepers "gives cooks all of the tools they need to become more efficient, confident, and creative in the kitchen. It will help them survive the Monday-to-Friday dinner rush with their sanity and kitchens intact, and also have some fun along the way.
About the Author
Kathy Brennan is a freelance editor and writer. A winner of the Bert Greene and James Beard Journalism Awards, she was a long-time editor at Saveur, and also worked at Gourmet and Food Arts. Caroline Campion is a contributing editor at Glamour magazine and the creator of the award-winning food blog DevilAndEgg.com. She was also an editor at Good Housekeeping, GQ, and Saveur.
Praise For Keepers: Two Home Cooks Share Their Tried-And-True Weeknight Recipes and the Secrets to Happiness in the Kitchen…
A 2014 IACP Cookbook Awards Winner: General Category
"It may be the best-value weeknight cookbook around"—The Boston Globe
"Kathy and Caroline reveal the answer to the often daunting question of "what's for dinner tonight?" I encourage everyone—whether a novice or seasoned cook—to explore their kaleidoscopic collection of casual recipes that are sure to satisfy any group of friends or hungry family."—
Daniel Boulud
"Leave it to these two smart working mothers to create such a charming, practical cookbook for the home cook.
Keepers
is filled with delicious recipes (and plenty of good advice) that every home cook will be glad to add to their own collection of "keepers".
Keepers
is a keeper!—
Christopher & Melissa, The Canal House
"Any book with an entire section devoted to toast for dinner has my immediate respect. Kathy and Caroline have assembled a weeknight arsenal for home cooks that's inspiring, relatable and infused with a deep understanding of the realities of family life. Keepers epitomizes the way I strive to cook every night."—
Merrill Stubbs, co-founder of Food52
"
Keepers
is one of the smartest cookbooks to come out in recent years. From techniques learned at the International Culinary Center to daily conversations about "what's for dinner" at
Saveur
, these two have put together the modern day go-to cookbook. Brennan and Campion hit the nail on the head, speaking in an honest and helpful way while guiding readers through realistic expectations of weeknight planning and cooking. Anyone from those just starting to cook for themselves to newlyweds trying to find their culinary voice to mothers in a food rut will find
Keepers
a real keeper."—
Dorothy Cann Hamilton, Founder & CEO, The International Culinary Center
"Skillet Lasagna? Cucumber and Watermelon Salad? Yes, please. Find them in this collection of time-honored, proven dishes—from two former editors of
Saveur
magazine—that will become your own family classics."—
Real Simple
"Do you need another book claiming to offer quick weeknight dinners? Well, you need this one.
Keepers
is highly focused — it's dinner and dinner only, and not one of its recipes will set you back more than 45 minutes. At the same time, these two former Saveur editors make no compromises on taste or quality. Even their shortcuts — a pack of frozen vegetables, store-bought puff pastry — are in the service of deliciousness (in this case, a fast chicken pot pie)."—
NPR Guide to Great Reads of 2013
"Don't think I can face another year of boring old green beans, so I've been flipping through Brennan and Campion's great new not-too-fussy
Keepers
for out-of-the-box options. Tomato and Zucchini Gratin looks yummy, or – ooh! – Roasted Acorn Squash with Jalapeño-Lime Butter ... I might just have to try both."—
People.com"The best cookbook you've read all year."—Joanna Goddard, Cup of Jo
"Kathy and Caroline have filled
Keepers
with practical advice on everything from meal planning (when was the last time a cookbook reminded you to breathe?) to shopping with kids (don't worry, it's awful for them, too). They even give suggestions for families at different stages or with kids of different ages. But my favorite section is 'Lifesavers,' which is filled with versatile sauces–aka flavor bombs–that can be made ahead, kept in the fridge for up to a week, and make almost anything taste better. Genius."—
Cool Mom Picks
"Along with pantry-stocking tips, weekly meal-planning guides, and essential tool checklists, they share recipes, which are, with no surprise because of the title of the book, keepers. These recipes are trusted family and personal recipes, infused with years of experience working in the culinary industry — and later the motherhood industry, too. They're not just delicious, but they're also tested and proved to be easy and indispensable dishes for you to add to your recipe box, making them perfect for a weeknight meal."—
The Daily Meal
Advertisement