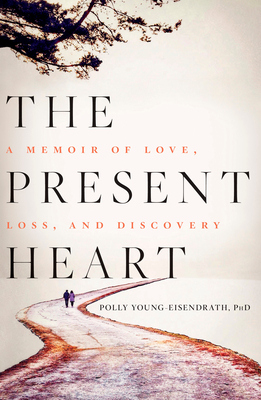 The Present Heart (Hardcover)
A Memoir of Love, Loss, and Discovery
Rodale Books, 9781609613600, 208pp.
Publication Date: October 7, 2014
* Individual store prices may vary.
Description
After a chance encounter with a handsome, idealistic stranger on a plane in 1969, Polly Young-Eisendrath rediscovered Ed Epstein a decade later when she least expected it. After untangling themselves from their existing relationships, they married in 1985 and spent the next 25 years together. They were soul mates, but in 2001, Ed (at the vital age of 53) began to show signs of Alzheimer's disease. Over the next 10 years, as her husband gradually reversed his mental maturity, Young-Eisendrath was faced with the question, what is love?
The Present Heart is an insightful journey of living in the present moment. In a deeply moving yet unsentimental voice, Young-Eisendrath draws on her lifelong practices of Buddhism and psychoanalysis and her own unique view of love, as well as a circle of profound thinkers including author Abigail Thomas, psychoanalyst Nancy McWilliams, and Buddhist teacher Shinzen Young.

A thoughtful meditation on the human experience, The Present Heart shows how our most intimate relationships, often the source of our greatest pain, can prove to be our path to spiritual enlightenment. The book offers a new perspective on how to maintain engaged, reciprocal relationships—with a partner, parent, child, or friend—under any and all circumstances.
About the Author
POLLY YOUNG-EISENDRATH, Ph.D., is the author of 14 books, including The Self-Esteem Trap, The Resilient Spirit, and Women and Desire, and is a Jungian analyst, psychologist, and clinical associate professor of psychiatry at the University of Vermont. A frequent speaker and facilitator at conferences and a teacher of mindfulness, she lives in central Vermont.
Praise For The Present Heart: A Memoir of Love, Loss, and Discovery…
"The Present Heart asks the question "present for what?" and the answer is "all of it." Caring for two ex-husbands with dementia, one of whom has cashed in her lifesavings, Polly Young-Eisendrath tests her training as a Jungian analyst and Buddhist meditator against the hard rocks of reality. Bypassing self-pity altogether, she finds an immense and surprising capacity for loving without delusion and seeing without blame. Unflinching yet hopeful, her story is an inspiring study in courage." —Kay Larson, author of Where the Heart Beats: John Cage, Zen Buddhism, and the Inner Life of Artists

"Polly Young Eisendrath's brilliant new book skillfully blends Buddhist sensibility with depth psychology to illumine the human heart's deepest longing for love. Besides shining the bright light of these two wisdom traditions on love in all of its mystery, she also makes her own personal path toward love and its loss transparent. Her well-honed craft, self-awareness through love and loss, and profound understanding of human nature make this book useful to all of us engaged in seeking meaning and relationship." —Grace Schireson, Ph.D., Zen Abbess, Central Valley Zen, author of Zen Women: Beyond Tea Ladies, Iron Maidens, and Macho Masters

"Polly Young-Eisendrath illuminates love as a path--not a goal--of self and mutual discovery that goes to the very heart of our nature." —Barry Magid, author of Ending the Pursuit of Happiness

"This is a book for anyone who has encountered catastrophic change in a relationship. It is a story of love broken open--the unvarnished account of how a well-known psychoanalyst uses her Buddhist path and community of friends to make room in love for every other emotion--and to thrive again. THE PRESENT HEART left me thinking of May Sarton's observation: "I am lavish with riches made from loss." —Deborah Anna Luepnitz, Ph.D., author of Schopenhauer's Porcupines

"Polly Young-Eisendrath's wise, exquisite, heart-opening book will renew your faith in the power of love as a transformative gift and a path of personal awakening. Informed by decades of analytical practice and spiritual inquiry, this intimate story of one woman's journey through love and loss--and what lies between--deserves a place on your bookshelf next to Elegy for Iris, A Three Dog Life, and About Alice. Read this book!" —Mark Matousek, author of Sex Death Enlightenment and When You're Falling, Dive

"In this provocative and daring memoir, Polly Young-Eisendrath has mined her inner landscape more than most people will ever even dream. Her digging yields surprising gems that will be precious to anyone interested in transforming hardship into wisdom--and even joy." —Jaimal Yogis, author of Saltwater Buddha and The Fear Project

"I have rarely seen love articulated so clearly and honestly. What Polly shares with readers will be of inestimable value to everyone in a loving relationship. Such an untrammeled and open-hearted account of love's journey is a gift to us all." —Toinette Lippe, author of Nothing Left Over: A Plain and Simple Life and Caught in the Act: Reflections on Being, Knowing, and Doing
or
Not Currently Available for Direct Purchase