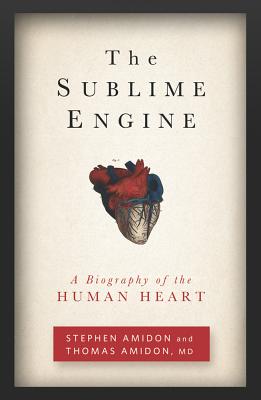 The Sublime Engine: A Biography of the Human Heart (Paperback)
A Biography of the Human Heart
Rodale Books, 9781609613792, 242pp.
Publication Date: January 17, 2012
Description
The heart has consistently captured the human imagination. It has been singled out as a cultural icon, the repository of our deepest religious and artistic impulses, the organ whose steady functioning is understood, both literally and symbolically, as the very life force itself. "The Sublime Engine" by Stephen Amidon and Thomas Amidon, MD will explore the profound sense of awe every person feels when they ponder the miracle encased within their ribs.

In this lyrical history of our most essential organ, a critically-acclaimed novelist and a leading cardiologist--who happen to be brothers--draw upon history, science, religion, popular culture, and literature to illuminate all of the heart's physical and figurative chambers. Divided into four sections: The Ancient Heart, ' The Renaissance Heart, ' The Modern Heart' and The Future Heart, ' each section will focus on a major epoch in our understanding of the heart and the hidden history of cardiology. Erudite, witty, and enthralling, "The Sublime Engine" will make the heart come alive for readers.
About the Author
Stephen Amidon is the author of six novels, including The New City and Human Capital. His fiction has been published in fifteen countries, and he is a regular contributor of essays and criticism to newspapers and magazines in the United States and Great Britain.Tom Amidon, MD is a cardiologist in Bellevue, Washington, Cardiology Section Chief at Overlake Hospital in Seattle, a clinical instructor at Washington University, author of dozens of articles and co-author of the cardiology chapter in the top selling medical text book
Praise For The Sublime Engine: A Biography of the Human Heart…
"The Sublime Engine is that rare book; so entertaining that its ability to educate seems effortless." —Publishers Weekly, starred review
Advertisement