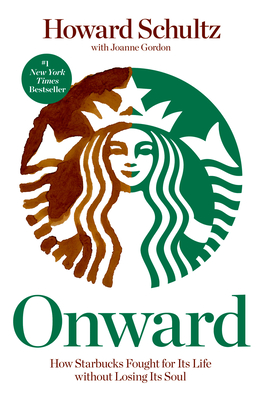 Onward: How Starbucks Fought for Its Life Without Losing Its Soul (Paperback)
How Starbucks Fought for Its Life Without Losing Its Soul
Rodale Books, 9781609613822, 350pp.
Publication Date: March 27, 2012
Description
In this #1 New York Times bestseller, the CEO of Starbucks recounts the story and leadership
lessons behind the global coffee company's comeback
In 2008, Howard Schultz decided to return as the CEO of Starbucks to help restore its financial health and bring the company back to its core values. In Onward, he shares this remarkable story, revealing how, during one of the most tumultuous economic periods in American history, Starbucks again achieved profitability and sustainability without sacrificing humanity.
About the Author
Howard Schultz is the chairman, president, and CEO of Starbucks and the author of the New York Times bestseller Pour Your Heart Into It.Joanne Gordon is a former Forbes writer and contributing editor who has spent more than a decade profiling companies and business leaders for numerous publications and five previous books.
Praise For Onward: How Starbucks Fought for Its Life Without Losing Its Soul…
"Personal, suspenseful, and surprisingly open . . . [Schultz's] sequel to the founding of Starbucks
is grittier, more gripping, and dramatic, and his voice is winning and authentic. this is a must-read
for anyone interested in leadership, management, or the quest to connect a brand with the consumer." —Publishers Weekly, starred review
"Through the lens of his personal leadership journey, with all of its dizzying ups and agonizing downs,
Howard Schultz has written, with aching honesty and passion, the single most important book on
leadership and change for our time and for every generation of leaders." —Warren Bennis, Distinguished Professor of Business, University of Southern California, and author of Still Surprised: A Memoir of a Life in Leadership
Advertisement