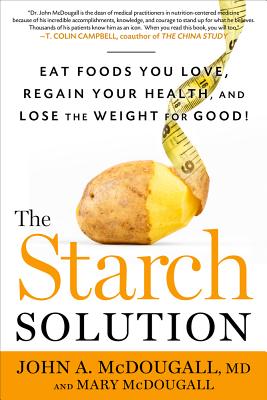 The Starch Solution
Eat the Foods You Love, Regain Your Health, and Lose the Weight for Good!
Hardcover

* Individual store prices may vary.
Other Editions of This Title:
Digital Audiobook (9/26/2016)
Paperback (6/4/2013)
MP3 CD (9/27/2016)
MP3 CD (9/27/2016)
Compact Disc (9/27/2016)
Compact Disc (9/27/2016)
Description
A bestselling author's groundbreaking eating plan that challenges the notion that starch is unhealthy

From Atkins to Dukan, the fear-mongering about carbs over the past few decades has reached a fever pitch; the mere mention of a starch-heavy food is enough to trigger a cavalcade of shame and longing.

In The Starch Solution, bestselling diet doctor and board-certified internist John A. McDougall, MD, and his kitchen-savvy wife, Mary, turn the notion that starch is bad for you on its head. The Starch Solution is based on a simple swap: fueling your body primarily with carbohydrates rather than proteins and fats. This will help you lose weight and prevent a variety of ills.

Fad diets come and go, but Dr. McDougall has been a proponent of the plant-based diet for decades, and his medical credibility is unassailable. He is one of the mainstay experts cited in the bestselling and now seminal China Study—called the "Grand Prix of epidemiology" by the New York Times. But what The China Study lacks is a plan.

Dr. McDougall grounds The Starch Solution in rigorous scientific fact and research, giving readers easy tools to implement these changes into their lifestyle with a 7-Day Quick Start Plan and 100 delicious recipes. This book includes testimonials from among the hundreds Dr. McDougall has received, including people who have lost more than 125 pounds in mere months as well as patients who have conquered lifethreatening illnesses such as diabetes and cardiac ailments.
Praise For The Starch Solution: Eat the Foods You Love, Regain Your Health, and Lose the Weight for Good!…
"Dr. John McDougall is on a mission to make us healthier. Read The Starch Solution. It may save your life and your brain." —Dennis Bourdette, MD, Chair and Roy and Eulalia Swank Family Research Professor, Department of Neurology

"The Starch Solution is an easy and powerful way to achieve the very best of health. Dr. McDougall's unparalleled knowledge and experience have brought us the best possible way to help people lose weight, lower their cholesterol and blood pressure, boost their energy, and change their lives." —Neal Barnard, author of the 21-Day Weight Loss Kickstart

"You'll be doing the happy dance when you read this book! Hallelujah, and bring on the pasta!" —Kathy Freston, author of The Veganist

"Bold, honest, and ringing with truth, The Starch Solution will show you exactly how to reclaim your health and your life. Nobody has ever delivered this message so clearly. Dr. John McDougall's latest contribution is destined to become a classic." —Douglas J. Lisle, Ph.D., co-author of The Pleasure Trap

"This maverick physician has a wealth of knowledge that could be the key to a tremendous improvement. I personally know many people who have found the McDougall program to be the key to vastly improved health for themselves and their families. This book lays it out clearly and without compromise." —John Robbins, author of No Happy Cows, The Food Revolution, and Diet For A New America

"Dr. McDougall and Mary have done it again. The Starch Solution is a thorough and absorbing explanation of the health benefits and nutritional excellence of a plant based diet. In addition to being healthy, the food was delicious and satisfying." —Robert A Rosati, MD, co-author of the New York Times bestseller, The Rice Diet Solution

"John McDougall, M.D. has once again produced an outstanding book with recommendations gleaned from his decades of medical experience and strongly supported by the scientific literature. He has the courage to tell the truth about both the business of medicine, which largely ignores the role of diet , and the forces of evil that sell the promises of fractionated foods and diet fads. The information in this book can provide the reader the power needed to lose weight and regain health." —Alan Goldhamer, Director, TrueNorth Health Center, Co-author of The Pleasure Trap

"The Starch Solution is one of the most important books ever written on healthy eating. As Dr. McDougall shows us in his book, human beings flourish on starch foods from whole food sources. When combined with healthy servings of vegetables and fruits we have the perfect diet to prevent and reverse the lifestyle diseases that are now killing 80% of Americans obesity, heart disease, strokes, diabetes, and cancer. The recipes included in the book are easy and delicious. The Starch Solution will change your life. Read it and live it." —John P. Mackey, co-chief Executive Officer and Director, Whole Foods Market, Inc.

"This time the Star McDougaller is John himself joining with Mary in creating a masterfully crafted nutrition guide that destroys harmful myths and enhances the enduring capacity of whole food plant based nutrition as the foundation to our long overdue health revolution." —Caldwell B. Esselstyn, Jr., M.D., author of Prevent and Reverse Heart Disease

"Eat all you want; any time you want. Statements that sound too good to be true usually are... too good to be true. But John McDougall's new book "The Starch Solution", richly referenced for science, but gracefully written for consumers, just might be both good and true." —George D Lundberg MD, Editor at Large, MedPage Today; Former Editor in Chief of JAMA., Medscape and eMedicine from WebMD

"Great news! Thank you John! Now we can eat carbs guilt-free and maintain our figures." —Elizabeth Kucinich, Director of Public Affairs for the Physicians Committee for Responsible Medicine

"The Starch Solution is a viable approach to solving many health problems including obesity, heart disease, and type-2 diabetes and will have a positive impact on our environment. I highly recommend it." —Congressman Dennis J. Kucinich

"John McDougall has done it again. This time, clarifying the issue of starches and the important role they play in human nutrition, improving our health and the health of the planet." —Jeff Novick, Vice President for Executive Health Exams International and lectures at the McDougall Program

"The option is pretty simple. Meat and potatoes and later angioplasty and bypass or a plant-based (starch diet) and medicine-less and procedure-less health and happiness. The 12th McDougall book shows the way. It is highly recommended." —William C. Roberts, MD, Editor in chief, The American Journal of Cardiology, Executive Director, Baylor Heart and Vascular Institute, Baylor University Medical Center, Dallas

"[Dr. McDougall's] new book stands to get him more attention than any of the others. Much of what's in The Starch Solution, which came out earlier this year, is excellently researched, scientifically-backed...and totally contradictory to what most Americans think they know about food and weight loss." —Bliss Tree
Rodale Books, 9781609613938, 368pp.
Publication Date: May 8, 2012
About the Author
John A. McDougall , MD, has coauthored many bestselling books with his wife, Mary, and is featured in the documentary and book Fork over Knives. He serves as associate professor at Touro University College of Osteopathic Medicine in Vallejo, CA, and teaches medical students at his clinic in Santa Rosa.
or
Not Currently Available for Direct Purchase