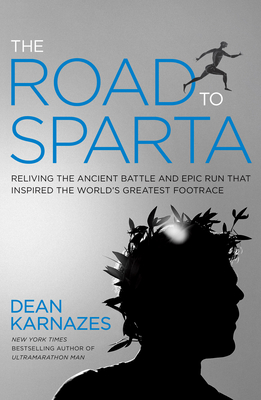 The Road to Sparta
Reliving the Ancient Battle and Epic Run That Inspired the World's Greatest Footrace
Hardcover

* Individual store prices may vary.
Other Editions of This Title:
MP3 CD (10/25/2016)
Compact Disc (10/25/2016)
Description
The Road to Sparta is the story of the 153-mile run from Athens to Sparta that inspired the marathon and saved democracy, as told—and experienced—by ultramarathoner and New York Times bestselling author Dean Karnazes.

In 490 BCE, Pheidippides ran for 36 hours straight from Athens to Sparta to seek help in defending Athens from a Persian invasion in the Battle of Marathon. In doing so, he saved the development of Western civilization and inspired the birth of the marathon as we know it. Even now, some 2,500 years later, that run stands enduringly as one of greatest physical accomplishments in the history of mankind.

Karnazes personally honors Pheidippides and his own Greek heritage by recreating this ancient journey in modern times. Karnazes even abstains from contemporary endurance nutrition like sports drinks and energy gels and only eats what was available in 490 BCE, such as figs, olives, and cured meats. Through vivid details and internal dialogs, The Road to Sparta offers a rare glimpse into the mindset and motivation of an extreme athlete during his most difficult and personal challenge to date. This story is sure to captivate and inspire—whether you run great distances or not at all.
Praise For The Road to Sparta: Reliving the Ancient Battle and Epic Run That Inspired the World's Greatest Footrace…
Endurance athlete and author Karnazes (Ultramarathon Man: Confessions of an All-Night Runner) recounts his participation in the 153-mile race from Athens to Sparta in this engaging memoir. After logging a remarkable list of running accomplishments—including running an ultramarathon across Death Valley in 120-degree heat, running to the South Pole in -40 degrees, and running 50 marathons in 50 states in 50 consecutive days—Karnazes details the difficulties and joys of training for and running the Athens-to-Sparta route. He provides an eye-opening historical refresher course recounting the ancient battle between the Greeks and the Persians, when Pheidippides ran from Athens to Sparta then turned around and ran from Sparta to Marathon, via Athens, in order to deliver crucial information. "My point," he writes, "is that the annals of history have grossly under-recognized the significance of Pheidippides's superhuman act." Karnazes recounts his family history with its Greek roots and explores the deep feelings he develops for the people and landscape of his ancestral homeland. As the author readies for the race, he explains, "For me, the quest was deeply personal. I'd been waiting a lifetime to be standing in this place, and at that moment I saw this more clearly than ever." This is a remarkable and inspiring memoir that will have casual and serious runners cheering. Agent: Carole Bidnick, Bidnick and Co. (Sept.)
—Publishers Weekly

"Karnazes may just blow your mind about the human body's capabilities with his new book, The Road to Sparta...An engaging read for runner and non-runner alike."
—San Francisco Chronicle

"I have logged countless miles in my training over the years, but running 153 miles—nearly 6 full marathons—in under 36 hours is unfathomable to me. Still, that's exactly what Dean Karnazes did when he completed the Spartathlon in the fabled land of his ancestors. In this remarkable and poignant book, Dean chronicles his attempt to retrace the heroic footsteps of the great Greek messenger Pheidippides and, along the way, reveals something much deeper about the power of running: The road leads us not only toward the finish line, but toward our true selves."
— Meb Keflezighi, 4-time U.S. Olympian and author of Meb for Mortals

"In The Road To Sparta, Dean Karnazes takes readers on a personal, physical, emotional and spiritual journey as he runs through his ancestors' homeland. He reveals what defines his life, and, in particular, his passion as a prodigious and successful endurance athlete. He weaves into his story a wonderfully concise history of running in Ancient Greece that places Pheidippides' 24.48(?) mile run from the battlefield of Marathon to Athens into the context of the age, breathing fresh life into ancient historical figures. This is a thought-provoking and affecting account from someone who truly loves his sport."
— Frank Shorter, 1972 Olympic marathon champion and author of My Marathon

"A timeless and soul stirring epic, this book is a must read for anyone looking to better his or her life. It provides a healthy dose of inspiration, showing us what is possible and teaching us that the ancient Greek athletes were comfortable being uncomfortable."
— Joe De Sena, founder of the Spartan Race

"Many years ago Pheidippides made the marathon what is today. Dean Karnazes is the modern day Pheidippides and he has made the ultra-marathon part of the world's landscape, inspiring thousands along the way to test their limitations, then push past them."
— Bart Yasso, Chief Running Officer, Runner's World magazine
Rodale Books, 9781609614744, 304pp.
Publication Date: October 25, 2016
About the Author
Dean Karnazes, a New York Times bestselling author and an internationally recognized endurance athlete, was named by Time magazine as one of the Top 100 Most Influential People in the World. He has competed on all seven continents, including a 350-mile run, a 135-mile ultramarathon across Death Valley, and a marathon to the South Pole in negative 40 degrees. In 2006, he ran 50 marathons, in all 50 US states, in 50 consecutive days, finishing with the NYC Marathon, which he completed in three hours flat. He has written for Runner's World and Men's Health and lives in Marin County, CA.
or
Not Currently Available for Direct Purchase