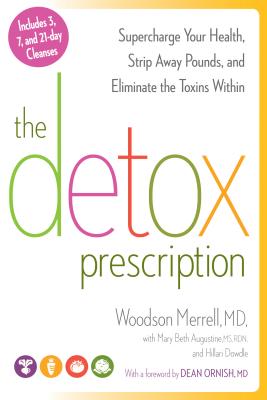 The Detox Prescription (Hardcover)
Supercharge Your Health, Strip Away Pounds, and Eliminate the Toxins Within
Rodale Books, 9781609615352, 368pp.
Publication Date: December 24, 2013
* Individual store prices may vary.
Description
The human body has an extraordinary ability to detoxify itself. We rely on this system when we wait for a hangover to lift or recover from a bout of food poisoning. However, cutting-edge science is revealing how toxic exposures can actually affect our genes and lead to conditions such as obesity, diabetes, arthritis, mood disorders, energy, allergies, fertility, and heart disease—all of which are on the rise.

The good news is that each of us can optimize this natural cleansing system for better health, greater energy, and efficient weight loss. In The Detox Prescription, Dr. Merrell draws on new research to help readers assess their own toxic risk factors and health deficiencies. Next, he and Mary Beth Augustine, RD, offer more than 75 delicious and nutrient-rich recipes incorporating juices and whole foods, broken into 3-, 7-, and 21-day cleanses. Dr. Merrell's holistic approach also relies on light yoga practices, basic self-care, beginning meditation, and sleep hygiene to reset body, mind, and spiritand take control of our genetic destiny.
About the Author
WOODSON MERRELL, MD, is chairman of the Department of Integrative Medicine at Beth Israel Medical Center and an assistant clinical professor of medicine at Columbia University College of Physicians and Surgeons. The cofounder of the Continuum Center for Health and Healing in NYC, he maintains a private practice on Manhattan's Upper East Side and lives in New York City.

MARY BETH AUGUSTINE, RD, CDN, is an integrative and functional nutrition expert on the faculty of the Continuum Center for Health and Healing. She lives in Westchester, New York.
Praise For The Detox Prescription: Supercharge Your Health, Strip Away Pounds, and Eliminate the Toxins Within…
"Every once in a while, a game-changing book comes along that breaks through the chatter and provides a powerful new vision for solving our big problems. Chronic disease, obesity, autoimmunity, fatigue, depression--you name it--are often caused by toxicity. Our toxic diet, our toxic lifestyles, our toxic environment drive much of the disease and suffering so prevalent today. The Detox Prescription provides a shortcut to health, a roadmap for breakthrough well being. In just a few short days, following the wise counsel of Dr. Merrell, you can have your health and your life back. Just try it!" —Mark Hyman, MD, author of the #1 New York Times bestseller, The Blood Sugar Solution, and chairman, the Institute for Functional Medicine

"Dr. Merrell marries his massive clinical experience with cutting edge science to craft a smart detox approach that will change lives. " —Mehmet Oz, MD, host of The Dr. Oz Show

"Inspiring, evidence-based, and wonderfully practical, The Detox Prescription shows us step by step how to nourish and heal our bodies and experience the good health that is our birthright." —James S. Gordon, MD, author of Unstuck: Your Guide to the Seven Stage Journey Out of Depression, and founder and director of The Center for Mind-Body Medicine.

"I field questions about the latest cleanse or detox daily, and I'm usually stuck explaining why it likely won't help someone achieve--and may even hamper--their personal health goals. Finally, enter The Detox Prescription, a game changer in the cleanse/detox space! Dr. Merrell painstakingly developed a program that any reader can benefit from and any healthcare practitioner can feel secure with its benefits for their patient." —Ashley Koff, RD, celebrity dietitian

"Dr. Woody Merrell has been at the forefront of a holistic approach to health for decades, and his latest book presents inspiring yet practical advice for achieving good health in our polluted world. The Detox Prescription is an invaluable guide to healthy living, which starts with sensible, carefully designed steps anyone can take to clean up their diet and their immediate environment." —Ken Cook, president, Environmental Working Group

"The Detox Prescription is a book that ... cuts through much of the mystery of detoxification to deliver a clear path to the whats, whys, and hows of a well-structured clinical detoxification program. Dr. Merrell is a leading innovator in medicine, who has the skill to find the right balance connecting medical tradition with the latest medical developments to provide superior care to his patients. His book reflects that unique talent and his years of experience as a physician in providing a safe and effective approach to detoxification." —Jeffrey Bland, PhD, FACN, FACB, president of the Personalized Lifestyle Medicine Institute

"Dr. Merrell is one of the most progressive and smart doctors we have--he makes it compelling and easy for you to lean into a healthier lifestyle, no matter where you are on your path!" —Kathy Freston, New York Times bestselling author of The Lean and The Quantum Wellness Cleanse

"I've tried countless detoxes. I've even designed my own 21 day program, which I've successfully guided thousands of people through. So trust me when I say that Dr. Merrell's cleanse is impeccable. He has created the most well-researched, highly effective and doable detox available today. In fact, The Detox Prescription may just be the only medicine you'll ever need! Give yourself the gift of long-lasting health, read (and follow) this brilliant book." —Kris Carr, New York Times bestselling author, Crazy Sexy Diet & Crazy Sexy Kitchen

"With a dizzying array of detox options on the market (juices! powders! elixirs!), Joseph Hooper unearths the one cleanse that's really worth it." —ELLE (Jan 2014)

"In writing The Detox Prescription (Rodale), Woodson Merrell, MD has assumed the role of the sheriff who wants to run magical thinking and hucksters out of alternative-health town." —ELLE (Jan 2014)
or
Not Currently Available for Direct Purchase