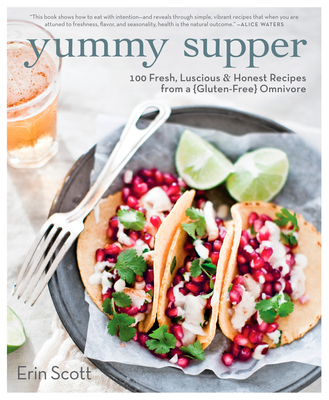 Yummy Supper
100 Fresh, Luscious & Honest Recipes from a Gluten-Free Omnivore: A Cookbook
Paperback

* Individual store prices may vary.
Description
Every health-related culinary trend reaches a tipping point at which it must either evolve or become a cultural cliche; in the case of gluten-free eating, award-winning blogger Erin Scott is the new face of modern, fresh, gluten-free cooking and living. With influences ranging from a career in the high fashion and design industries to 25 years living in Berkeley, CA, in the shadow of Chez Panisse, Erin has devoted her life to family-friendly gluten-free cooking as realized through fresh, seasonal, real food; honest ingredients; and simple and delicious recipes devoid of the usual gums normally used as fillers in stodgy gluten-free cooking.

The first gluten-free cookbook so enticing that it transcends the genre, Yummy Supper is about bounty, flavor, and fun. Based on Scott's award-winning blog of the same name, it has the same clean, gifty visual aesthetic. These are recipes that emphasize naturally gluten-free ingredients and, like her blog, will appeal not only to gluten intolerants and celiacs but also to anyone just looking for a great recipe.

With practical chapters like "Slurp," "Nut," "Egg," and "Sea," Scott's book covers the entire family meal with instructions and asides that are flexible, playful, and tasty, and it includes mouthwatering dishes such as Watermelon Punch with Fresh Lime and Mint, Poached Eggs with Lemony Spinach & Crispy Hash Browns, Parmesan Polenta with Garlicky Rapini and Black Olives, Peanut Butter Cups with Dark Chocolate and Flaky Sea Salt, and much more.
Praise For Yummy Supper: 100 Fresh, Luscious & Honest Recipes from a Gluten-Free Omnivore: A Cookbook…
"You can flip to just about any page in Erin Scott's first cookbook and find a completely approachable, inspired recipe. With a focus on seasonality, vibrant natural ingredients, and family-friendly meals--this cookbook works whether you're gluten-free, or simply looking for a fresh dash of culinary inspiration." —Heidi Swanson, author of Super Natural Every Day

"This book shows how to eat with intention--and reveals through simple, vibrant recipes that when you are attuned to freshness, flavor, and seasonality, health is the natural outcome." —Alice Waters

"Yummy Supper hasn't left the side of my stove since I opened it. As a busy mom of two, I'm inspired by this beautifully crafted cookbook and motivated to cook its honest and delicious recipes with what I have in my kitchen." —Kyle Cornforth, Director, Edible Schoolyard Berkeley

"Something most people wouldn't guess is that chefs, too, are on the lookout for inspiration in their home kitchens, just like everyone else. What I find so refreshing about Erin's recipes is that instead of just relying on GF flours as wheat substitutes, she embraces buckwheat, millet, black rice and nuts to create original, simple, and delicious food. The kind of recipes that makes you think 'Oh, I could have thought of that!' I will forever be popping amaranth now." —Liz Prueitt, co-author of Tartine and co-owner of Tartine Bakery

"Erin Scott's recipes look ever so appealing – fresh, bright, full of bright color and clean flavors, in fact, 'yummy,' just as she says. I'll use this book for sure." —Deborah Madison, author of Vegetable Literacy

"A refreshing cookbook centered around tasty whole foods instead of just gluten-free alternatives. The involvement of Erin's family in her recipes is truly sincere and reflects a natural and satisfying way to organize a family pantry, wheat or no wheat." —Nathan Williams, Founding Editor, Kinfolk

"Everything [Erin] produces radiates beauty and good energy...Yummy Supper is a gorgeous collection of recipes. Fresh flavors shine with simple preparations that are impressive in their good looks and gourmet appeal. The book is equal parts inspiring and approachable." —COOKIE AND KATE

"Packed with incredibly beautiful pictures and delicious seasonal recipes...[Erin Scott's] recipes are both elegant and unfussy. Each page of the book is so inviting and delicious, after reading it, I felt as though we'd shared a meal." —BROOKLYN SUPPER

"Erin is honest, gives helpful cooking tips and truly inspires to cook and eat intentionally. If you weren't a fan of Erin's recipes yet, you will certainly be after reading and cooking from this book. Her recipes are very doable and clearly explained, but also have unusual twists and creative combinations." —THE LITTLE THINGS

"[Yummy Supper] offers the kind of seasonal, simple, ingredient-driven local fare that you'd expect to find from an unabashed disciple of Alice Waters and Jamie Oliver...Scott puts a refreshing spin on gluten-free eating sans drama or righteousness...The book is so saturated with color it practically demands that you make any given recipe. Right. Now. Her dishes embrace a modern playbook." —EDIBLE EAST BAY

"Amazing...[Erin Scott] is one of the food bloggers I admire the most. Her beautiful recipes, her keen eye for food styling and her incredible ability to take the most amazing photographs of her dishes is enviable. She is honest and straightforward in her cooking and writing and her book reflects just that. Elegant dishes prepared in an unfussy manner; inviting recipes meant to be cooked in a relaxed way and shared with family and friends; food that is impressive and luscious yet not intimidating for the home cook." —MY LITTLE EXPAT KITCHEN

"'Going gluten-free' is a phrase that has gone through many permutations of meaning and significance in the last handful of years...With a single sweep of her spatula, Erin Scott bypasses all this and sets her own definition. 'Going gluten-free' is neither a prison sentence nor a magic diet bullet – it's an opportunity to cook and eat foods that you love." —The Kitchn

"Erin's work celebrates the abundance of Bay Area food with such generosity and exuberance that it's easy to forget the other important fact about Yummy Supper, one that you will find tucked away in curly brackets in the subtitle: all the recipes are gluten-free, or can be made gluten-free with a few basic, easy to find substitutes...There is truly something here for everyone...Beyond being a collection of fresh, delicious, and inclusive recipes, Yummy Supper is also a beautiful book" —KQED Bay Area Bites
Rodale Books, 9781609615444, 304pp.
Publication Date: August 19, 2014
About the Author
Erin Scott is an unabashed home cook, photographer, voracious eater, and the voice behind acclaimed California food blog, Yummy Supper. Scott's work has been featured in Kinfolk, Jamie Oliver's Food Revolution, The Huffington Post, KQED, Design Sponge, Apartment Therapy's The Kitchn, and Food 52. She lives with her husband and two kids in Berkeley, California, where she's happiest cooking, eating, and photographing the bounty from their tiny backyard veggie patch.
or
Not Currently Available for Direct Purchase