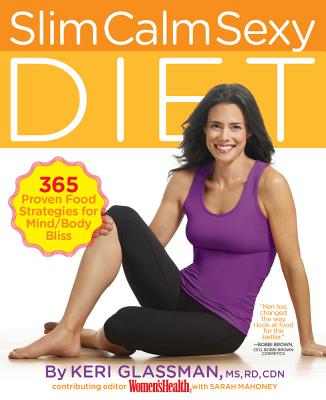 Slim Calm Sexy Diet: 365 Proven Food Strategies for Mind/Body Bliss (Paperback)
365 Proven Food Strategies for Mind/Body Bliss
Rodale Books, 9781609617561, 288pp.
Publication Date: March 27, 2012
* Individual store prices may vary.
or
Not Currently Available for Direct Purchase
Description
In this second installment of the" Slim Calm Sexy" series from "Women's Health," nutrition expert Keri
Glassman empowers readers to take control of their forks and focus on a revolutionary new way of eating- one that will help them lose weight, conquer stress, and look and feel their best every day. Using cutting-edge research that shows how certain foods work in tandem with the body's natural systems, the author demonstrates how our traditional way of eating promotes fat and stress, and explains the simple tweaks that can turn "fat, frazzled, and frumpy" into "slim, calm, and sexy."

Featuring indulgent recipes like Raspberry & Ricotta French Toast and Bison-Stuffed Red Pepper,
satisfying Slim Snacks, and supercharged Slim Smoothies, this diet plan isn't about counting calories
or deprivation-it's about eating more of the right foods. The "Slim Calm Sexy Diet" is so effective because it not only tells you what to eat, it tells you when to eat-eliminating the stress that leads to hunger and overeating. The diet also includes a comprehensive fitness plan that combines supercharged cardio, calorie-burning strength training, and energy-boosting yoga (that also tones and lengthens). The result is a sleek, sexy shape, smooth skin, a happier mood, and a more satisfying sex life.
Packed with easy-to-prepare recipes, hundreds of helpful tips, and weekly workout plans, this is the
ultimate guide to mind/body bliss.
About the Author
Nationally recognized nutrition expert and published author Keri Glassman is the founder and president of Keri Glassman, Nutritious Life, a nutrition practice based in New York City, and Nutritious Life Meals, a gourmet, healthy, daily diet delivery program available in major markets in the United States. For years, Keri has been a leader in advancing a "whole person" approach to health and wellness. She has dedicated her career to creating services and promoting education through her Nutritious Life brand. Women's Health Magazine embraces Keri's practical and accessible approach to health and wellness. She is a member of their advisory board and writes a popular monthly column called "Lighten Up" and a page called "Flat Belly Day." Keri has authored three books; the most recent book, Slim, Calm, Sexy Diet (Rodale, March 2012), helps readers lose weight, conquer stress, and feel and look their best every day. Her second book, The O2 Diet: The Cutting Edge, Antioxidant-Based Program That Will Make You Healthy, Thin and Beautiful (Rodale, December 2009), translates complex scientific research on antioxidants and the ORAC scale into useful and useable tools that everyone can benefit from. It empowers people to live a more Nutritious Life by combining a nutrient-dense, high antioxidant diet with the other components of a Nutritious Life. The O2 Diet follows the Snack Factor Diet, (Crown, 2007.) Keri also contributed to Editor-In-Chief Women's Health Magazine, Michele Promaulayko's book, Look Better Naked (Rodale, April 2010.)Keri helps millions as a nutrition and health expert in the media. She is dedicated to her field and to the broader goal of educating the public, and her expertise is regularly featured on several national television programs including NBC's The Today Show, ABC's Good Morning America, Access Hollywood Live, The View, Dr. Oz, The Doctor's, The Wendy Williams Show, MSNBC, The Fox News Channel, and CNN. She also is the nutrition and health contributor for NBC's New York Live. Keri hosts an original series called "A Little Bit Better" which will be featured on Youtube's LivestrongWoman channel beginning Spring 2012. She is a spokesperson for national brands that align with the Nutritious Life mission, and is a prolific writer and commentator with contributions to numerous publications nationwide, such as OK! Magazine and Hamptons Magazine. She also regularly contributes articles and recipes to several websites including Equinox, Martha Stewart Living, and Youbeauty.com.Keri resides in New York City with her children, Rex and Maizy.
Praise For Slim Calm Sexy Diet: 365 Proven Food Strategies for Mind/Body Bliss…
"Keri Glassman has found a way to make eating for weight loss feel like a reward, not a punishment. Her nutrient-packed eating plans melt off the pounds while promoting beautiful skin and hair from the inside out. Best of all, she knows that smart indulgences guarantee success because you never feel deprived. Slim Calm Sexy Diet is a revolutionary route to your sexiest most confident self."
–Michele Promaulayko, Editor-in-Chief, Women's Health
"Keri Glassman has taken the approach to eating well to an entirely new level by changing the way we think about food.  She goes beyond what we are eating and examines the psyche behind why we overeat and have cravings.   She then teaches us how to approach our diet in a mindful way and provides the tools we need to have a calmer, slimmer, sexier life."
–Keri Peterson, M.D., Women's Health contributor, Internal Medicine, Lenox Hill Hospital, NYC
"From a girl who loves to overindulge, this book saves my tush (literally!). It's a simple guide to eating well that works!"
–Kit Hoover, co-host of Access Hollywood & Access Hollywood Live
"Keri Glassman is her own best endorsement of this book. If you are what you eat then you, too, can be slim, calm and sexy!"
–Kathie Lee Gifford
"Keri has taught me that it's not about what you shouldn't eat, but what you
can
eat to achieve your goals. In a short amount of time, she has changed the way I look at food for the better."
–Bobbi Brown, CEO, Bobbi Brown Cosmetics
"In
Slim Calm Sexy Diet
nutritionist Keri Glassman tackles our food-obsessed culture's biggest concerns – how to eat well, stay active, manage stress and look your best! With an expert hand, she guides you on exactly how simple it can be to make smart, thoughtful food choices and how in turn, this can positively affect all areas of your life. Filled with empowering tips and written in the approachable voice of someone who practices what she preaches,
Slim Calm Sexy Diet
makes taking control of your health not only attainable, but also delicious."
–Gail Simmons, Special Projects Director, Food & Wine Magazine and host of Bravo's Top Chef Just Desserts
"Keri Glassman is my favorite nutrition expert! Keri's food, fitness and weight loss tips are always spot on. Her new book 
Slim Calm Sexy Diet
 is a must have for every women's personal library."
—Christine Avanti, Nutritionist, Chef & Author of Skinny Chicks Eat Real Food
Advertisement