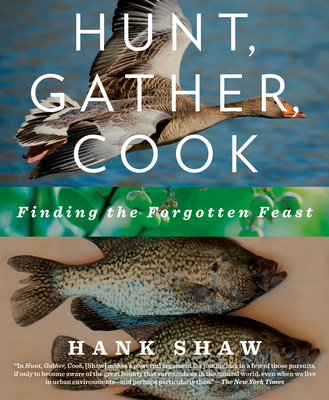 Hunt, Gather, Cook
Finding the Forgotten Feast: A Cookbook
Paperback

* Individual store prices may vary.
Other Editions of This Title:
Hardcover (5/24/2011)
Description
From field, forest, and stream to table, award-winning journalist Hank Shaw explores the forgotten art of foraging.
If there is a frontier beyond organic, local and seasonal, beyond farmers' markets and grass-def meat, it's hunting, fishing and foraging your own food. A lifelong angler and forager who became a hunter late in life, Hank Shaw is dedicated to finding a place on the table for the myriad overlooked and underutilized wild foods that are there for the taking -- if you know how to find them.

In Hunt, Gather, Cook, he shares his experiences both in the field and in the kitchen, as well as his extensive knowledge of North America's edible flora and fauna. Hank provides a user-friendly, food-oriented introduction to tracking down and cooking everything from prickly pears, to grouper to snowshoe hares.
Praise For Hunt, Gather, Cook: Finding the Forgotten Feast: A Cookbook…
"Hunt, Gather, Cook is a fabulous resource for anyone who wants to take more control over the food they eat and have more fun doing so. It's a complete reference on foraging, fishing, and hunting, with great recipes by a writer, outdoorsman, and cook with enormous passion." —Michael Ruhlman, author of Charcuterie and Ratio: The Simple Codes Behind the Craft of Everyday Cooking


"Going to be stranded on an island and can bring only one item? Bring Hank with you! And if you can't, then absolutely bring Hunt, Gather, Cook. That will ensure not only your survival but your survival with style and good gastronomy!" —Ariane Daguin, founder of specialty meat purveyor D'Artagnan

"In Hunt, Gather, Cook, [Shaw] makes a powerful argument for joining him in a few of those pursuits, if only to become aware of the great bounty that surrounds us in the natural world, even when we live in urban environments--and perhaps particularly then." —The New York Times

"Most of us walk through our world and see water and land. Shaw sees a buffet ripe for the taking." —Tampa Tribune

"More than a cookbook, though there are plenty of recipes, and more than a memoir, though the book is filled with personal stories, Hunt, Gather, Cook is an introduction to a different way of 'doing' food." —SimplyRecipes.com

"From recipes for homemade root beer and wild duck ragu to finding and picking nettles, the book is a paean to eating wild." —Garden & Gun

"A deftly narrated story that has us considering doing a little more foraging, fishing, and sure, maybe even hunting, so that we can have an excuse to buy a salami fridge, too." —LAWeekly.com
Rodale Books, 9781609618902, 336pp.
Publication Date: October 2, 2012
About the Author
Hank Shaw is a former chef, food writer, and the founder of the James Beard Award nominated food blog Hunter Angler Gardener Cook. He lives in Orangevale, California.