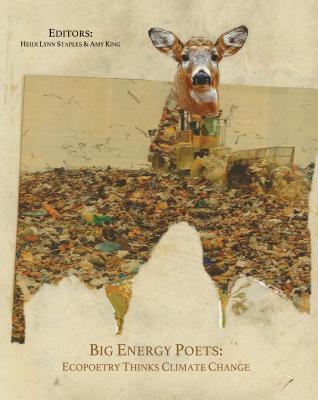 Big Energy Poets
Ecopoetry Thinks Climate Change
Paperback

* Individual store prices may vary.
Description
Literary Nonfiction. California Interest. Contributors include: Stephen Collis, CAConrad, Matthew Cooperman & Aby Kaupang, Adam Dickinson, Suzi F. Garcia, Brenda Hillman, Brenda Iijima, Anna Lena Phillips Bell, Lucas de Lima, Eric Magrane, Joyelle McSweeney, Julie Patton, Craig Santos Perez, Evelyn Reilly, Linda Russo, Metta S ma, Kaia Sand, Kate Schapira, Jonathan Skinner, Cecilia Vicu a.

BIG ENERGY POETS: ECOPOETRY THINKS CLIMATE CHANGE, is more than another book on climate change, these disparate authors are collectively voices in the same struggle: How to ensure the planet's survival, where planet and body (human or otherwise) are not separate but synonymous, are inextricably tied. There is a necessary insistence in this anthology on the body politic being the earth's politic. Together, this is a creative treatise toward the integrity of continuance, and against fear of the other, the 'other' being as much 'nature' as person. The introduction asks, 'Why poetry?' to confront the urgency of climate change and all of its implications and causalities. The answer is found in the challenge taken up by these poets as they allow us access to both their poetry and their process. Here authors utilize their critical and creative practices to forward a conversation we can simply not afford to ignore. Race, gender, genocide, these poets are asking questions and further, daring to question themselves. It may surprise some how many of the poets feel the poem as inhabiting the body and it becomes easier through that understanding to see how the poet, the body of the poet, connects to the land, to the environments in which they find themselves. Indeed, several of these poets even as they put words to the page in all manner of formats and styles, literally put their bodies on the line that marks the difference between apathy and action by marching, picketing and refusing to stop creating or privileging the power of the imagination to alter our course. Read this, powerful, instructional and inspiring, it does what we want poetry to do, move us. The writing of poetry can make one adept at discerning systems, correlations, and interconnections. Ecopoetry is the nexus of science, activism and poetics. From Anna Lena Phillips Bell's intimate litanies of trees that bring to mind the names of children in a class ledger, to Lucas de Lima's take on transmogrification, to Meta Sama's evocative conflations of 'hair, ' 'river' and 'sand, ' here we find the polemics of universal intersectionality, a necessary embracement, where we all have something at stake and at risk. As Brenda Hillman writes in her essay, A Brutal Encounter Recollected in Tranquility, writing may be your most necessary action but you can't be the only one.--Vievee Francis.
Blazevox Books, 9781609641030, 262pp.
Publication Date: November 1, 2017