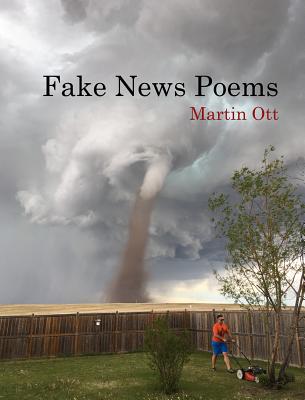 Fake News Poems
Paperback

* Individual store prices may vary.
Description
Poetry. California Interest. In an era of 'alternative facts, ' where our POTUS has labeled the press the enemy of the people and coined the term 'fake news, ' truth and lies are duking it out in a battle for the soul of our country. In Martin Ott's groundbreaking FAKE NEWS POEMS--2017 Year in Review, 52 Weeks, 52 headlines, 52 poems--he uses news headlines as launch pads for poems that are political, personal, and which powerfully encapsulate the themes of 2017. In this book of news poems, you'll find retired fortune cookie writers, liberated circus animals, eclipses and natural disasters, Russian meddling, global warming, Charles Manson, self-driving cars, fire and fury, alien spaceships, and robot presidents. The author uses the political landscape and breaking news as a prism to shine a light on his own personal life and the lives of all of us living in these unusual times. Part art and part political resistance, FAKE NEWS POEMS is a guide to better understand the first year of the new age of Trump. William Carlos Williams famously wrote that 'it is difficult to get the news from poems, ' but poets like Martin Ott keep proving the limits of Williams' vision. In his wildly strange FAKE NEWS POEMS, Ott chronicles the first year of the Age of Trump that a series of stranger-than-fiction poetic news stories, each of which come to speak to the wider apocalyptic rumblings of a society--and a planet--seeming to come apart at the seams. As we run toward the singularity, sex robots, edited embryos, self-driving cars, spying dolls redefine the Anthropocene, but don't stop us from swaddling guns, or cockroaches from sneaking into brains, or woodpeckers from cracking our car mirrors. We haven't yet seen what we've become. We need poets like Ott to pay attention to the way in which the future is staring us in the face, and waiting for us to wake up.
--Philip Metres, Author of Sand Opera
Blazevox Books, 9781609643225, 66pp.
Publication Date: March 15, 2019
or
Not Currently Available for Direct Purchase