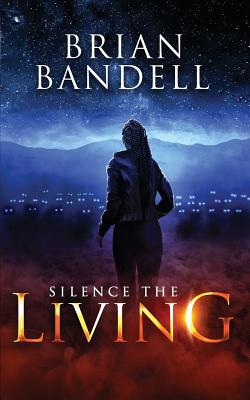 Silence the Living (Mute #2)
Paperback

* Individual store prices may vary.
Description
The world hung in the balance because she wanted to live, because he couldn't live without her.
Former Florida police officer Monique "Moni" Williams carries in her bloodstream the most deadly substance on the planet, an intelligent alien microorganism. The alien life forms seek to transform Earth into a habitat suitable for their resurrected aquatic species, which fled their destroyed planet. Her skin is the only barrier preventing the start of this disruptive process.
Moni is highly contagious. A drop of her blood, saliva or even a tear will overwhelm the defenses of any human or animal. They become alien-controlled slaves that undergo rapid mutation. Moni has prevented the aliens from conquering her mind, although their voices haunt her. She's been robbed of her ability to speak, communicating through a newfound telepathy, planting ideas and thoughts in the minds of both friends and foes.
Moni's only ally is her boyfriend, Aaron Hughes. Despite being chased by agents from the FBI and the military, Aaron refuses to leave her side as she flees to the barren desert of New Mexico.
A scientist, Aaron fights for a cure while the aliens strip away more of her humanity by the hour.
Moni hopes her exile in the desert will protect the Earth from her plague, but she soon finds herself under assault from the desert's most dangerous inhabitants. The aliens are determined to spill Moni's infected blood or take away the man she loves. Equally threatening, rival policewoman Nina Skillings pursues Moni across the country, seeking revenge for her friends the aliens killed in Florida.
Meanwhile in Florida, a sadistic mutant lurks in the underground waterways, hunting people. Renegade environmental scientist Harry "Lagoon Watcher" Trainer believes it's connected to the alien invasion and he's determined to pursue it through the watery depths beneath the state's limestone surface. In this dark maze of underwater caves, the air is far away, but terror is always near.
Moni must decide. Should she cling to her humanity? Or should she embrace the purple, acidic blood flowing through her veins? As Nina says:
"There are no judges out where we're going. There's survival, there's death and there's the one thing worse than death, and that's what your girlfriend is."
Silver Leaf Books, 9781609752170, 496pp.
Publication Date: September 10, 2018
or
Not Currently Available for Direct Purchase