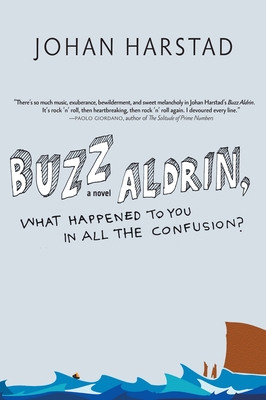 Buzz Aldrin, What Happened to You in All the Confusion? (Hardcover)
Seven Stories Press, 9781609801359, 471pp.
Publication Date: June 7, 2011
* Individual store prices may vary.
or
Not Currently Available for Direct Purchase
Description
Buzz Aldrin, What Happened to You in All the Confusion? opens with the line: "The person you love is 72.8% water, and it hasn't rained for weeks." From there, Brage Award-winning author and playwright Johan Harstad's debut--previously published to great success in eleven countries and now making its first English-language appearance--tells the story of Mattias, a thirty-something gardener living in Stavanger, Norway, whose idol is Buzz Aldrin, second man on the moon: the man who was willing to stand in Neil Armstrong's shadow in order to work, diligently and humbly, for the success of the Apollo 11 mission. Following a series of personal and professional disasters, Mattias finds himself lying on a rain-soaked road in the desolate, treeless Faroe Islands, population only a few thousand, a wad of bills in his pocket and no memory of how he had come to be there--that's when a truck approaches him, driven by a troubled, fantastic man with an offer that will shortly change Mattias's life. And so, surrounded by a vivid and memorable cast of characters--aspiring pop musicians, Caribbean-obsessed psychologists, death-haunted photographers, girls who dream of anonymous men falling in love with them on bus trips, and even Buzz Aldrin himself--launches Buzz Aldrin, What Happened To You In All The Confusion?, the epic story of Mattias's pop-saturated odyssey through the world of unconventional psychiatry, souvenir sheep-making, the Cardigans, and space: the space between himself and other people, a journey maybe as remote and personally dangerous as the trip to the moon itself.
About the Author
JOHAN HARSTAD, winner of the 2008 Brage Award (previously won by Per Petterson), is a Norwegian author, playwright, graphic designer, drummer, and international sensation, with books published in eleven countries. His first novel, Buzz Aldrin, What Happened To You In All The Confusion?, was in 2009 made into a TV series starring The Wire's Chad Coleman. Harstad lives in Oslo. DEBORAH DAWKIN is a literary translator based in London.
Praise For Buzz Aldrin, What Happened to You in All the Confusion?…
"This paradoxical desire to be seen without being heralded sets Harstad's hero apart from other tormented young men of contemporary literature . . . [an] ambitious debut."
—Publisher's Weekly

"The austere landscape and people of the Faeroes become players in Harstad's poetic narrative, half-dramatic and half-comic, which takes on memorable turns with every page as Mattias realizes just how not in control of his destiny he really is.  A modern saga of rocketships, ice floes and dreams of the Caribbean, and great fun to read."
 —Kirkus Reviews
   
"Like Jonathan Safran Foer, Harstad combines formal play and linguistic ferocity with a searing emotional directness."
—Dedi Felman, Words Without Borders

"The fact is that Johan Harstad has a wholly unique voice, simultaneously both concrete and soaring . . . to be able to write in this way, to conjure a situation and construct space and time around it with such linguistic fluency, cannot be learned. You are born with it. Harstad's fellow countryman Knut Hamsun, who was able to do the same, must be rejoicing in his heaven or wherever he might be."
—Jakob Levinsen, Jyllands-Posten review

"It doesn't always have to be crime novels that come from Scandinavia. What 27 year-old Johan Harstad has written is quite plainly a work of genius. Buzz Aldrin, What Happened to You in All the Confusion? is as poetic as it is alive."
—Bucherwelt review
Advertisement