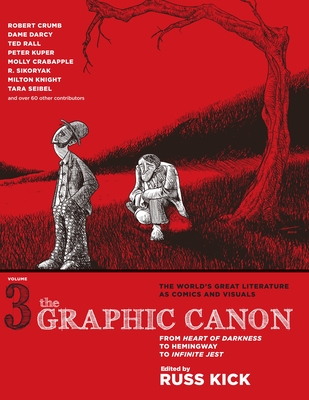 The Graphic Canon, Volume 3: From Heart of Darkness to Hemingway to Infinite Jest (Paperback)
From Heart of Darkness to Hemingway to Infinite Jest
Seven Stories Press, 9781609803803, 563pp.
Publication Date: June 25, 2013
Description
NOW A "NEW YORK TIMES" BESTSELLER
"Publisher's Weekly" "Best Summer Books of 2013"
"The Daily Beast's ""Brainy Summer Beach Reads"""
The classic literary canon meets the comics artists, illustrators, and other artists who have remade reading inRuss Kick's magisterial, three-volume, full-color "The Graphic Canon," volumes 1, 2, and 3.
Volume 3 brings to life the literature of the end of the 20th century and the start of the 21st, including aSherlock Holmes mystery, an H.G. Wells story, an illustrated guide to the Beat writers, a one-act play fromZora Neale Hurston, a disturbing meditation on "Naked Lunch," Rilke's soul-stirring "Letters to a Young Poet," Anais Nin's diaries, the visions of Black Elk, the heroin classic "The Man With the Golden Arm "(published fouryears before William Burroughs' "Junky"), and the postmodernism of Thomas Pynchon, David Foster Wallace, Kathy Acker, Raymond Carver, and Donald Barthelme.
The towering works of modernism are here--T.S. Eliot's "The Love Song of J. Alfred Prufrock" and "The WasteLand," Yeats's "The Second Coming" done as a magazine spread, "Heart of Darkness," stories from Kafka, "The""Voyage Out "by Virginia Woolf, James Joyce's masterpiece, "Ulysses," and his short story "Araby" from"Dubliners," rare early work from Faulkner and Hemingway (by artists who have drawn for Marvel), and poemsby Gertrude Stein and Edna St. Vincent Millay.
You'll also find original comic versions of short stories by W. Somerset Maugham, Flannery O'Connor, andSaki (manga style), plus adaptations of "Lolita "(and everyone said it couldn't be done ), "The Age of Innocence," "Siddhartha "and "Steppenwolf "by Hermann Hesse, "The Negro Speaks of Rivers" by Langston Hughes, "One""Flew Over the Cuckoo's Nest," "Last Exit to Brooklyn," J.G. Ballard's "Crash," and photo-dioramas for "Animal""Farm "and "The Wonderful Wizard of Oz." Feast your eyes on new full-page illustrations for "1984," "Brave New""World," "Waiting for Godot," "One Hundred Years of Solitude, The Bell Jar," "On the Road," "Lord of the Flies," "The""Wind-Up Bird Chronicle," and three Borges stories.
Robert Crumb's rarely seen adaptation of "Nausea "captures Sartre's existential dread. Dame Darcy illustratesCormac McCarthy's masterpiece, "Blood Meridian," universally considered one of the most brutal novels everwritten and long regarded as unfilmable by Hollywood. Tara Seibel, the only female artist involved with theHarvey Pekar Project, turns in an exquisite series of illustrations for "The Great Gatsby." And then there's themoment we've been waiting for: the first graphic adaptation from Kurt Vonnegut's masterwork, "Slaughterhouse-Five." Among many other gems.
About the Author
Founder of the website The Memory Hole, which archived sensitive and difficult to find official documents, RUSS KICK has devoted much of his life to digging up what others hope to keep buried. His bestselling anthologies, including "You Are Being Lied To" and "Everything You Know Is Wrong, " have sold over half a million copies. The New York Times has dubbed Kick "an information archaeologist," Details magazine described Kick as a Renaissance man, and Utne Reader named him one of its 50 Visionaries Who Are Changing Your World. Russ Kick lives and works in Nashville, Tennessee, and Tucson, Arizona."
Praise For The Graphic Canon, Volume 3: From Heart of Darkness to Hemingway to Infinite Jest…
"These works of literature do not reside just on the shelves of academia; they flourish in the eye of our imagination...will leave you awe-struck."—New York Times Book Review

"It's easily the most ambitious and successfully realized literary project in recent memory, and certainly the one that's most relevant for today's readers"—NPR, Indie Booksellers Pick 2012's Best

"The Most Beautiful Book of 2013 is The Graphic Canon, Volume 3"—Publishers Weekly, "Best Summer Books 2013" 

"The Graphic Canon is startlingly brilliant."—School Library Journal

"This meaty slab is laced with more wit, beauty, social commentary and shock than one might expect. . . ."—Kirkus Reviews

"This is not only a survey of the world's diverse artistic past, but also a breathtaking glimpse of this young medium's incredible future...proves most powerful in its tear-inducing panoply of graphic talents and styles working in the comics medium."—Booklist (starred review)

"The trilogy should occupy a prominent place in all adult graphic novel collections."—Library Journal

"The Graphic Canon is absolutely the most ambitious book I've picked up this year."—Newsday

"Kick's passionate introductions anchor the collection, appearing before every adaptation and setting writer and artist in context. And they're central to the anthology's purpose: to entertain, but also to broaden the mind, to foist James Joyce on people who never got beyond Buck Mulligan, to nudge lovers of literature to pick up a graphic novel or three."—The Guardian

"Bold, brilliant. . . . By turns playful and beautiful, this visual treatment is more than entertainment; it offers a new perspective for understanding these enduring works."—Reader's Digest

"A treasure trove for literary comics fans."—Wired's GeekDad blog

"A vibrant, feverish dance through some of the best parts of our artistic history."—Paste

"Verdict: Russ Kick brings it on home – to the home library – with style."—The Austin Chronicle   

Advertisement