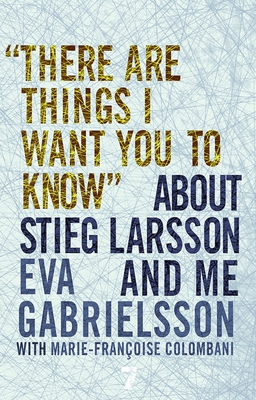 "There Are Things I Want You to Know" About Stieg Larsson and Me (Paperback)
Seven Stories Press, 9781609804107, 224pp.
Publication Date: January 24, 2012
Other Editions of This Title:
Hardcover (6/21/2011)
* Individual store prices may vary.
Description
Eva Gabrielsson and Stieg Larsson. In "There Are Things I Want You to Know" About Stieg Larsson and Me, Gabrielsson accepts the daunting challenge of telling their story, steeped in love and sharpened in the struggle for justice and human rights. She chooses to tell it in short, spare, lyrical chapters, like snapshots, regaling Larsson's readers with how he wrote, why he wrote, who the sources are were for Lisbeth and his other characters—graciously answering Stieg Larsson's readers' most pressing questions—and at the same time telling us the things we didn't know we wanted to know—about love and loss, death, betrayal, and the mistreatment of women.
About the Author
EVA GABRIELSSON is an architect, author, and political activist. As part of her architectural practice, she has led a European Union initiative to create sustainable architecture in the Dalecarlia region in Central Sweden. Gabrielsson is the coauthor of several books, including a monograph on the subject of cohabitation in Sweden, a government study on sustainable housing, and a forthcoming study on the Swedish urban planner Per Olof Hallman. She has also translated into Swedish Philip K. Dick's The Man in the High Castle. Gabrielsson and Stieg Larsson met in 1972, when they were both eighteen, and lived and wrote together from 1974 until his death in 2004. Their struggle together for social justice was the basis for the books in Larsson's Millennium Trilogy. Gabrielsson lives in Stockholm.
Praise For "There Are Things I Want You to Know" About Stieg Larsson and Me…
"One of the most gripping back-stories of Stieg Larsson's Millennium trilogy was the tale of the author's 32-year relationship with architect and activist Eva Gabrielsson, and the fact that, because they were never officially married, she was cut out of any say in, or profit from, Larsson's literary estate. Here she tells the story of that relationship, with many previously unseen pictures and including the letter Larsson left for her to be opened after his death." —Globe and Mail

"For the millions of readers and film-goers who've been hooked by The Girl with the Dragon Tattoo and its trilogy, "There Are Things I Want You to Know" About Stieg Larsson and Me is a book not to be missed. Eva Gabrielsson, Larsson's life partner, tells us the reasons he was able to see the world through female eyes, his punishment for challenging a form of injustice still thought of as inevitable, and the aftermath of a success he didn't live to see." —Gloria Steinem

"Writing in a memorably austere, flinty voice, Gabrielsson has produced neither a tell-all nor some 'handmaiden to literary genius' emo-gusher … Gabrielsson comes across as rigid, obsessed, and humorless, but a fierce warrior in fighting for what she sees as justice. Not unlike Larsson's own heroine." —USA Today

"Provides stunning, strong explications of Larsson's ideologies, most notably his feminism … As a legal drama, it's compelling. As a story of two lives entwined, for three decades of working toward something that was never shared, it's even more." —Toronto Globe and Mail

or
Not Currently Available for Direct Purchase