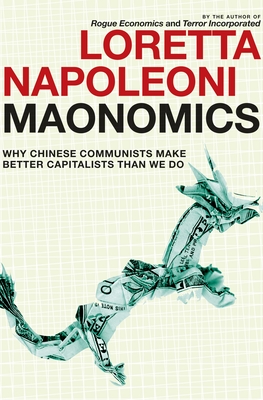 Maonomics (Paperback)
Why Chinese Communists Make Better Capitalists Than We Do
Seven Stories Press, 9781609804312, 384pp.
Publication Date: December 4, 2012
Other Editions of This Title:
Hardcover (10/4/2011)
* Individual store prices may vary.
Description
With the end of the Cold War, it was believed that Western capitalism had finally triumphed over Communism. In Maonomics: Why Chinese Communists Make Better Capitalists than We Do, Napoleoni argues just the opposite: we are now witnessing capitalism's decline and the victory of "communism with a profit motive." Maonomics charts the prodigious ascent of the Chinese economic miracle and the parallel decay of Western economies, still reluctant to consider China's model even as they acknowledge its tremendous power. Maonomics is a call to heed China's example and avoid economic collapse.

Based on first-hand reporting from China during frequent visits in the last several years Maonomics considers the prevailing Chinese views and translates them for Western readers. For example, the Chinese are committed to a vision of democracy, though it is different from the West's. It emphasizes economic opportunity over voting, focusing on the fair distribution of wealth and prosperity. Napoleoni also separates failed Leninist political ideology from true Marxist theory, explaining that Marx's writings do not reject profit so long as it is used to benefit the people. China is realizing Marx's dictatorship of the proletariat, she argues, with giant steps towards wellbeing and prosperity for the Chinese people. Looking at the Chinese economy up close, few economists could deny that they are on the right track. Maonomics delivers a sharp and insightful account of the economic revolution that is shifting the global balance of power from West to East.
About the Author
A woman of the Left who garners praise from Noam Chomsky and Greg Palast at the same time as she is quoted respectfully in Forbes and the Wall Street Journal, LORETTA NAPOLEONI was born in 1955 in Rome. In the mid 1970s she became an active member of the feminist movement in Italy, and later studied as a Fulbright Scholar at Johns Hopkins University's Paul H. Nitze School of Advanced International Studies in Washington, D.C. She began her career as an economist, and went on to work as London correspondent and columnist for La Stampa, La Repubblica and La Paîs. Napoleoni is the author of the international bestsellers Rogue Economics: Capitalism's New Reality and Terror Incorporated: Tracing the Money Behind Global Terrorism. She has served as the Chairman of the countering terrorism financing group for the Club de Madrid, and lectures regularly around the world on economics, money laundering and terrorism. Napoleoni lives in London and Montana. 
Praise For Maonomics: Why Chinese Communists Make Better Capitalists Than We Do…
• "Timely and fascinating, Napoleoni's top-notch reporting, in which her attention turns from Viagra to blood diamonds to the banana price wars in a few pages, works in the vein of Freakonomics and Eric Schlosser's Fast Food Nation, but much grimmer." --Publishers Weekly on Napoleoni's Rogue Economics, a PW Book of the Year 2008
• "This thoughtful and incisive inquiry yields much insight into some of the most important issues of today, and tomorrow" --Noam Chomsky on Napoleoni's Terror Incorporated
or
Not Currently Available for Direct Purchase