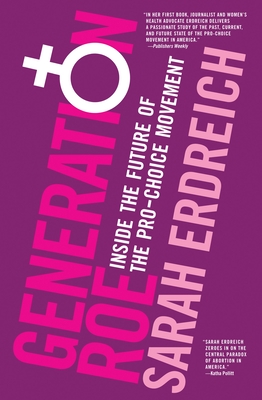 Generation Roe (Paperback)
Inside the Future of the Pro-Choice Movement
Seven Stories Press, 9781609804589, 272pp.
Publication Date: March 26, 2013
* Individual store prices may vary.
Description
Strong support among women was key to Obama's reelection. At the start of his second term, it is time for Barack Obama, forty years after Roe v. Wade, to finally help lead us to demystify abortion. One-third of all American women will have an abortion by the time they are 45, and most of those women are already mothers. Yet, the topic remains taboo. In this provocative book on the heels of the Planned Parenthood controversy, Sarah Erdreich presents the antidote to the usual abortion debates.

Inextricably connected to issues of autonomy, privacy, and sexuality, the abortion debate remains home base for the culture wars in America. Yet, there is more common ground than meets the eye in favor of choice. Generation Roe delves into phenomena such as "abortion-recovery counseling," "crisis pregnancy centers," and the infamous anti-choice "black children are an endangered species" billboards. It tells the stories of those who risk their lives to pursue careers in this stigmatized field. And it outlines the outrageous legislative battles that are being waged against abortion rights all over the country. With an inspiring spirit and a forward-looking approach, Erdreich holds abortion up, unabashedly, as a moral and fundamental human right.
About the Author
Women's health advocate and writer SARAH ERDREICH has been identified as a leading pro-choice activist by Newsweek, and her incisive writings on abortion rights have been noted by Jezebel, Feministing, and the National Partnership for Women and Families. She has worked for several prominent pro-choice organizations, and has been published in On The Issues, Lilith, Feminists For Choice, and RH Reality Check. She has also worked editorially with the magazines HUES and Teen Voice. Generation Roe is her first book.
Praise For Generation Roe: Inside the Future of the Pro-Choice Movement…
"Before and after Roe v. Wade,  a third of all American women have needed an abortion at some time in their lives, yet instead of a subject of health care, this has become subject of secrecy. To break the spell, read Generation Roe by Sarah Erdreich. She replaces lies with honesty and myth with reality."—Gloria Steinem

"In her first book, journalist and women's health advocate Erdreich delivers a passionate study of the past, current, and future state of the pro-choice movement in America...This is a thoughtful and comprehensive treatment of one side of an emotionally charged topic."—Publishers Weekly

"In several sagaciously researched essays, Erdreich presents some of the voices of women who choose abortion and why. An honest probing of law, public perception and conscience in the abortion debate."—Kirkus Reviews

"Situated in an American context, Generation Roe explores the political and societal implications of access to abortion and what that means for a generation of women and providers who have come of age post-Roe vs. Wade (a landmark case decided in 1973 wherein the Supreme Court of the United States entrenched a woman's right to terminate an unwanted pregnancy). Interestingly, Erdreich demonstrates how the continual stigmatization of being pro-choice has actually made access to abortion an increasing problem."—Shameless 

"Each generation experiences the battles for reproductive choice uniquely. Sarah Erdreich digs into our current terrain—one of crisis pregnancy centers, the lulling effect of Roe, and the introduction of a new cadre of young activists online—to illustrate the morality and urgency that animate the right to abortion."—Jennifer Baumgardner, author of ManifestA and Abortion & Life

"Sarah Erdreich zeroes in on the central paradox of abortion in America: One in three women will have at least one abortion by menopause, but the anti-choice movement is scoring victory after victory. Stigma and shame—and, let's not forget, fear of anti-choice violence—keep too many women from speaking out even as their rights are whittled away. Can the young activists of Generation Roe revitalize the pro-choice movement? If you want to know what they're thinking, this book is a great place to begin."—Katha Pollitt

"Forty years after Roe v. Wade, Erdreich shows why the abortion issue remains salient."—Ms. Magazine, Great Reads for Winter 2013

"The book maintains a deft, critical tone that's a refreshing break from most writing about abortions. Erdreich honestly and sharply evaluates the state of the movement and looks at what is and is not working for reproductive rights activists. She discusses the social stigma surrounding abortion, the tide of anti-choice legislation sweeping the nation, the dangers of providing abortion care, abortion in pop culture, and the strategies employed by the anti-choice movement in detail, weaving personal and political narratives together quite seamlessly. It's a fantastic overview of the issues facing the movement today, and the people on the front lines of the culture war over reproductive rights. A must-have for readers interested in reproductive rights subjects, particularly those who wish to expand the scope and nature of the debate to make it more inclusive of the larger picture."—Bitch Magazine
or
Not Currently Available for Direct Purchase