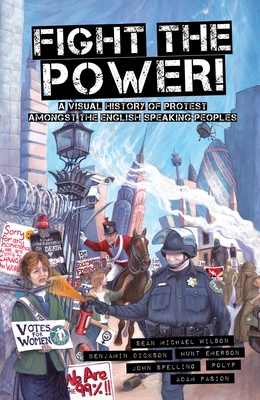 Fight the Power! (Paperback)
A Visual History of Protest Among the English Speaking Peoples
Seven Stories Press, 9781609804923, 192pp.
Publication Date: October 15, 2013
* Individual store prices may vary.
Description
Named one of Rough Trade's Best Books of 2013

According to Gandhi, the Four Stages of Protest are as follows: First they ignore you. Then they ridicule you. Then they fight you. Then you win!

In Fight the Power!, comics authors Sean Michael Wilson and Benjamin Dickson team up with illustrators Hunt Emerson, John Spelling, and Adam Pasion to show how this process has been played out again and again throughout history--and has slowly but surely led to hard-won rights for the people along the way. Focusing on the English-speaking nations, Wilson and Dickson chronicle the struggles of the Luddites and Swing Riots in the early 1800s, through the Irish Rebellions that lasted through 1922; from the suffragettes in 1918 to Rosa Parks and the bus boycott of the mid-1950s; from the trial of Nelson Mandela to the Occupy movement that has only just begun. By illuminating the variety of protests--and the valuable connections among them--through an accessible art form, Fight the Power! shows that there is a point to the struggle, fight by fight, win by win.
About the Author
Born in Edinburgh, Scotland, SEAN MICHAEL WILSON has written fourteen books of comics and manga, including a version of Charles Dickens's A Christmas Carol (with artist Mike Collins); Emily Brontë's Wuthering Heights; Oscar Wilde's A Canterville Ghost; The Japanese Drawing Room (with RING horror manga artist Sakura Mizuki); Sweeney Todd (with artist Declan Shalvey); and the documentary book Iraq: Operation Corporate Takeover (with artist Lee O'Connor). He edited the second volume of the critically acclaimed series AX: Alternative Manga. Wilson has received several grants from both the English arts council and the Great Britain Sasakawa Foundation in support of his Japan-related publications. He lives in Japan.

BENJAMIN DICKSON has written short stories for a number of publishers including Heavy Metal Magazine, Self Made Hero and Ctrl Alt Shift, for whom he wrote "Not One Minute of Silence"  (Illustrated by Warren Pleece), a true account of police brutality and murder in Colombia. He is also the writer of the action comedy Santa Claus vs the Nazis (illustrated by Gavin Mitchell, published online by Aces Weekly) and the award-winning Falling Sky. He also works part-time with mental-health service users as a community artist. Dickson lives in Bristol, UK.
Praise For Fight the Power!: A Visual History of Protest Among the English Speaking Peoples…
"Throughout human history, social change has never been doled out by those very few that hold power, but taken by the collective with a common need for justice (like not to starve or be worked to death for pennies). Fight the Power harnesses a chunk of this history and graphically illuminates it with humor and eloquence. It reminds us of the struggles that, against the odds, brought us a better world and empowers us to carry those actions into the future."—Peter Kuper, Co-founder, World War 3 Illustrated and artist/ writer for Mad magazine's Spy vs Spy

"An accessible and engaging introduction to protestors in history. If you care about social change, read it!"—Mary Talbot, author of Dotter of Her Father's Eyes (Costa Biography Award winner) 
or
Not Currently Available for Direct Purchase