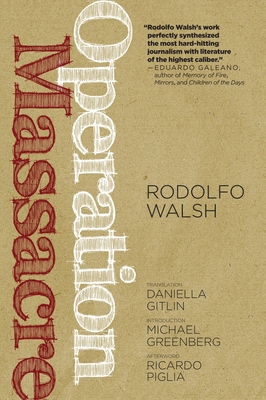 Operation Massacre (Paperback)
Seven Stories Press, 9781609805135, 252pp.
Publication Date: August 27, 2013
Description
1956. Argentina has just lost its charismatic president Juan Peron in a military coup, and terror reigns across the land. June 1956: eighteen people are reported dead in a failed Peronist uprising. December 1956: sometime journalist, crime fiction writer, studiedly unpoliticized chess aficionado Rodolfo Walsh learns by chance that one of the executed civilians from a separate, secret execution in June, is alive. He hears that there may be more than one survivor and believes this unbelievable story on the spot. And right there, the monumental classic Operation Massacre is born. Walsh made it his mission to find not only the survivors but widows, orphans, political refugees, fugitives, alleged informers, and anonymous heroes, in order to determine what happened that night, sending him on a journey that took over the rest of his life. Originally published in 1957, Operation Massacre thoroughly and breathlessly recounts the night of the execution and its fallout.
About the Author
The grandson of Irish immigrants, Rudolfo Walsh was born in a small Patagonian town in 1927. He wrote crime fiction and worked as a translator before publishing Operacion Masacre in 1957. Walsh then traveled to Cuba in the midst of the revolution and launched a newspaper in collaboration with Gabriel Garcia Marquez, among others. Upon his return to Argentina in 1961 he was shunned by the journalistic community for his connections to the Cuban Revolution. In 1972, Walsh updated Operacion Masacre for the fourth and final time before joining the radical leftist group, the Monteneros, the following year. A day after submitting his now famous 1977 "Open Letter from a Writer to the Military Junta," Walsh was gunned down in the street by agents of the State.
Praise For Operation Massacre…
"A mesmerizing, prophetic tour de force of investigative journalism exposing the pervasive thuggishness of the Argentine military elite. A chilling, lucid work, beautifully translated by Gitlin, which serves as a great example of journalistic integrity."—Kirkus Reviews

"This captivating and clear-eyed book, a true crime narrative first published in Spanish in 1957 and fluently translated here by Gitlin [...] provides a moment-by-moment account and [Walsh] reveals as much as he can about the survivors and those who were executed."—Publishers Weekly, Starred Review

""Rarely has the ideal of a writer speaking truth to power been more aptly embodied than in Argentine journalist Rodolfo Walsh."—Financial Times

"...brave, committed, dangerous journalism with more than a hint of polemic. It is also frighteningly human."—The Times of London

"The book is a document of the effort to which a writer will go simply to hear a person's story; to question the details; to construct a narrative that both allows for the inconsistencies of individual eyewitnesses and yet is not undone by them […] Daniella Gitlin's translation is clean, attentive to the subtleties of Walsh's prose, and her introduction and notes are very good indeed… In this moment of anxiety over the flow of information, confusion over the responsibilities of writers and journalists, the publication of this volume is well timed."—Los Angeles Review of Books

"It'd be too cheap to call this required reading for its relevance to contemporary issues of government dishonesty and violent military suppression of opposition. It's more than that: it's the introduction to our literature and history of a writer of almost inconceivable courage, suppressed only by death, and of the terrible events of a night that must not be forgotten."—Bomb Magazine, Editor's Choice

"It is a powerful assertion of the force of testimonial writing relayed by a literary master. Read it and weep. More importantly, to understand how terrorism functions in the hands of the powerful, as an instrument of indiscriminate State manipulation, even massacre, perpetually dictated by the supposedly paramount demands of 'national security.'"—The Independent (UK)

"Finally, this classic of Latin American literature is available in English! Walsh not only exposes a terrible crime with precise and haunting prose, but establishes, many years before Capote and Mailer,  a whole new genre of personal investigative  journalism that transcends its immediate circumstances."—Ariel Dorfman

"A great publishing event. That Operation Massacre had not been translated into English before this was shameful; that it is available to English-readers now is a marvelous thing."—Alma Guillermoprieto, author of Looking for History: Dispatches from Latin America

"Rodolfo Walsh's dramatic investigation of extra-judicial murders in 1950s Argentina was an act of great journalistic courage. Told in cinematic prose skillfully rendered into English by Daniella Gitlin, Operation Massacre is a testament to Walsh's tenacity in his personal search for truth and justice."—Michael Scammell

"Rodolfo Walsh's work perfectly synthesized the most hard-hitting journalism with literature of the highest caliber. His example of adeptness and dignity in literary reportage lives on beyond his death at the hands of a military dictatorship."—Eduardo Galeano, author of Memory of Fire, Mirrors, and Children of the Days

"All of [Walsh's] work demonstrates...his commitment to reality, his almost implausible analytical talent, his personal bravery, and his political ferocity."—Gabriel García Márquez
Advertisement