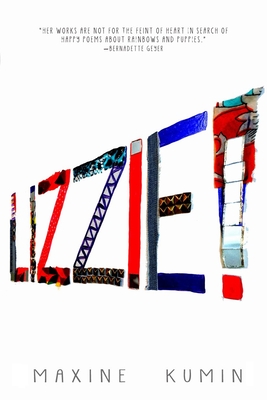 Lizzie! (Hardcover)
Triangle Square, 9781609805180, 160pp.
Publication Date: April 29, 2014
* Individual store prices may vary.
Description
Lizzie, age eleven, does not let her wheelchair get in the way of her curiosity. After she is partially paralyzed in a diving accident, Lizzie and her single mom are starting life over in a small town in Florida, where Lizzie's thirst for knowledge and adventure makes her some unlikely friends and gets her into some sticky situations. Resilient and precocious, Lizzie has a passion for learning new words (especially those with Latin roots) and a propensity for finding trouble, which is how she ends up stumbling upon criminal activities involving seedy characters, beautiful golden monkeys, and murder.
About the Author
Honored as America's poet laureate from 1981 to 1982, MAXINE KUMIN was the recipient of the Pulitzer Prize and the Los Angeles Times Book Prize as well as the Ruth Lilly Poetry Prize and an American Academy and Institute of Arts and Letters Award. In addition to her seventeen poetry collections, novels, and essay collections for adults, she was the author of many children's books including Oh, Harry! (illustrated by Barry Moser) and Mites to Mastodons (illustrated by Pam Zagarenski). Seven Stories Press is re-releasing four out-of-print children's books for kids ages 5 to 8 that Kumin co-wrote with Anne Sexton: Eggs of Things and More Eggs of Things (illustrated by Leonard Shortall) and Joey and the Birthday Present and The Wizard's Tears (illustrated by Evaline Ness). Before her death in early 2014, she and her husband lived on a farm in the Mink Hills of Warner, New Hampshire, for 40 years, where they raised horses and enjoyed the companionship of several rescued dogs.
Praise For Lizzie!…
"Lizzie Peterlinz might just pull her wheelchair up to the table and take her place alongside Anne Shirley and Pippi Longstocking. She's smart. She's sassy. She's curious. She's courageous. And she loves Latin and words of all kinds. Told by one of the great American poets, Lizzie! is a flat-out wonderful read. I couldn't put it down."—artist and illustrator Barry Moser

"Smart, spunky, and delightfully quirky, Lizzie is an unforgettable heroine. She contemplates the mystery of words and analyzes their origins, intuits the hidden natures—good or bad—of the people around her, solves a crime in her neighborhood, and tells us her story in a wonderfully forthright voice. Maxine Kumin's portrayal of Lizzie's life after a diving accident is at once unflinching and hopeful. Some things Lizzie lost will never come back, but her indomitable spirit will always keep her connected to the forces that nurture and protect the world. Lizzie! is a tough-minded and kind-hearted tale of adventure with a memorable cast of supporting characters."—Kyoko Mori, author of Shizuko's Daughter

"I love Lizzie—the novel and the delightful, spirited girl at the heart of it. Like the sublime Maxine Kumin, she rivets the reader with her passion for language, adventure, and the natural world." 
—Hilma Wolitzer, author of Introducing Shirley Braverman and Out of Love

"As a blind author and lover of literature, I have always wanted to read a story about a hero or heroine with a disability whose disability isn't central to the plot. Lizzie! is a wonderful read about just such a character. She happens to use a wheelchair, but the adventures in her life, and the places she finds herself have nothing to do with her disability, and she goes through life just like any other middle schooler. Any young reader who picks up this book will be educated and entertained, while also getting pulled into the unexpected twists and turns of Lizzie's first year in Miami Florida."—Laurie Rubin, author of Do You Dream in Color?
or
Not Currently Available for Direct Purchase