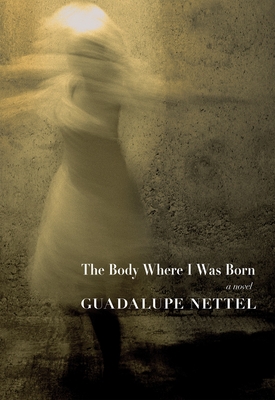 The Body Where I was Born (Hardcover)
Seven Stories Press, 9781609805265, 208pp.
Publication Date: June 16, 2015
Other Editions of This Title:
Paperback (7/25/2017)
MP3 CD (9/6/2016)
* Individual store prices may vary.
Description
The first novel to appear in English by one of the most talked-about and critically acclaimed writers of new Mexican fiction.
 
From a psychoanalyst's couch, the narrator looks back on her bizarre childhood—in which she was born with an abnormality in her eye into a family intent on fixing it. In a world without the time and space for innocence, the narrator intimately recalls her younger self—a fierce and discerning girl open to life's pleasures and keen to its ruthless cycle of tragedy.

With raw language and a brilliant sense of humor, both delicate and unafraid, Nettel strings together hard-won, unwieldy memories—taking us from Mexico City to Aix-en-Provence, France, then back home again—to create a portrait of the artist as a young girl. In these pages, Nettel's art of storytelling transforms experience into inspiration and a new startling perception of reality.

"Nettel's eye…gives rise to a tension, subtle but persistent, that immerses us in an uncomfortable reality, disquieting, even disturbing—a gaze that illuminates her prose like an alien sun shining down on our world." —Valeria Luiselli, author of Sidewalks and Faces in the Crowd
 
"It has been a long time since I've found in the literature of my generation a world as personal and untransferable as that of Guadalupe Nettel." —Juan Gabriel Vásquez, author of The Sound of Things Falling
 
"Nettel reveals the subliminal beauty within beings…and painstakingly examines the intimacies of her soul." —Magazine Littéraire
 
"Guadalupe Nettel's storytelling power is majestic."—Typographical Era
 
In Praise of Natural Histories
 
"Five flawless stories..." —The New York Times
 
"Nettel's stories are as atmospheric and emotionally battering as Checkhov's."—Asymptote
About the Author
The New York Times described GUADALUPE NETTEL's acclaimed English-language debut, Natural Histories, as "five flawless stories." A Bogotá 39 author and Granta "Best Untranslated Writer," Nettel has received numerous prestigious awards, including the Gilberto Owen National Literature Prize, the Antonin Artaud Prize, the Ribera del Duero Short Fiction Award, and the Anna Seghers Prize. She was short-list for the Neustadt Prize, and most recently, won the 2014 Herralde Novel Prize. The Body Where I Was Born, a novel of an unconventional childhood in the seventies, is her first novel to appear in English. Nick Flynn called it "utterly compelling .... [Nettel] has brilliantly found a form to contain the multitudes of what one body can hold." She lives and works in Mexico City.
Praise For The Body Where I was Born…
"With straightforward, honest prose, Nettel paints a vivid portrait of a girl always just on the edge of community and illustrates the beauty and strength of a mind shaped by hardship. She perfectly captures the awkwardness and insecurities of growing up and the small, strange moments that change us forever." —Publishers Weekly (PW Pick)

"One of the fascinating qualities of this book is the unsparing testimony, somewhere between religious confession and secular disclosure, that gives a sharp sense of a woman's harrowing girlhood. Nettel's candid, unaffected prose hews closely to the strictures of the therapy session. In this, she runs the risk of turning her story into a "case." ... Still, Nettel's strategy yields rich rewards. Concealing the adult narrator disturbs the distance between reader and author; the intimacy ­forces the reader into the girl's vulnerable body. This vivid image of the ardent girl as revealed by a faceless woman hints at the tangled snare of the past. An effort to shed an old self may simply make a person disappear. —The New York Times Book Review

"Nettel's eye lightly deforms things and gives rise to a tension, subtle but persistent, that immerses us in an uncomfortable reality, disquieting, even disturbing—a gaze that illuminates her prose like an alien sun shining down on our world." —Valeria Luiselli, author of Sidewalks and Faces in the Crowd 

"The Body Where I Was Born infuses the reader with an intimate portrait of the astute and wondrous depth that children use to observe and makes sense of humanity. The language in the book is poetic yet accessible, and at certain points Nettel hits you with a sentence so brilliant and poignant that you have to read it another time in order to fully indulge the narrator's oral recollection of who she was. This book is fierce and from the gut. It is a testimony of a woman finding agency in her body because it is physical evidence that connects her to the planet and the rest of humanity." —World Literature Today

"Here is an utterly compelling memoir about a specific body, which simultaneous conjures the fragility of that body, as well as the ever-shifting body of memory itself. Nettel has brilliantly found a form to contain the multitudes of what one body can hold." —Nick Flynn

"It has been a long time since I've found in the literature of my generation a world as personal and untransferable as that of Guadalupe Nettel." —Juan Gabriel Vásquez

"The gaze [Nettel] turns on madnesses both temperate and destructive, on manias, on deviances, is so sharp that it has us seeing straight into our own obsessions." —Xavier Houssain, Le Monde

"Guadalupe Nettel is one of the most interesting voices of the new Mexican fiction." —J. A. Masoliver Ródenas, La Vanguardia

"Guadalupe Nettel reveals the subliminal beauty within beings of odd behavior and painstakingly examines the intimacies of her soul." —Magazine Littéraire
or
Not Currently Available for Direct Purchase