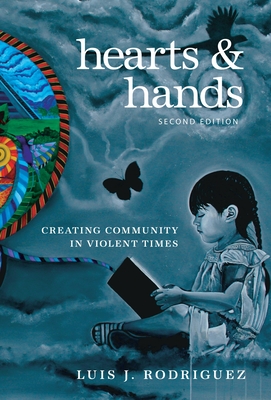 Hearts and Hands, Second Edition (Paperback)
Creating Community in Violent Times
Seven Stories Press, 9781609805531, 384pp.
Publication Date: May 13, 2014
* Individual store prices may vary.
Description
Hearts and Hands focuses on healing through community building. Empowered by thirty years of experience with gangs in Los Angeles and Chicago, Rodríguez offers a unique book of change. He makes concrete suggestions, shows how we can create nonviolent opportunities for youth today, and redirects kids into productive and satisfying lives. And he warns that we sacrifice community values for material gain when we incarcerate or marginalize people already on the edge of society. His drive to dissolve gang influence on kids is as personal as it is societal; his son, to whom he dedicates Hearts and Hands, served more than a decade in prison for gang-related activity. With anecdotes, interviews, and time-tested guidelines, Hearts and Hands makes a powerful argument for building and supporting community life.
About the Author
LUIS J. RODRÍGUEZ's bestselling autobiographical account, Always Running: La Vida Loca, Gang Days in L.A. (1993) has been followed by numerous other books. He has written for The Nation, Grand Street, Los Angeles Weekly, and Americas Review, among others. Winner of a Lannan Foundation Fellowship, and an Illinois Arts Council Fellowship for Poetry, Rodríguez is also the founder of Tía Chucha Press, publishing emerging, socially conscious poets. He lives in San Fernando, California, with his wife, Trini, and their family. Luis is currently a candidate for the Green Party nomination for Governor of California.
Praise For Hearts and Hands, Second Edition: Creating Community in Violent Times…
"[A] beautifully written and politically astute account."—Entertainment Weekly

"Rodríguez is a relentless truth-teller, an authentic visionary, a man of profound compassion...[In Hearts and Hands] he acknowledges the lessons we can learn from the social sciences, he scrutinizes what succeeds and what fails in the realm of public policy, but he never allows us to forget that the rescue of young people is also 'a spiritual quest.'"—Los Angeles Times Book Review

"Combining personal memoir, perceptive sociological analysis and astute advice about political organizing, Rodriguez, whose youth included 'drugs, jail, and gang warfare,' writes movingly of how he turned his life around and dedicated himself to working with teens at risk. While attacking the image of teenage males as the primary instigators of violent behavior, R. focuses on the specific problems of young males, 'trying to negotiate their lives' in the face of enormous problems, with little in the way of adult models. Never sentimentalizing or sensationalizing his materials, R. writes honestly and incisively from experience, knowledge and compassion."—Publishers Weekly