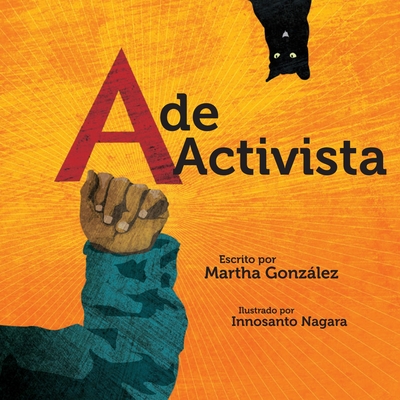 A de activista (Board book)
Triangle Square, 9781609805692, 32pp.
Publication Date: October 28, 2014
* Individual store prices may vary.
Description
Following on the outrageous success of Innosanto Nagara's A is for Activist (now in its fourth printing), A de Activista is a Spanish-language ABC board book written by Grammy Award-winning lyricist and singer Martha Gonzalez and illustrated by Nagara for the next generation of progressives: families who want their kids to grow up in a space that is unapologetic about activism, environmental justice, civil rights, LGBTQ rights, and everything else that activists believe in and fight for. The alliteration, rhyming, and vibrant illustrations make the book exciting for children, calling them to action while teaching them a love for books.
About the Author
INNOSANTO NAGARA's new-wave board books encourage children to grow up with confidence in themselves, and to be proactive citizens who are passionate about causes from environmental issues to LGBTQ rights and civil rights. Nagara was born and raised in Indonesia, and moved to the US in 1988. After studying zoology and philosophy at UC Davis, he moved to the San Francisco Bay Area, where he worked as a graphic designer for a range of social change organizations, before founding the Design Action Collective, a worker-owned cooperative design studio in Oakland, California.
Praise For A de activista…
"Finally! A sassy and heartwarming board book to teach our children the alphabet of humane values. Innosanto Nagara knows that activism begins in the cradle, but to be sustainable, it has to be wide-ranging, deep-rooted, and based ultimately on a sense of fun and community. A is for Activist covers all this ground with a playful rhyming style that makes you want to turn the pages and read the book over and over again.The illustrations are so colorful, beautifully executed, little works of art in and of themselves. What a great book for children of all ages. The Spanish translation by Martha González captures the essence of the English original and makes it sing y cantar con todo el amor y cariño de nuestra cultura y lengua." --Julia Alvarez, author of A Wedding in Haiti: the Story of a Friendship and How the Garcia Girls Lost Their Accents, and founding member of Border of Lights, an ongoing movement to promote peace and collaboration between Haiti and the Dominican Republic, borderoflights.org

"A is for absolutely wonderful! B is for beautiful illustrations. C is for creative use of labor philosophy. D is for promoting Democracy. E is for Excellent. This is NOT a mundane, rote memorization academic book. This book makes me want to jump and sing and color and paint and learn."—New Mexico State Representative Christine Trujillo
 
"En este libro, las imágenes enseñan tan fuertemente como lo hacen las palabras. A de Activista es un testimonio de un pueblo de todos los colores, unidos por la consciencia y la compasión. Es un retrato hermoso de niños que se celebran sus derechos humanos en una voz de pura alegría, recordando los que vinieron antes de ellos – César, Malcolm, Las Zapatistas. Es un libro sencillo y precioso que se presenta un alfabeto de coraje con la esperanza que se convierta en la lengua de una verdadera democracia."— Cherríe Moraga, "Artivista" y autora de This Bridge Called My Back: Writings by Radical Women of Color

"Cuando yo traigo libros a nuestra casa, quiero hermosos libros que seguirán siendo relevantes y significativos, y que demuestran respeto por los niños y una visión de un mundo sano. A de Activista fue una elección fácil."—Maya Christina Gonzalez, Autora e ilustradora de Mi Colores, Mi Mundo (Premio de Honor Pura Belpré 2007) y Yo Sé Que El Rio Me Ama; Ilustradora de Jitomates Risueños, Nana, Que Sorpresa, Animalario del Iguazu y muchos más

"¡A de Activista es una herramienta importante que fortalece las normas educativas e inspira a los niños a la participación cívica en sus comunidades para que tengan un mundo mejor!"—José-Luis Orozco, Educador bilingüe, autor de libros infantiles y artista de grabacion

"Es esencial que la niñez sepa que el mundo en que vivimos es imperfecto. Y que todos y todas tenemos la habilidad de cambiarlo para hacerlo mejor para todos."—Pablo Alvarado, Director Ejecutivo, La Red Nacional de Jornaleros y Jornaleras (National Day Laborer Organizing Network)

"Me encanta que ahora hay un libro que puedo compartir con mis hermosas nietas que enseña un nuevo vocabulario sobre los valores humanos y la justicia social - y los derechos de los trabajadores."—Maria Elena Durazo, Directora, Federacion deSindicatos AFLCIO, Los Angeles

"Este libro esta muy bien escrito, es fácil de leer, y ¡Tiene un mensaje genial! Mas, por encima de todo, lo que verdaderamente es el hecho que deja a una boquiabierto es el arte gráfico. ¡Mis felicitaciones!"—John Vigueras, Organizing Director, Federación de Trabajadores de Puerto Rico, AFL-CIO