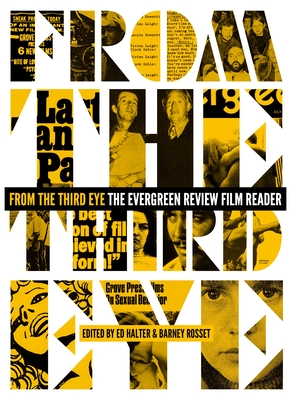 From the Third Eye
The Evergreen Review Film Reader
Paperback

* Individual store prices may vary.
Description
In this first collection of film writing from Evergreen Review, the legendary publication's important contributions to film culture are available in a single volume. Featuring such legendary writers as Nat Hentoff, Norman Mailer, Parker Tyler, and Amos Vogel, the book presents writing on the films of Jean-Luc Godard, Pier Paolo Pasolini, Ousmane Sembene, Andy Warhol, and others and offers incisive essays and interviews from the late 1950s to early 1970s. Articles explore politics, revolution, and the cinema; underground and experimental film, pornography, and censorship; and the rise of independent film against the dominance of Hollywood. A new introductory essay by Ed Halter reveals the important role Evergreen Review and its publisher, Grove Press, played in advancing cinema during this period through innovations in production, distribution, and exhibition. 

Editor Ed Halter began working on this book in 2001 with Barney Rosset, using his personal files and interviews with him as initial research.
Praise For From the Third Eye: The Evergreen Review Film Reader…
"Over a decade and a half in the making, From The Third Eye: The Evergreen Review Film Reader is the first comprehensive look at Barney Rosset and Grove Press's contribution to film culture, collecting close to four dozen articles of the Evergreen Review's film section, contextualized with an in-depth introduction by Ed Halter and brilliantly laid out in the distinguished style of the erstwhile magazine. That such a work has finally arrived forty-five years after the demise of the Review is a testament to Rosset's repeated lament that Grove's place in film history is overlooked. [...] Film, after all, was Rosset's first artistic obsession, and he speaks of thinking more in images than in words, although it is undoubtedly the latter upon which his legacy rests. But the legendary publisher envisioned Grove as an interdisciplinary Leviathan, establishing dominion over theatre and film as well as the written word—a "new kind of communications center of the sixties" as Grove's 1967 shareholder statement asserts with McLuhanesque bravado. Hearing this declaration decades hence, one is inclined to wonder—was it? As an answer to this question, From The Third Eye offers an intimate glimpse into this multimedia machine and its fractured legacy. [...] Unlike many contemporaneous underground outlets, [the Evergreen Review's] articles still crackle with crisp lucidity and a healthy skepticism, encouraging conversation and debate and giving a platform to a diversity of voices. From The Third Eye holds fast to this approach, unafraid to expose the foibles and faults of a venerable and problematic institution but equally determined to showcase the depths of its talent and inquiry." –Mitch Anzuoni, Brooklyn Rail

"It could be argued that the world of underground film and culture in the 1960s and 1970s would not have flourished as it did without the essays in Evergreen Review. The film commentary, specifically, dealt with the political, cultural, and sexual evolution of cinema, and gave credence to these changes in the medium. Moreover, the journal's publisher, Grove Press, became heavily involved in the production and distribution of films in this period, so these writings managed to both elucidate and advertise experimental film. Featuring essays from 1958 to 1973, and written by the likes of cultural critics Nat Hentoff, Amos Vogel, and Parker Tyler, this is a snapshot of a major shift in cinema and a true time capsule of films and filmmakers who are often little known outside of a film studies class. VERDICT A wonderful resource on the virtues of directors Pier Paolo Pasolini, Jean-Luc Godard, Vilgot Sjöman, and many others; however, the esoteric nature of the subject matter and the high percentage of essays dealing with nudity or pornography relegates this to an academic audience or devoted film enthusiasts." —Peter Thornell, Hingham P.L., MA

"From the Third Eye has a historically useful appendix listing all known films ever distributed by Grove Press (including some surprises—Flaming Creatures, Fuses, Wavelength) and copious illustrations. I especially appreciated the house ads promoting Grove films (in which fake-looking hippies brandish a picket sign demanding movies by Glauber Rocha) and sex—education flicks (seminude hippies canoodle in a cow pasture). Among other things, Rosset created the intellectual stroke book of which his fellow Chicagoan Hugh Hefner could only dream." –J. Hoberman, Artforum
Seven Stories Press, 9781609806156, 336pp.
Publication Date: March 6, 2018
About the Author
ED HALTER is a critic and curator living in New York City. He is a founder and director of Light Industry, a venue for film and electronic art in Brooklyn, New York, and his writing has appeared in Artforum, the Believer, Bookforum, Cinema Scope, frieze, Little Joe, Mousse, Rhizome, Triple Canopy, the Village Voice, and elsewhere. His book From Sun Tzu to Xbox: War and Video Games was published in 2006, and he is a 2009 recipient of the Creative Capital Warhol Foundation Arts Writers Grant. From 1995 to 2005, Halter programmed and oversaw the New York Underground Film Festival. He has curated screenings and exhibitions at Artists Space, BAM, the Flaherty Film Seminar, the ICA in London, the Museum of Modern Art, the New Museum, and Tate Modern, as well as the cinema component of Greater New York 2010 at MoMA PS1, and the film and video program for the 2012 Whitney Biennial. He teaches in the Film and Electronic Arts department at Bard College and is currently writing a critical history of contemporary experimental cinema in America.

BARNEY ROSSET (1922–2012) was the legendary publisher who brought to America the works of dramatists Samuel Beckett and Harold Pinter, the anti-imperialist political writings of Che Guevara and Ho Chi Minh, and who published the scandalous novels of Henry Miller and William Burroughs in spite of outrage and accusations of indecency. Beat poets, French surrealists, German expressionists, and dramatists of the absurd—they all found a home at Grove Press, which he owned and ran from 1951–1985, and in the pages of the avant-garde magazine Evergreen Magazine, which he founded in 1957. A champion in the fight against all forms of puritanism, Rosset was taken to court several times on obscenity charges, most notably for publishing three novels now considered classics, Lady Chatterley's Lover, The Tropic of Cancer, and Naked Lunch. In 1964, during a trial that would forever change the meaning of American culture and contribute to breaking down most censorship barriers, the Supreme Court would rule in his favor against those who demanded that The Tropic of Cancer be banned. Rosset had a lifelong interest in film as an art form. After serving in WWII, he shot the anti-racist documentary Strange Victory. In 1965 he commissioned Samuel Beckett to write the short movie Film, which Rosset then directed and produced starring Buster Keaton. In 1967, he bought a cinema in the Village, where he showed the Swedish film I Am Curious (Yellow), whose explicit scenes of sex and nudity brought him once again to court. Rosset was named an officer of arts and letters by the French cultural ministry and honored by the National Coalition Against Censorship for defending free expression. In 2008, he also received the lifetime achievement Literarian Award from the National Book Foundation in honor of his contributions to American publishing. A posthumous autobiography titled Barney Rosset: My Life in Publishing and How I Fought Censorship was published in 2017.
or
Not Currently Available for Direct Purchase