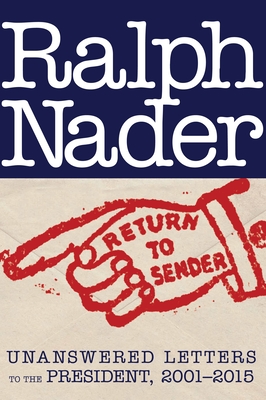 Return to Sender
Unanswered Letters to the President, 2001-2015
Hardcover

* Individual store prices may vary.
Description
In letters addressed to Presidents George Bush and Barack Obama, Ralph Nader provides incisive critiques of more than a decade of American policy decision and indecision. Each letter offers frank advice and shines light on government mishaps and missed opportunities for progress. With his signature dry wit, Nader holds these Presidents to their campaign promises. He also boldly points to the ignoble and sometimes heinous decisions made in pursuit of party platforms and misguided ideals. Covering a range of still-current topics--including the Iraq war, torture, the Crimean annexation, the minimum wage, worker's health legislation, and corporatism--these letters were wholesale ignored on receipt. Here they are reproduced to refute that fate in the spirit of true and healthy democracy.
Praise For Return to Sender: Unanswered Letters to the President, 2001-2015…
"Another triumphant look into the legendary prowess of Ralph Nader. We can't count on Washington, but we can always count on Ralph Nader to speak for the rest of us." —ROSEANN DEMORO, executive director of National Nurses United 
"For a half century Ralph Nader has said what he thinks, written what he believes, and told it like it is—even to presidents. Too bad they don't write back. I'd love to know how they'd explain themselves to Ralph, and to the American people." 
—ROBERT B. REICH, chancellor's professor of public policy, University of California at Berkeley, and former US secretary of labor 
"For the ordinary citizen the reading of a letter from Ralph Nader is an option; for a president of the United States, it is not." 
—Lewis Lapham, founder and editor of Lapham's Quarterly
"Ralph Nader is without a doubt the most dedicated, fearless, and intelligent citizen crusader America has ever been fortunate enough to have in our midst. Having spent my own time researching the twentieth-century presidential archives for 
All the Presidents' Bankers
, including the plethora of two-way letters between the most elite and wealthy American bankers to presidents, it is clear that Ralph's insight and letters speak on behalf of the vast majority of our nation's citizens, and theirs do not. It is as shameful of these presidents to ignore his well-reasoned, fact-based, and population-centric letters and comments, as it is heroic of Ralph to produce this compilation that holds their denial and silence to account. Bravo, Ralph!" 
—Nomi Prins, author of All the Presidents' Bankers 
Seven Stories Press, 9781609806262, 304pp.
Publication Date: April 7, 2015
About the Author
Born in Connecticut in 1934, RALPH NADER has spent his lifetime challenging corporations and government agencies to be more accountable to the public. His 1965 book Unsafe at Any Speed permanently altered the course of a reckless U.S. automobile industry and made Nader a household name. His lobbying and writing on the food industry helped to ensure that the food we buy is required to pass strict guidelines before reaching the consumer. One of Nader's greatest achievements was his successful lobbying for a 1974 amendment to the Freedom of Information Act, which gave increased public access to government documents. Over the years he has co-founded the public interest groups Public Citizen, Critical Mass, Commercial Alert, and the Center for the Study of Responsive Law. His 2000 presidential campaign on the Green Party ticket served to broaden the scope of debate on the nation's priorities. Named by the Atlantic as one of the hundred most influential figures in American history, Nader continues to be a relentless advocate for grassroots activism and democratic change. He lives in Washington, D.C.
or
Not Currently Available for Direct Purchase