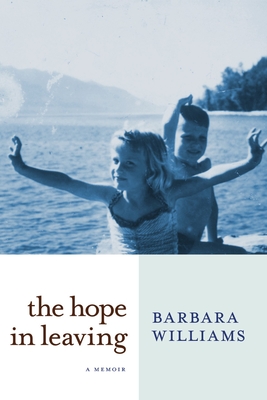 The Hope in Leaving
A Memoir
Hardcover

* Individual store prices may vary.
Other Editions of This Title:
Paperback (9/12/2017)
MP3 CD (9/20/2016)
Description
Handsome Jack is a logger, nomad, and born dreamer. His young wife, Simone, has too many kids and never enough money to support or protect them. The family keeps on the move, shedding a grand total of twenty-seven homes. Their first child, Randy, is sensitive and brilliant and bold, protector of his younger siblings, the fearless star of their childhood adventures and misadventures—until something snaps inside him. The second child who comes a year after him, our narrator Barbara, is the lucky one, who can dream of getting out. Every time the family relocates, she feels "the hope in leaving and doing better next time."

Poverty, mental illness, sexual abuse, and injustice pursue them wherever they go. They live small-town life hard and suffer, most of all Randy. The great surprise of The Hope in Leaving isn't that these characters descend increasingly into isolation and strife, but that despite this they remain a family, that there is always the spark of wit in their banter, and a kind of closeness no matter what happens, even a sense of normalcy. Gradually, the reader comes to understand why The Hope in Leaving is a book that had to be written. In it, Williams proves beyond doubt that there is one thing that can survive the worst of life and even death itself: love without judgment.
Praise For The Hope in Leaving: A Memoir…
"The Hope in Leaving is an incredibly powerful offering, delivered with rare grace and strength given its painful subject matter. With it, Williams has proven the most powerful storytelling is that which trusts readers to feel its impact without instruction, and find meaning without guidance." —Toronto Globe & Mail 

"Searingly honest, the book is a testimony to one woman's resilience and ability to love in the face of unimaginable hardship. An unsentimentally candid memoir of hope and determination." —Kirkus Reviews

"Authentic. Human. Unselfconscious. Beautifully crafted. The Hope in Leaving is a jewel of a book." —Helen Hunt

"Barbara Williams is the daughter of wanderlust. She grew up in logging camps, skid roads, and temporary homes on Vancouver Island and mainland British Columbia. Her father was 'Handsome Jack,' the man who danced on tree-tops and was always saying goodbye. Indeed this is a book of leavings and disappearances where home is little more than a random path within the epic immensity and sorrow of the Pacific Northwest. In exquisite prose, always wary of self-pity, she tells the story of a brotherhood of semi-nomadic forest workers, their dangerous jobs and shattered families. The genre is deceptive: imagine a 'coming of age story' but written by John Steinbeck." —Mike Davis

"Barbara Williams has written a breathtaking, ruthlessly poetic coming of stage; a memoir that reads more like a hardscrabble book of common prayer. Hope In Leaving is a born writer's pure and savage plainsong, a ghost dance summoning family, hope, endurance, and the transcendence of love." —Bruce Wagner

"If you appreciate Mary Karr and Jeannette Walls, you'll want to read Williams's eloquent memoir of growing up in and out of the harsh lumber camps of British Columbia. In an honest, compelling voice devoid of self-pity, she tells of finding solace in nature's beauty, of grasping for shards of love. Through this painful, riveting journey, the bright, curious child manages to grow into a resilient, hopeful artist." —Jane Fonda
Seven Stories Press, 9781609806729, 240pp.
Publication Date: March 29, 2016
About the Author
BARBARA WILLIAMS is a Canadian musician and actress. Early in her career, Williams starred in the films Thief of Hearts and City of Hope. She won a Canadian Emmy Award for Best Actress for the telepic Mother Trucker. She was a member of the Resident Theatre Company in Vancouver, and among her more than thirty stage roles, she portrayed Amelia Earhart in the musical Amelia at Canada's National Arts Center, Joan Baez at the Met Theatre in Los Angeles, and Lady Macbeth in La Jolla, California, under Tony Award winner Des McAnuff's direction. As a musician she has performed in the United States and Canada, often in concerts devoted to peace, workers' rights, and the environment. The Hope in Leaving is her first book. She lives and works in Los Angeles with her husband, Tom Hayden, and her son, Liam.
or
Not Currently Available for Direct Purchase