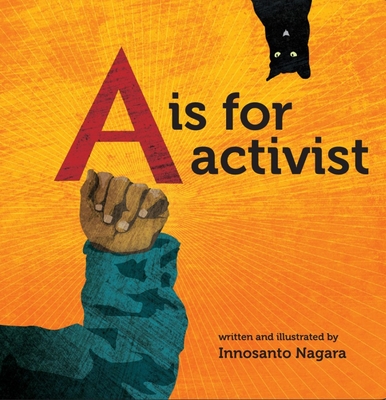 A is for Activist
Hardcover

* Individual store prices may vary.
Other Editions of This Title:
Board book (11/19/2013)
Description
This bestselling ABC book is written and illustrated for the next generation of progressives: families who want their kids to grow up in a space that is unapologetic about activism, environmental justice, civil rights, LGBTQ rights, and everything else that activists believe in and fight for. A continuous bestseller for Triangle Square, we heard from booksellers around the country who clamored for a large format edition that would appeal to children over the age of 5. This engaging book carries huge messages as it inspires hope for the future, and calls children and parents to action.
Praise For A is for Activist…
"Finally! A sassy and heartwarming board book to teach our children the alphabet of humane values. Innosanto Nagara knows that activism begins in the cradle, but to be sustainable, it has to be wide-ranging, deep-rooted, and based ultimately on a sense of fun and community. A is for Activist covers all this ground with a playful rhyming style that makes you want to turn the pages and read the book over and over again.The illustrations are so colorful, beautifully executed, little works of art in and of themselves. What a great book for children of all ages." —Julia Alvarez, author of A Wedding in Haiti: the Story of a Friendship and How the Garcia Girls Lost Their Accents

"Memorable, often humorous poems that teach the alphabet through activist political examples. Never too early to expose your children to justice." —Viet Thanh Nguyen in Vulture.com

"Full of wit, beauty, and fun, we can think of no better way to learn the alphabet." —Naomi Klein and Avi Lewis, author of The Shock Doctrine /filmmaker 

"Fun, funny, exquisitely illustrated and brilliantly written with a message that is sure to resonate with kids. May a thousand young activists bloom!" —Medea Benjamin, cofounder of Global Exchange and Code Pink

"I wish this beautiful and inspiring book was around when my daughter was young, but fortunately there were plenty of cool children around today who will devour what Inno is serving up!" —Dan Zanes, Grammy Award-winning artist of Catch that Train!

"The alliteration and rhymes have the rhythm and fun of standard ABC books, burrowing into little ears and prompting memorization and spontaneous recitation." —YES! Magazine

"A is for Activist offers an opportunity for parents to explore their values with their children. At this time in history we need books for children that use words like justice, ally, freedom, and advocate." —Rona Renner, RN, parent educator, and host of Childhood Matters radio show

"A is for Activist speaks to the possibilities of change, of proactive parenting, of creating community, and of celebrating our collective histories. This book is rad!" —Tomas Moniz, writer/editor Rad Dad, a zine on radical parenting

"Reading it is almost like reading Howard Zinn's A People's History of the United States, but for two-year olds—full of pictures and rhymes and a little cat to find on every page that will delight the curious toddler and parents alike." —Occupy Wall Street




Triangle Square, 9781609806934, 32pp.
Publication Date: November 10, 2016
About the Author
INNOSANTO NAGARA's new-wave board books encourage children to grow up with confidence in themselves, and to be proactive children who are passionate about causes from environmental issues to LGBTQ rights and civil rights. Nagara was born and raised in Indonesia, and moved to the US in 1988. After studying zoology and philosophy at UC David, he moved to the San Francisco Bay Area, where he worked as a graphic designer for a range of social change organizations, before founding the Design Action Collective, a worker-owned cooperative design studio in Oakland, California.