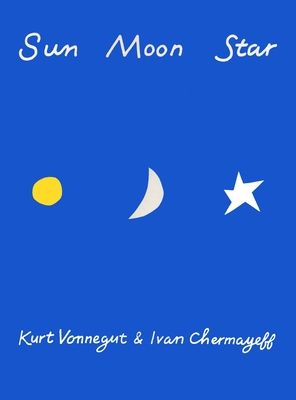 Sun Moon Star
Hardcover

* Individual store prices may vary.
Description
Sun Moon Star is the story of the birth of Jesus--as told by Kurt Vonnegut. This children's book takes the newborn Jesus' perspective, offering beautiful and insightful descriptions of the world from someone newly born into it. In this book, we follow Jesus and meet the people most important to his life--presented in new and surprising ways. 

A powerful departure from Vonnegut's more adult work, Sun Moon Star gives readers a rare glimpse of the writer's talent in a format that's unique and unexpected. Originally published in 1980, the book is long out of print, but is available as an E-book.
Praise For Sun Moon Star…
"It's Vonnegut's descriptions of the sheer newness of human experience (the child's "fourth dream was simply green. It had never seen/ green/ before") that make this an intriguing and memorable perspective on the Incarnation."
--Publishers Weekly

"Vonnegut tells the story of the Nativity in his own original style that's both delightful and charming. Complete with illustrations, this is a read suitable for both children and adults alike."
--The Bookbag UK
Triangle Square, 9781609807245, 64pp.
Publication Date: November 17, 2016
About the Author
KURT VONNEGUT (1922-2007) was among the few grandmasters of twentieth-century American letters, one without whom the very term American literature would mean much less than it does now. Vonnegut's other books from Seven Stories Press include God Bless You, Dr. Kevorkian, the national hardcover and paperback bestseller A Man Without a Country, and, with Lee Stringer, Like Shaking Hands with God. 
IVAN CHERMAYEFF is a renowned illustrator, designer, and artist whose illustrations, art installations for contemporary buildings, and graphic design work has won numerous awards and accolades, including gold medals from the Society of Illustrators and the American Institute of Graphic Arts.