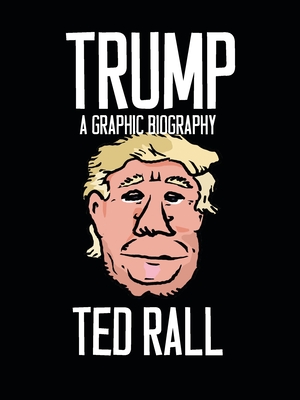 Trump (Paperback)
A Graphic Biography
Seven Stories Press, 9781609807580, 192pp.
Publication Date: July 26, 2016
* Individual store prices may vary.
Description
Real Estate Billionaire. Reality TV star. President?

Donald Trump inherited a fortune from his father. But he wanted more.

Shrewd and indefatigable, he never missed an opportunity to expand his holdings. He transformed himself into an international brand. He marketed his personality into a product. 

He built an empire. But that wasn't enough. He wanted to be President, and he was willing to do and say whatever it took.

Donald Trump, who never held political office, pulled off his ultimate acquisition: the hostile takeover of the Republican Party. Everyone was shocked — except those who knew him.
About the Author
Twice the winner of the Robert F. Kennedy Journalism Award and a Pulitzer Prize finalist, TED RALL is a radical syndicated political cartoonist, opinion columnist, graphic novelist, and occasional war correspondent whose work has appeared in hundreds of publications, including the New York Times, Washington Post, Village Voice, and Los Angeles Times. For Seven Stories Press, he is the illustrator of the full-length comic Billionaires & Ballot Bandits: How to Steal an Election in 9 Easy Steps (2012), written by Greg Palast, and the author and illustrator of The Book of Obama (2012), The Anti-American Manifesto (2010), and After We Kill You, We Will Welcome You Back as Honored Guests (Hill and Wang 2014). His most recent books are Snowden (2015) and Bernie (2016).
Praise For Trump: A Graphic Biography…
"This book shows the proper medium for a Donald Trump biography: Cartoon!" —Bruce Handy, Vanity Fair

"Just in time for the Republican convention, cartoonist Rall follows his recent graphic bios of Sen. Bernie Sanders and CIA whistleblower Edward Snowden with a comic book peek into the life and times of America's favorite short-fingered vulgarian. Given that Rall once called on Barack Obama to resign, saying the 44th president made 'Bill Clinton look like a paragon of integrity and follow-through,' it's a safe bet that Trump won't be flogging this one on his campaign website" —The Millions