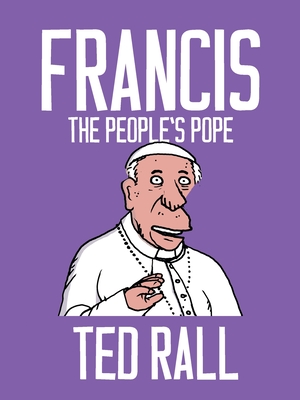 Francis, The People's Pope (Paperback)
Seven Stories Press, 9781609807603, 256pp.
Publication Date: March 13, 2018
* Individual store prices may vary.
Description
Culminating his bestselling series of graphic biographies (Snowden, New York Times Graphic Books Bestseller Bernie, and Trump), Ted Rall's Pope Francis presents the life, ideas, and political impact of the most progressive spiritual leader the world's Roman Catholics have had since Jesus Christ himself. And just in time too!     
Can a reformer, working within an established, conservative, bureaucratic institution make real change? Usually, radical thinker and political cartoonist Ted Rall would be among the first to shout "hell no." But Rall believes that Pope Francis may be the one notable exception. By expressing sympathy and outrage on behalf of the poor and hungry, solidarity with same sex couples, and righteous anger against the world's banks' use of capital to gain profit at the expense of local communities and on the backs of the middle class, Pope Francis may have already changed the tone and substance of the conversation, Rail believes. As the world's governments persist in ignoring global warming, and exporting war and suffering, Rall considers Pope Francis to be the one world leader who might be able to encourage and inspire a new populism to turn the tide.     
Raised Roman Catholic himself, Ted Rall is able to bring depth to his latest graphic biography as perhaps no other writer or comics artist could. Rall's art is always attuned to the human comedy, his protagonists funny at the same time as they provide a serious account of some of the most pressing issues and struggles of our times.
About the Author
Twice the winner of the Robert F. Kennedy Journalism Award and a Pulitzer Prize finalist, TED RALL is a radical syndicated political cartoonist, opinion columnist, graphic novelist, and occasional war correspondent whose work has appeared in hundreds of publications, including the New York Times, Washington Post, Village Voice, and Los Angeles Times. For Seven Stories Press, he is the illustrator of the full-length comic Billionaires & Ballot Bandits: How to Steal an Election in 9 Easy Steps (2012), written by Greg Palast, and the author and illustrator of The Book of Obama (2012), The Anti-American Manifesto (2010), and After We Kill You, We Will Welcome You Back as Honored Guests (Hill and Wang 2014). His most recent books are Snowden (2015), Bernie (2016), and Trump (2016).
Praise For Francis, The People's Pope…
"...this swift-paced and thought-provoking book is ultimately hopeful about whether this pope has 'Made the Church Great Again,' providing readers a jumping-off point to keep questioning." —Publishers Weekly

"Francis: The People's Pope (Seven Stories Press), a graphic biography by journalist and cartoonist Ted Rall, is, in its way, a celebration of the current successor of St. Peter." —Catholic News Service

"I don't like how the cartoonist has made our pope look like Homer Simpson." —America Magazine