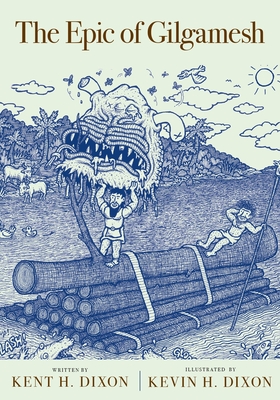 The Epic of Gilgamesh
Paperback

* Individual store prices may vary.
Description
The most complete Gilgamesh in translation--including the new discoveries from tablet V.

THE EPIC OF GILGAMESH is the Ur epic--the hero's journey, quest, and education--inscribed onto damp clay tablets several millennia before Odysseus or the priest of Ecclesiastes found their voices. Sumerian versions of the epic date back almost 5000 years. It is a Bildungsroman of a bad king learning to become a proper human being and therefore a wise king, and to do so, besides defeating lions and monsters and surviving great physical and emotional suffering, he must face, and answer, the first (and last) great question: mortality.

Translated into English and presented here in its entirety as a graphic novel, this version of THE EPIC OF GILGAMESH is a father/son project by scholar and translator Kent H. Dixon and his son, the comix artist Kevin Dixon, who bring a fresh take on this great work. The reader is slowed down by the artwork and visual jokes and the artist's wry hat-tippings to various masters (Crumb and Gilbert Shelton alongside Schultz and Capp, Popeye and Krazy Kat, Uderzo's Astérix and Hergé's Tintin), and then, once the reading pace has shifted into lower gear, having all these aspects complementarily drawn out, makes for an especially satisfying counterpoint to the low-key, the wise and cynical and morally sophisticated, and sometimes sublimely Olympian humor.
Praise For The Epic of Gilgamesh…
"The Dixons, a father-son creative team, breathe new life into the world's oldest known story with a graphic adaptation that manages to be at once authentic, avant-garde, and approachable. . . . This is required reading for any lover of mythology." –Publishers Weekly

"The Epic of Gilgamesh succeeds in revitalizing humanity's most ancient tale with a fresh take on the original text, enlightened by Kent H. Dixon's impeccable scholarship and brought to life by Kevin Dixon's skillful graphic storytelling techniques. Readers both familiar and unfamiliar with the original story will delight in discovering the creators' wry touches of humor and imagination as they reinterpret this classic saga in comics form." —Matthew J. Smith, Ph.D., co-author of The Power of Comics: History, Form, and Culture
 
"This comic take on Gilgamesh offers readers a playful, action-packed, eminently readable new spin on this oldest of stories. Kent and Kevin Dixon imbue the ancient quest with a goofy, good-natured sense of fun, even as they evoke the subtleties of its timeless themes."—Rolf Potts, essayist and author of Vagabonding and Marco Polo Didn't Go There
 
"An ancient tale refashioned in the style of underground comix from the 1970s, The Epic of Gilgamesh by the Dixons is the best kind of scholarly comic; one that is authentic, surprising, and accessible. Bringing contemporary readers to long forgotten lands and tales of adventure, The Epic of Gilgamesh is a welcome addition to the graphic canon."  —J.T. Waldman, author and illustrator of Megillat Esther and Not the Israel My Parents Promised Me (with Harvey Pekar)
 
"Thanks to Kent and Kevin Dixon for creating this monumental work, as well as the timely and therapeutic reminder that horrible flesh-eating monsters, great sex, and gargantuan egos have always been nestled comfortably within our collective DNA­—and at 5,000 years old, the epic feels positively 21st century. I was blown away by what they have achieved." —David Catrow, author and illustrator of the Max Spaniel series and When God Made You (with Matthew Paul Turner)

"Just when I thought I had read every version of Gilgamesh out there (in English, that is, I don't read Assyrian cuneiform) along comes a cool new "rendition," as Kent H. Dixon calls his collaborative effort with his son Kevin H. Dixon, an artist/illustrator. . . . Beautifully executed in a handsome edition." –Julia Alvarez, author of How the García Girls Lost Their Accents

"Rowdy, bawdy . . . entertainingly blends the highs and lows of classical declamation and contemporary slang." –Sam Sacks, Wall Street Journal, 16 November 2018

"The Dixons' adaptation has earned its rightful place on college syllabi, replacing its dozens of text-only predecessors, none of which offer the range of playfully inventive visual effects only possible in the comics form." –Chris Gavaler, Pop Matters
Seven Stories Press, 9781609807931, 204pp.
Publication Date: June 5, 2018
About the Author
KENT H. DIXON is primarily a prose writer, but has published in all genres. His fiction and nonfiction have appeared in The Iowa Review, TriQuarterly, The Georgia Review, The Antioch Review, The Gettysburg Review, The American Prospect, Shenandoah, and many other journals. Recent translations include Mallarmé's L'après-midi d'un faune and Rilke's "Leichen-Wäsche," Sappho and Baudelaire in Transference, and hibakusha (A-bomb survivor poetry) in Luna: A Journal of Poetry and Translation. With his artist son Kevin, he created the opening graphic novel excerpt of The Epic of Gilgamesh in editor Russ Kick's 2012 three-volume anthology The Graphic Canon. Kent was educated at the University of North Carolina at Chapel Hill, with graduate degrees from Johns Hopkins University and a Ph.D. from University of Iowa—the Writers' Workshop. Until retiring in 2013, he taught creative writing and literature at Wittenberg University in Springfield, Ohio, where he lives with his writer wife and continues to teach whitewater kayaking.

KEVIN H. DIXON is known for the autobiographical series ...And Then There Was Rock, "...true stories about playing in a crappy loser band." With collaborator Eric Knisley, he produced Mickey Death and the Winds of Impotence, for which they won a Xeric Award. Kevin has done cover art for small presses in Chapel Hill NC; run comic series in local newspapers; hosted 'underground' talk radio shows; and contributed the cover to the first volume of The Graphic Canon, an Oliver Twist for the second volume, and a Brothers Grimm tale for The Graphic Canon of Children's Literature. Kevin lives in Chapel Hill with his wife and their three cats.
or
Not Currently Available for Direct Purchase