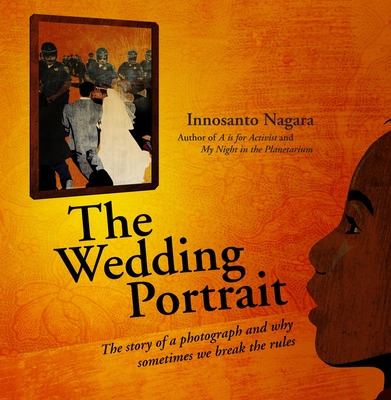 The Wedding Portrait
Hardcover

* Individual store prices may vary.
Description
The Wedding Portrait is an essential book for kids about standing up for what's right. Here are stories of direct action from around the world that are bookended by the author's wedding story. He and his bride led their wedding party to a  protest, and were captured in a photo by the local newspaper kissing in front of a line of police just before being arrested. "We usually follow the rules. But sometimes, if you see something is wrong--more wrong than breaking the rules and by breaking the rules you might stop it--you may need to break the rules." When indigenous people in Colombia block an oil company from destroying their environment--this is a blockade; when Florida farmworkers encourage people not to buy their tomatos because the farm owners won't pay them for their hard work--this is called a boycott; and when Claudette Colvin takes a seat in the front of the bus to protest racism--this is called civil disobedience.  In brilliantly bright and inspiring illustrations we see ordinary people say No--to unfair treatment, to war, to destroying the environment. Innosanto Nagara has beautifully melded an act of love with crucial ideas of civil disobedience and direct action that will speak to young readers' sense of right and wrong. There has never been a more important moment for Innosanto Nagara's gentle message of firm resolve.
Praise For The Wedding Portrait…
"An introduction to social justice through a framing device in which Nagara tells his son about a photograph from his wedding, where he and his wife were arrested for protesting nuclear bombs. Nagara's story grows in scope to encompass different forms of protest, from the civil rights movement to Black Lives Matter, and expands beyond the United States to include stories of social activism from other countries, including India and Colombia. Warm, bright illustrations provide the text with a sense of urgency, and the individuals portrayed in the images complement the diverse scope of Nagara's journey. The book veers away from didacticism by grounding its descriptions of various forms of protest with human touches (notably, the central story of Nagara and his wife's arrest). The book also emphasizes the difference between simple "disobedience" (i.e., refusing to do your chores) and "civil disobedience." By concluding the work with a description of his arrest, Nagara taps into some of the challenges and risks associated with protest. The book ends on a note stressing the importance of community and collaboration and learning from each other. VERDICT An intriguing and timely purchase for young readers that provides a valuable introduction to social activism and protest." –School Library Journal

"The Wedding Portrait is strikingly simple and yet profound, beautifully illustrated, and that it is written for children is the best part about it. Bold and honest in its description of why sometimes we need to break the rules, it reminds all of us in this political moment that it is this generation that is inheriting this world from us--and thus there is no better time to learn about how breaking the rules can change this country for the better. " –Alicia Garza, co-founder, Black Lives Matter

"The Wedding Portrait couldn't be more timely. In today's world, one of the most important things we can do for our children is teach them to stand up for their values, even when that means breaking the rules. This charming and inspiring book is a valuable contribution to every kid's library - and to a more just future for all." –Annie Leonard, Executive Director of Greenpeace USA

"The Wedding Portrait is full of inspiring stories about People Power across the globe that our children can relate to and celebrate. This story is a beautiful way to share hope that frontline communities who band together can fight off injustice, but also create the world we want to live in. Direct Action gets the goods!" –Sharon Lungo, Director of the Ruckus Society, Indigenous People's Power Project

"This picture book takes a simple photograph, that of a couple getting married, and uses it to explain why, when and how people sometimes need to break the rules to make change happen. A beautiful book, with stunning illustrations for children interested in civil rights and activism." --The Mining (MI) Journal
Triangle Square, 9781609808020, 36pp.
Publication Date: October 17, 2017
About the Author
INNOSANTO NAGARA's books encourage children to grow up with confidence in themselves, and to be proactive citizens who are passionate about causes from environmental issues to LGBTQ rights and civil rights. Nagara was born and raised in Indonesia, and moved to the US in 1988. After studying zoology and philosophy at UC Davis, he moved to the San Francisco Bay Area, where he worked as a graphic designer for a range of social change organizations, before founding the Design Action Collective, a worker-owned cooperative design studio. Innosanto was arrested on his wedding day with his wife, Kristi, for protesting at a nuclear arms production facility. They live happily in Oakland, CA, with their son. Nagara's books, all published by Seven stories, are A is for Activist, Counting on Community, and My Night in the Planetarium.