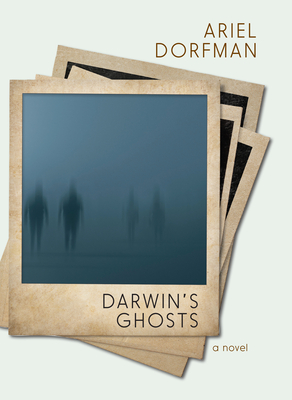 Darwin's Ghosts
A Novel
Hardcover

* Individual store prices may vary.
Other Editions of This Title:
Paperback (3/24/2020)
Description
From the author of Death and the Maiden and other works that explore relations of power in the postcolonial world comes the story of a man whose distant past comes to haunt him. Is the sordid story behind human zoos that flourished in Europe in the nineteenth century connected somehow to a boy's life a hundred years later? 
     On Fitzroy Foster's fourteenth birthday on September 11, 1981, he receives an unexpected and unwelcome gift: when his father snaps his picture with a Polaroid, another person's image appears in the photo. Fitzroy and his childhood sweetheart, Cam, set out on a decade-long journey in search of this stranger's identity—and to reinstate his own—across seas and continents, into the far past and the evil and good that glint in the eyes of the elusive visitor. Seamlessly weaving together fact and fiction, Darwin's Ghosts holds up a different light to Conrad's "The horror! The horror!" and a different kind of answer to the urgent questions, Who are we? And what can we do about it?
Praise For Darwin's Ghosts: A Novel…
"The novel is much more than a Kafkaesque meditation. It's a thriller, mystery, ghost story and sea adventure ... Like early Hemingway, Dorfman's language is absolutely clear and restrained; like Kafka and Auster, the images are potent yet eerily disembodied." —Andrew Madigan, The Guardian

"It is no surprise that a writer with Dorfman's skill and brilliance would use an act of imagination as a means of inquiry into the very soul of Euro-American culture ... Darwin's Ghosts is dizzying in the best ways. It is a presence. Open the book and the ghosts manifest. ... A marvel of a novel" -Deena Metzger, TIKKUN

"Dorfman's work is not just about violence, it's about compassion and redemption, too." —Los Angeles Review of Books

"Ariel Dorfman's place [is] alongside Mario Vargas Llosa and Gabriel García Marquez, as one of the finest voices in contemporary Latin American storytelling." —Dominic Bradbury, Times of London

"Over the years, Ariel Dorfman has written movingly and often brilliantly of the cultural dislocations and political fractures of his dual heritage. Dorfman has, in an impressive body of work, done justice to the two languages that have battled for his voice and the two countries that claim his allegiance." —Shashi Tharoor, New York Times Book Review

"Ariel Dorfman shows his strength as a writer, his courage as a fighter against dictatorship and, above all, as a conscience which, when wounded, turns words into necesssary testimony and burning poetry." —Elie Wiesel

"Dorfman's clever, thought-provoking premise serves as the medium for a probing examination of power—as well as a daring attempt to distill the nature of good and evil." —Kirkus Reviews on Darwin's Ghosts


"In Darwin's Ghosts, Ariel Dorfman (Death and the Maiden) expertly intertwines fact and fiction. This haunted and haunting tale explores the concept of genetic inheritance, love and forgiveness. Can the misdeeds and sins of previous generations be handed down through the years ... Dorfman raises questions about who is responsible for the invasion of foreign lands and the mistreatment of native people that happened hundreds of years ago--the people of that time or the generations that followed? His story is an artful look at love, clemency and exoneration." --Shelf-Awareness
Seven Stories Press, 9781609808242, 304pp.
Publication Date: May 1, 2018
About the Author
Ariel Dorfman is considered to be one of "the greatest Latin American novelists" (Newsweek) and one of the United States' most important cultural and political voices. A Chilean-American author born in Argentina, his numerous award-winning works of fiction, nonfiction, and poetry have been published in more than fifty languages. His play Death and the Maiden, which has been performed in over one hundred countries, was made into a film by Roman Polanski. Among his works are the novels Widows, The Nanny and the Iceberg, Mascara, and Konfidenz, and the memoirs Heading South, Looking North and Feeding on Dreams. He recently published a collection of essays, Homeland Security Ate My Speech: Messages from the End of the World. He contributes to major papers worldwide, including frequent commentary in the New York Times, the New York Review of Books, El País, the Guardian, Le Monde, and La Repubblica. His stories have appeared in the New Yorker, the Atlantic, Harper's, Playboy, Index on Censorship, Guernica, and many other magazines and journals.  A prominent human rights activist, he lives with his wife, Angélica, in Chile and Durham, North Carolina, where he is the Walter Hines Page Research Professor Emeritus of Literature at Duke University.
or
Not Currently Available for Direct Purchase