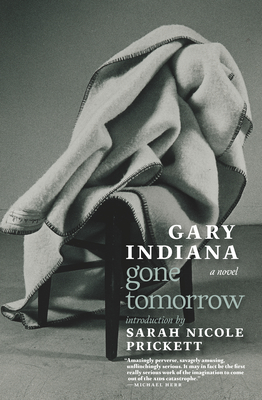 Gone Tomorrow (Paperback)
A novel
Seven Stories Press, 9781609808631, 240pp.
Publication Date: September 14, 2018
Other Editions of This Title:
Paperback (3/1/1994)
* Individual store prices may vary.
Description
Footloose and broke, the unnamed narrator of Gone Tomorrow hops on a plane without asking questions when his director friend offers him a role in an art film set in Colombia. But from the moment he arrives at the airport in Bogotá, only to witness a policeman beat a beggar half to death, it becomes clear that this will not be the story of gritty bohemians triumphing against the odds. The director, Paul Grosvenor, seems more interested in manipulating his cast than in shooting film. The cult star, Irma Irma, is a vamp too bored and boring to draw blood. And the beautiful, nymph-like Michael Simard doesn't seem to be putting out. Meanwhile, the film's shady financier is sleeping with his mother, while a serial killer skulks about the area killing tourists. Everything comes to a head when the carnaval celebration begins in nearby Cali. But once the fiesta is over, all that's left are ghostly memories and the narrator's insistence on telling the tale. "Unlike the majority of pointedly AIDS-era novels," writes Dennis Cooper, "Gone Tomorrow is neither an amoral nostalgia fest nor a thinly veiled wake-up call hyping the religion of sobriety. It's a philosophical work devised by a writer who's both too intelligent to buy into the notion that a successful future requires the compromise of collective decision and too moral to accept bitterness as the consequence of an adventurous life."
About the Author
An actor, playwright, artist, poet, critic, and novelist who has chronicled the despair and hysteria of America in the late twentieth century, Gary Indiana was born in 1950 in New Hampshire. From Horse Crazy (1989), a tale of feverish love set against the backdrop of downtown New York amid the AIDS epidemic, to Do Everything in the Dark (2003), "a desolate frieze of New York's aging bohemians" (n+1), Indiana's novels mix horror and bathos, grim social commentary with passages of tenderest, frailest desire. With 1997's Resentment: A Comedy, Indiana began his true crime trilogy, following up with Three Month Fever: The Andrew Cunanan Story (1999) and Depraved Indifference (2002). Together, the three novels show the most vicious crimes in our nation's history to be only American pathologies personified. In 2015, Indiana published his acclaimed anti-memoir, I Can Give You Anything But Love. Called one of "the most brilliant critics writing in America today" by the London Review of Books, "the punk poet and pillar of lower-Manhattan society" by Jamaica Kincaid, and "one of the most important chroniclers of the modern psyche" by the Guardian, Gary Indiana remains both inimitable and impossible to pin down.