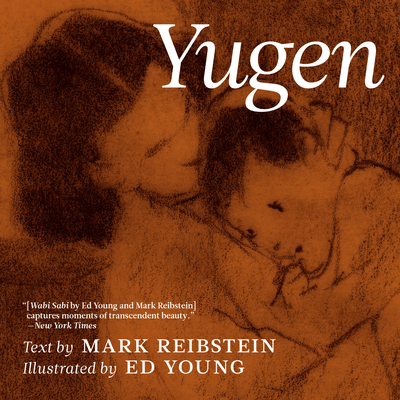 Yugen (Hardcover)
Triangle Square, 9781609808655, 36pp.
Publication Date: January 29, 2019
* Individual store prices may vary.
Description
Told in haiku-based American Sentences and pictures, Yugen is the story of a boy and his mother, inspired by the profound concept of "yugen," a Japanese word for the mystery and beauty of the universe and of human experience. The second collaboration between Caldecott-winning illustrator Ed Young and Mark Reibstein after their award-winning 2008 debut, Wabi Sabi, Yugen is a book of longing and remembrance that is unequaled in its beauty and poetic simplicity.
About the Author
Mark Reibstein is an English teacher and writer who has lived in New York, California, Hawaii, Japan, and Thailand. While living in Kyoto, he met a cat named Wabi Sabi, and they remained very close friends for ten years. The result was a book written by Reibstein and illustrated by Ed Young, called Wabi Sabi, that has amazed readers everywhere since its publication in 2008, when it was named a New York Times Best Illustrated Children's Book.

Ed Young is a renowned illustrator and writer of children's picture books. Born on November 28, 1931, in Tientsin, China, he moved to the US as a young man, where he worked at an advertising agency before illustrating his first book, The Mean Mouse and Other Mean Stories by Janice May Urdry, in 1962. Since then he has illustrated over eighty children's books, seventeen of which he has also written. Throughout his long career he has received over fifty awards and honors, including the Caldecott Medal in 1990 for Lon Po Po, his retelling of a Chinese version of "Little Red Riding Hood," and Caldecott Honors for The Emperor and the Kite (1967) and Seven Blind Mice (1992). He has been nominated twice for the Hans Christian Andersen Award, the highest international recognition given to children's book authors and illustrators for their contribution to children's literature. His books frequently draw on folklore from Chinese, Native American, Indian, Persian, and other cultures, and he uses a variety of media, including pencil, pastel, ink, collage, cut paper, photographs, and found materials. He lives in Westchester County, New York, with his two daughters and two cats.
Praise For Yugen…
"'Yugen,' as the child narrator of this haunting story is called by his mother, is a Japanese term that means "subtle and profound." In their second collaboration, Young and Reibstein (Wabi Sabi) embody that concept through haiku and quiet images that reflect on presence and absence: 'I'm Eugene—/ 'Yugen' to my mom,/ who held me tight/ when the wind/ blew cold.' When the child's mother is away in Japan (where 'everyone stops work/ to watch/ cherry petals fall'), she and Eugene look at the same star so that, 'seeing it together,/ we'd be close,/ though far.' Young accompanies the solitary verses with shadowy charcoal depictions of mother, child, and a cat companion set against scratchy, weathered yellow backgrounds. The collaborators offer a stirring and graceful expression of love, loss, and quiet longing." --Publishers Weekly

*"Subtly rhyming haiku relate the poignant story, told from a child's viewpoint, of a mother who leaves home, returns, and leaves again. Both the poetry and illustrations reveal the love between the mother and son. When they were together, they watched blossoms drift down from the cherry trees, and evenings admiring the moon and sharing warm baths. When she went to Japan the first time without her son, the two agreed to pick a star and think of each other, which seemed to shorten the distance between them. The love connecting the two is obvious, which makes the void she leaves behind heartbreaking and the boy's confusion and sorrow palpable. In his naive fantasy, when one of his cats disappears, the boy imagines he has gone in search of the woman. Young's illustrations, which appear to have been created with charcoal on textured paper, are mostly blurred outlines without facial features or many details. Text and pictures skillfully combine to portray the emotions of a small boy who is left to wonder if his absent mother will ever return. The Author's Note defines the Japanese word yugen as 'subtle and profound,' which will be how readers describe their feelings about this second author/illustrator collaboration." --Booklist, starred review

"Step into a dream of a story by the team that created Wabi Sabi (2008). Reibstein and Young reunite in this sophisticated, dreamy, lyrical tribute to maternal love and loss, the eternity of memories, and the power of nature to depict human emotions. The narrator is a child named Eugene, but whose mother calls him Yugen. An author's note explains Yugen means "subtle or profound" in Japanese, an apt description for the poetry and artwork in this book. Yugen's mother is from Japan and traveled there once, while Yugen stayed behind, but they remained close by glimpsing a star in the sky together. Eventually the mother leaves again, though the exact reason is not explained, and the child wishes upon the moon that she return soon. Simple, smudged charcoal lines against yellow-beige textured backgrounds portray form rather than expression—the outlines of a child's face, a mother and child in the bath, a cat against a dark night sky, and more. Spare stanzas gently recount remembrances amid this great loss. Cherry blossoms fall, as tears must do, starlight on snow, evoking the sadness of a child left behind. This unconventional picture book offers opportunities to discuss poetic form, Japanese culture and customs, artistic style, and storytelling—making this book perfect for older readers as well. Beauty is ever present in this book, amid loss and mystery."
--Kirkus Reviews