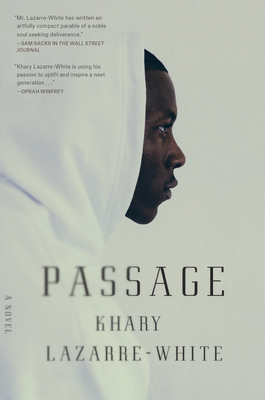 Passage
Paperback

* Individual store prices may vary.
Other Editions of This Title:
Hardcover (9/26/2017)
Description
"In [Lazarre-White's] world, mysticism and madness walk hand in hand with the waking reality of so many young Black men in America, a reality that by any rational measure is itself insane." --Susan L. Taylor

Passage tells the story of Warrior, a young black man navigating the snowy winter streets of Harlem and Brooklyn in 1993. Warrior is surrounded by deep family love and a sustaining connection to his history, bonds that arm him as he confronts the urban forces that surround him--both supernatural and human--including some that seek his very destruction.
   For Warrior and his peers, the reminders that they, as black men, aren't meant to be fully free, are everywhere. The high schools are filled with teachers who aren't qualified and don't care as much about their students' welfare as that they pass the state exams. Getting from point A to point B usually means eluding violence, and possibly death, at the hands of the "blue soldiers" and your own brothers. Making it home means accepting that you may open the door to find that someone you love did not have the same good fortune.
  Warrior isn't even safe in his own mind. He's haunted by the spirits of ancestors and of the demons of the system of oppression. Though the story told in Passage takes place in 1993, there is a striking parallel between Warrior's experience and the experiences of black male youth today, since nothing has really changed. Every memory in the novel is the memory of thousands of black families. Every conversation is a message both to those still in their youth and those who left their youth behind long ago. Passage is a novel for then and now.
Praise For Passage…
"Khary is using his passion to uplift and inspire a next generation."  —Oprah Winfrey

"Mr. Lazarre-White has written an artfully compact parable of a noble soul seeking deliverance." —Sam Sacks, Wall Street Journal

"As Warrior experiences dangers real and imagined, current and ancestral, Lazarre-White, activist and founder of a Harlem-based youth-education organization, infuses his vivid journey with thought- and discussion-provoking symbolism. This is a unique and haunting portrayal of a young black man considering his inheritance, and his destiny." —Booklist

"Khary Lazarre-White's gripping, relentless dive into the inner life of a young African American male named Warrior invites readers into a world where few have dared to venture." —Susan L. Taylor

"The reader wants to break free from the madness that circumscribes Warrior's world—and this is the point. A high school student whose intellect goes unnoticed, Warrior cannot close a book to escape the maelstrom, and neither should the reader. After all, if certain scenes are difficult to read, Lazarre-White implies, imagine how difficult it must be to live them. This dystopia is his neighborhood." —Eisa Nefertari Ulen, Los Angeles Review of Books

"Powerful, lyrical and evocatively written, Passage is a transportive story of love and survival, a walk in the shoes of a young man negotiating an uncertain present, a painful past and the promising future he may never have. A stunning debut." —Terence Winter, creator and executive producer, Boardwalk Empire; Academy Award for Best Adapted Screenplay nominee for The Wolf of Wall Street 

"Passage is a work of great originality, pain, and aching beauty. Its protagonist, Warrior, a sensitive, haunted and haunting young man, bears the burden of history: the past is always near, shaping and informing present realities of black boys like himself. As he traverses a dystopian urban landscape, one that is both surreal and all too real, he encounters the depth of Black Rage, the persistence of Black Death, and the tremendous capacity of Black Love. Like Warrior, Passage pays homage to its predecessors, while forging its own path—one that speaks most eloquently to our present and insists that we create a starkly different future." —Farah Jasmine Griffin, author of Harlem Nocturne: Women Artists and Progressive Politics During World War II

Seven Stories Press, 9781609808815, 192pp.
Publication Date: January 15, 2019
About the Author
Khary Lazarre-White is a writer, social justice advocate, attorney, and activist who has dedicated his life to the educational outcome and opportunities for young people of color at key life stages. His support base is far-reaching and diverse, built over the past twenty-two years as co-founder and executive director of The Brotherhood/Sister Sol. He has received awards for his work, including the Oprah Winfrey Angel Network Use Your Life Award, the Ford Foundation Leadership for a Changing World Award, awards from Black Girls Rock! and the Andrew Goodman Foundation, and a Resident Fellowship Award to the Rockefeller Foundation's Bellagio Center. Khary Lazarre-White is a highly influential presence among national policymakers and broadcast, print, and social media outlets. He has written for the Huffington Post, NYU Press, Nation Books, and MSNBC.com, and has edited three books, The Brotherhood Speaks, Voices of the Brotherhood/Sister Sol, and Off the Subject. He lives in Harlem, New York City. Passage is his first novel.
or
Not Currently Available for Direct Purchase