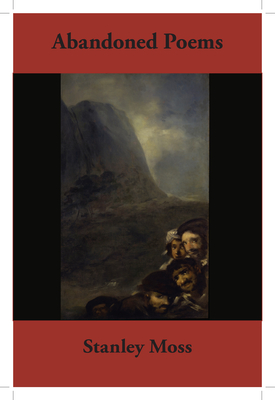 Abandoned Poems
Paperback

* Individual store prices may vary.
Description
Stanley Moss is ninety-three years old, still kicking sixty-two-yard field goals through the uprights of American poetry. His Abandoned Poems (Paul Valery wrote, "A poem is never finished, only abandoned") consists of 120 pages of new work written since his 2016 prize-winning book, Almost Complete Poems. The truth is Moss has a unique voice in the history of American poetry. He honors the English language. This book is full of invisible life-giving discoveries the reader has almost seen, and you might say Moss has discovered a new continent, a new planet or two--or simply it's fun. There is a final section, "Apocrypha and Long Abandoned Poems," which includes early misplaced work never published, and new versions of previously published poems. Bingo.
Praise For Abandoned Poems…
"'Death is a many-colored harlequin,' asserts Stanley Moss on his 92nd birthday. Undaunted, outrageously alive, Moss in these Abandoned Poems flaunts more colors than the Grim Reaper ever dreamed of, laughs in his face, rhymes with abandon, makes a more joyful noise unto the Lord, and struts with Baudelaire. This is a book to hold onto for dear life." —Rosanna Warren

"Magisterial. . . Abandoned Poems is magnificent. I've read it several times with greater and greater pleasure. Its verbal generosity and bravura, its humanity, the quality and quantity of information which integrates into poetry of the highest order make it a continuing delight." —Marilyn Hacker

"The man is indomitable. Moss is now in his 90s. His 10th decade, and so how can we not see this book as heroic? Through the years, Moss has produced excellent poetry and published multiple books by other writers. Music and artistry do not diminish with age. I say amen to that. These poems are strong-footed and — as is his tradition — bow to great art and music. He sees life and writes of it purposefully through the riches of the intellectual world, his friends, and experiences. The constant motion of a rich inner life makes Moss a terrific storyteller. There's strength in every line; he takes no prisoners; says what he wants just the way he wants it until it shines the way he wants. He brings his A-game to every line, and it could be that this is one definition of greatness." —Washington Independent Review of Books


Seven Stories Press, 9781609808914, 128pp.
Publication Date: November 27, 2018
About the Author
Born in New York City, STANLEY MOSS was educated at Trinity College and Yale University. He has been writing poetry for over a half-century. In addition, Moss is a private art dealer specializing in Italian and Spanish old masters, as well as the publisher and editor of The Sheep Meadow Press, a non-profit publishing house devoted to poetry. Moss lives in Clintondale and River Corners, New York.
or
Not Currently Available for Direct Purchase