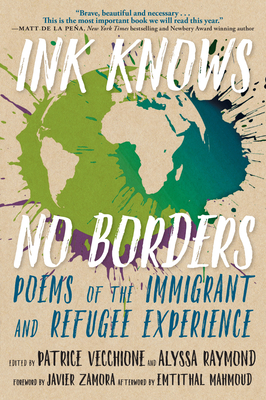 Ink Knows No Borders
Poems of the Immigrant and Refugee Experience
Paperback

* Individual store prices may vary.
Description
Contributors to Ink Knows No Borders:

ELIZABETH ACEVEDO | SAMIRA AHMED | KAVEH AKBAR | EAVAN BOLAND | CHEN CHEN | SAFIA ELHILLO | MARTÍN ESPADA | CARLOS ANDRÉS GÓMEZ | JOSEPH O. LEGASPI | ADA LIMÓN | EMTITHAL MAHMOUD | BAO PHI | ALBERTO RÍOS | ERIKA L. SÁNCHEZ | GARY SOTO | CHRYSANTHEMUM TRAN | OCEAN VUONG | JAVIER ZAMORA . . . and many others.

This collection of sixty-four poems by poets who come from all over the world shares the experience of first- and second-generation young adult immigrants and refugees. Whether it's cultural and language differences, homesickness, social exclusion, racism, stereotyping, or questions of identity, the Dreamers, immigrants, and refugee poets included here encourage readers to honor their roots as well as explore new paths, offering empathy and hope. Many of the struggles described are faced by young people everywhere: isolation, self-doubt, confusion, and emotional dislocation. But also joy, discovery, safety, and family. This is a hopeful, beautiful, and meaningful book for any reader.
Praise For Ink Knows No Borders: Poems of the Immigrant and Refugee Experience…
"Though aimed at teens, this vivid, vital collection ... should find a ready audience with adults as well.... With bravura and hard-won insight, these poems explore identity, survival and home from first- and second-generation perspectives, offering a multiplicity of impressions and memories." —Mary Quattlebaum, Washington Post

"I was moved again and again by the poems in this brave, beautiful and necessary collection. I found echoes of myself in many of the pieces, and I know so many young immigrants and Americans will find themselves, too. But it goes beyond that. I wish this book would be taught in homogenous communities, too, so readers with little understanding of immigration will have the chance to see its humanity. This is the most important book we will read this year." —Matt de la Peña, NY Times bestselling and Newbery Award winning author

*"Poems as piercing and reflective as the shards of a shattered mirror offer stunning glimpses into the lives and experiences of immigrants and refugees. Sixty-four pieces (many previously published) in a variety of forms capture an outcry of voices mourning loss, celebrating survival, breaking and remaking self and home." —The Horn Book, starred review

"This symphony of poetry is a necessary series of bruises and balms that will comfort those who have endured, uplift those who continue to struggle, and educate others." —Kirkus Reviews, starred review

"An urgent and timely new poetry collection." —Nina McLaughlin, Boston Globe

"Vecchione and Raymond have gathered 64 poets from all over the world, their poetic voices as diverse as their experiences. Yet, they hold one element in common: a belief in dignity as an essential human right. ... these stories should resonate with youth who feel life deeply." —Booklist

"This piercing poetry collection's sixty-four pieces (many previously published) in a variety of forms mourn loss, celebrate survival, and explore breaking and remaking self and home. The poets—immigrants and refugees themselves, or from immigrant households—tackle topics including racism, displacement, assimilation, and resilience. The contributors all offer timely, culturally specific frames for the universal struggle of growing into oneself. Appended with brief poet biographies." —The Horn Book, recommended titles for 2019

"An intricate, hard-won tapestry of poetic experience, with density best suited to thoughtful browsing or individual readalouds rather than reading straight through but with many resonant poems that will strike a chord either of recognition or realization with young readers." —Bulletin of the Center for Children's Books

"We are a nation of immigrants, but as we grow further away from our roots we tend to forget. These poems help us to reconnect to both negative states (poverty, separation-anxiety, fear of the unknown etc.) and new opportunities and challenges." —Wicked Local
Triangle Square, 9781609809072, 208pp.
Publication Date: March 12, 2019
About the Author
Poet, nonfiction writer and teacher Patrice Vecchione has edited several highly acclaimed anthologies for young adults including (from Henry Holt) Truth & Lies, which was named one of the best children's books by School Library Journal, Revenge & Forgiveness, and Faith & Doubt, named a best book of the year for young adults by the American Library Association. She's the author of Writing and the Spiritual Life (McGraw-Hill) and Step into Nature: Nurturing Imagination and Spirit in Everyday Life (Beyond Words/Atria), as well as two collections of poetry. For many years, Patrice has taught poetry and creative writing to young people (often working with migrant children) through her program, "The Heart of the Word: Poetry and the Imagination." She is also a columnist for her local daily paper, The Monterey Herald, and has published essays on children and poetry for several outlets including the California Library Association Journal. patricevecchione.com.

Alyssa Raymond is a freelance editor of adult and YA fiction and nonfiction. She hails from Massachusetts and Colorado, where she taught writing and rhetoric at the University of Colorado at Boulder and was a veteran bookseller at her favorite independent bookstore, the Boulder Book Store.