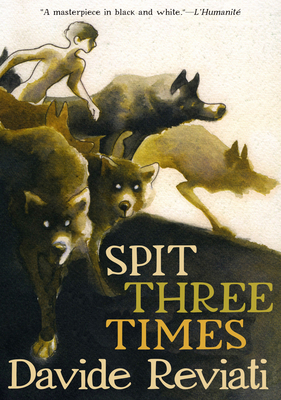 Spit Three Times
Paperback

* Individual store prices may vary.
Description
Winner of the Carlo Boscarato Prize 2016
Winner of the Lo Straniero Prize 2016
Winner of the Attilio Micheluzzi Prize for Best Writing 2017
Sélection Officielle Angoulême 2018

In a forsaken corner of the Italian countryside, Guido and his friends Moreno and Katango spin out their days in languor and boredom intermixed with desire and, occasionally, violence. Nearby live the Stančič, a family of Romani who escaped the communist regime of Marshal Tito and settled here just after World War II. Guido's coming-of-age is changed by the evolving relationship that the rural town has with this group of outsiders, these "gypsies." The author is unsparing in his depiction of the townspeople's cruelty. And yet, there are also many instances of solidarity between Guido's community and the Stančič. Reviati's first book in English, Spit Three Times is an extraordinary story of young men, disillusioned and trying to find their way, caught in the breach between post-war exuberance and the stagnation of the early twenty-first century.
Praise For Spit Three Times…
"A masterpiece in black and white." —L'Humanité

"Haunting and dreamlike, Reviati's tome threads together the coming-of-age story of Guido, a teenage slacker who struggles to express himself, and the saga of the Stançiçs, a Roma family living on the margins of their small Italian town... Throughout, Reviati probes the intersection of history and memory, composing in fragments that double back on themselves. Reviati's pen-and-ink lines are confident: shadows heavy, faces half blank but elegantly realized... [T]hose willing to slip into the town's mysteries will be rewarded by Reviati's stylish, brooding art, which captures the ache of losses small and large." —Publishers Weekly

"Reviati's depiction of the life and cultural realities of the Roma, and the idea of a non-territorial nation, is a healthy corrective to the 21st century's obsession with national borders and their military enforcement. His drawings and text evoke a palpable sense of nature, weather and a spatial freedom that crosses all borders." —Ben Katchor, author and illustrator of Julius Knipl, Real Estate Photographer

"IT IS A RARE pleasure to find a graphic novel where energetic black-and-white drawings and simple but eloquent text are intertwined with such harmony, each enhancing the other. ... Ultimately, Reviati delivers a penetrating view of the vicissitudes of developing into an adult in a world that is fraught with generations of mistrust, anger, and poverty and yet is suffused with the vibrant enchantment of being human."  --Rita D. Jacobs, World Literature Today

"Spit Three Times is a fairy tale/fable both ancient and modern at the same time. It sucks you in with its raw reality and then launches you into dreams, nightmares, and fantasies that have been embedded in our collective unconscious for ages upon ages. And above all, I believed every moment...every image...every word." —Michael Imperioli, actor, screenwriter and author of the novel The Perfume Burned His Eyes

"Brings to mind a rural, impoverished, and fuzzily mystical version of Fellini's I
Vitelloni." —Booklist

"In Davide Reviati's Italian graphic novel violence and vulnerability magnificently coexist." —Le Monde

"Reviati, by allowing himself a large canvas, gives his characters all the room they need to bare their souls. ... this is authentic and passionate work." --Comics Grinder

"More than 500 pages and they read like they were less than half as many. Thanks to the impressive fluidity of the montage and the lightness of the writing." —Internazionale

"Light on text, the story is balanced by the extraordinary illustrations. I for one am so accustomed to polished, finely detailed penmanship that at first glance the book's illustrations look hurried and unfinished. In fact, they are simply free and loose, capturing a palpable buzzing energy that makes every page feel like it's in motion. Although sometimes stark, it's striking, and although sometimes bleak, it's vibrant. Spit Three Times is, perhaps, unlike any graphic novel you've ever read, and for that reason alone it deserves your attention." --The Cartoonist's Club of Great Britain

Seven Stories Press, 9781609809096, 568pp.
Publication Date: April 24, 2020
About the Author
DAVIDE REVIATI is an Italian cartoonist and illustrator (for il Manifesto, La Stampa, and L'Unità among others), and screenwriter. His graphic novel Morti di sonno (Coconino Press, 2009) won the 2010 Napoli Comic Con, and the dBD prize for best foreign comic for its French edition (Casterman 2011). Sputa tre volte (Spit Three Times) was published in Italy in 2016 after seven years of crafting story and illustrations.

JAMIE RICHARDS is an American literary translator based in Milan. Her translations include Igiaba Scego's novel Adua, Zerocalcare's graphic reportage Kobane Calling, and Serena Vitale's interviews with Viktor Shklovsky, Witness to an Era.