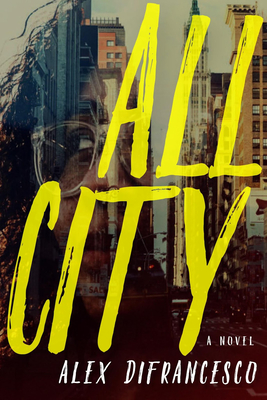 All City
A Novel
Paperback

* Individual store prices may vary.
Description
In a near-future New York City in which both global warming and a tremendous economic divide are making the city unlivable for many, a huge superstorm hits, leaving behind only those who had nowhere else to go and no way to get out. Makayla is a twenty-four-year-old woman who works at the convenience store chain that's taken over the city. Jesse, an eighteen-year-old, genderqueer, anarchist punk lives in an abandoned IRT station in the Bronx. Their paths cross in the aftermath of the storm when they, along with others devastated by the loss of their homes, carve out a small sanctuary in an abandoned luxury condo. In an attempt to bring hope to those who feel forsaken, an unnamed, mysterious street artist begins graffitiing colorful murals along the sides of buildings. But the castaways of the storm aren't the only ones who find beauty in the art. When the media begins broadcasting the emergence of the murals and one appears on the building Makayla, Jesse, and their friends are living in, it is only a matter of time before those who own the building come back to claim what is theirs. All City is more than a novel, it's a foreshadowing of the world to come.
Praise For All City: A Novel…
"This loving, grieving warning thoughtfully traces the resilience, fragility, and joy of precarious communities in an immediate, compassionate voice." —Publishers Weekly

"The novel is a very astute critique of wealth disparity ... nimble prose and complex characters, which feel shockingly familiar." —Lambda Literary

"Alex DiFrancesco's All City walks a razored line between hope and hopelessness, never forgetting that only a few are privileged to have a surfeit of the former. This is a harrowing and powerful love letter to a city on the edge of a slow apocalypse, and to the people that city—and the world—threatens to leave behind as it moves against the rising tide of an uncertain future." —Indra Das, author of The Devourers 

"Alex DiFrancesco's All City provides a vivid, all-too-realistic glimpse into our climate-change future. Portraying the best and worst of what makes us human, the novel celebrates community-building, survival, and the possibility of hope, while criticizing the institutions that actively work to divide us. It is a rallying cry worth echoing." —Ilana Masad, author of All My Mother's Lovers

"At last, a future New York novel with heart and heft. A hammer blow aimed at the present and its shiny display of bougie hipster climate capitalism. Read it!" —Siddhartha Deb, author of The Beautiful and the Damned

"A fiercely empathetic tour of a disaster most of us don't realize is already here, All City is a novel everyone concerned about the health and survival of our cities must read." —William Shunn, author of The Accidental Terrorist

"The novel hits close to home, with a cast of characters who respond by producing a little utopia, amid a lot of dystopia, as they navigate the water, the chaos, and their relationships. Survival swirls together with loss, giving readers cold—and clammy—comfort." —Alexandra Chasin, author of Assassin of Youth: A Kaleidoscopic History of Harry J. Anslinger's War on Drugs

"I was mesmerized by this story about the tragic collision of global warming and capitalism, and how love creeps in to sustain and nurture, even when it's been reduced to a memory." —Mary Adkins, author of When You Read This

"Alex DiFranceso's new book is set in the near future, but some may find it a bit too near for comfort. After New York City is devastated by climate change, gentrification and capitalism and then engulfed by a superstorm, several survivors, including genderqueer anarchist Jesse and convenience store worker Makayla, try to make their way in this new reality—which could be our own sooner than we realize if we don't heed this warning." —Ms. Magazine
Seven Stories Press, 9781609809393, 272pp.
Publication Date: June 18, 2019
About the Author
Alex DiFrancesco has published fiction in the Carolina Quarterly, the New Ohio Review, and Monkeybicycle. They are a winner of Sundress Academy for the Arts' 2017 OutSpoken contest for LGBTQ+ writing. DiFrancesco's nonfiction has appeared in the Washington Post, Tin House, Longreads, and Brevity, and was a finalist in Cosmonauts Avenue's inaugural nonfiction prize. Their storytelling has been featured at the Fringe Festival, Life of the Law, the Queens Book Festival, and The Heart podcast. DiFrancesco is also a skilled bread baker and pastry cook, a passionate activist, and has a small, wonderful cat named Sylvia Rivera-Katz.