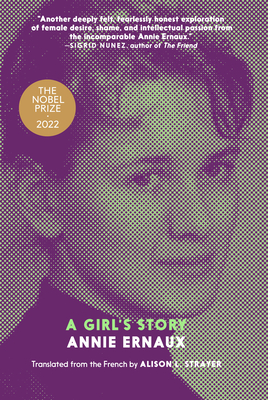 A Girl's Story
Paperback

* Individual store prices may vary.
Other Editions of This Title:
Compact Disc (4/21/2020)
MP3 CD (4/21/2020)
Description
Another masterpiece of remembering from Annie Ernaux, the Man Booker International Prize–shortlisted author of The Years.
 
In A Girl's Story, Annie Ernaux revisits the season fifty years earlier when she found herself overpowered by another's will and desire. In the summer of 1958, eighteen-year-old Ernaux submits her will to a man's, and then he moves on, leaving her without a "master," bereft. Now, fifty years later, she realizes she can obliterate the intervening years and return to consider this young woman that she wanted to forget completely. And to discover that here, submerged in shame, humiliation, and betrayal, but also in self-discovery and self-reliance, lies the origin of her writing life.
Praise For A Girl's Story…
"The books are whittled down to an intense core—not a confession but a kind of personal epistemology. ... One way to read Ernaux's book is as an attempt to understand that opaque, painful, essential process of "becoming." 
—Madeleine Schwartz, The New Yorker

"Since the 1970s, Ernaux has carved out a special place in the French literary pantheon for her ability not just to excavate individual memories, but to show the subtle ways they interact with the collective experience..... Now, readers in English are catching on." 
—Laura Cappelle, The New York Times

"A Girl's Story is a profound and beautiful examination of the impenetrable wall that time erects between the self we are, and the selves we once were. I know of no other book that so vividly illustrates the frustrations and the temptations of that barrier, and our heartache and longing in trying to breach it. Annie Ernaux is one of my favorite contemporary writers, original and true. Always after reading one of her books, I walk around in her world for months."
—Sheila Heti, author of Motherhood and How Should a Person Be?

"Another deeply felt, fearlessly honest exploration of female desire, shame, and intellectual passion from the incomparable Annie Ernaux."
—Sigrid Nunez, author of The Friend 

"Ernaux, one of France's leading contemporary writers, mines her shame to good effect. There's no hysteria or prurience in her writing; she approaches her history with precision, never sentimentality. ... Revisiting painful periods is hardly new territory for writers, but Ernaux distills a particular power from the exercise. As she puts it, 'I am endowed by shame's vast memory, more detailed and implacable than any other, a gift unique to shame.'"
—Joumana Khatib, The New York Times Book Review

"I came late to this French writer, who is becoming better known in English translation, and the shock of recognition has not subsided. Every so often you realise there is a great writer out there, a whole world you have yet to explore, and with someone this good, you want to take it slowly"
—Anne Enright in The Irish Times

"Written in 2013, although coming out a few years later, A Girl's Story predates Me Too as a narrative genre, but Ernaux's body of work speaks to the simplest and possibly best thing Me Too offered women. It is her foundational exigency: how to remember politically, in collective form. . . . Across the ample particularities of over 40 years and 21 books, almost all short, subject-driven memoirs, Ernaux has fundamentally destabilized and reinvented the genre in French literature. "
—Audrey Wollen, The Nation

"Annie Ernaux writes memoir with such generosity and vulnerable power that I find it difficult to separate my own memories from hers long after I've finished reading. In A Girl's Story she detangles an adolescence rife with desire and shame, an era of both internal and external debasement. Ernaux wisely ventures into the gray areas of her memories; she doesn't attempt to transcend their power, nor to even 'understand' them, but to press them firmly into this diamond of a book."
—Catherine Lacey, author of Pew and The Answers

"In this devastating yet deceptively simple work of autofiction, Annie Ernaux retraces the origins of her identity as an artist to the height of the Algerian War, and the loss of her innocence at the cusp of womanhood. Sifting through the wreckage of her memory, she queries its nature: whether we possess it, construct it, or view it like a photograph, or as a form of cinema; whether, long suppressed, it may be resurrected and reconstituted as narrative—and where, in such an act, the author ends and the character of the author begins. 'What is the belief that drives her, if not that memory is a form of knowledge?'  she asks. In A Girl's Story, Ernaux cements her position as a writer of immense depth and grace."
—Sarah Gerard, author of Sunshine State 
Seven Stories Press, 9781609809515, 160pp.
Publication Date: April 7, 2020
About the Author
The author of some twenty works of fiction and memoir, ANNIE ERNAUX is considered by many to be France's most important literary voice. She won the Prix Renaudot for A Man's Place and the Marguerite Yourcenar Prize for her body of work. More recently she received the International Strega Prize, the Prix Formentor, the French-American Translation Prize, and the Warwick Prize for Women in Translation for The Years, which was also shortlisted for the Man Booker International Prize.

ALISON L. STRAYER is a Canadian writer and translator. She won the Warwick Prize for Women in Translation, and her work has been shortlisted for the Governor General's Award for Literature and for Translation, the Grand Prix du livre de Montreal, the Prix littéraire France-Québec, and the Man Booker International Prize. She lives in Paris.